The DNC Survival Guide
It's finally here, with the glare of the spotlight and all that it brings—attention, opportunity, and hassle. Consider this your guide for how to make the most of the Democratic National Convention, or, at least, how not to let it get the best of you.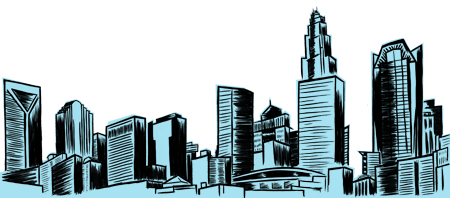 One on One with Bret Baier: Bret Baier is anchor of Special Report with Bret Baier on Fox News —J. H.
Charlotte's Political Past: The Democratic National Convention is not the city's first brush with national politics —V. B.
One-on-One with Wolf Blitzer: Wolf Blitzer is anchor of The Situation Room with Wolf Blitzer on CNN. He'll broadcast live from Charlotte during the DNC —J. H.
The DNC Takes Over Uptown (Map): Uptown and beyond will be a sea of security and parties the week of the DNC. Here's what to look for (or avoid, depending on your perspective)
Tweet, Check-In, Repeat: Mobile technology will be ubiquitous during the 2012 DNC —J. H.
When the Stars Align: The DNC brings out the celebs. Here's a guide to the ones we expect to see —J. H.
The Players: For one week, Charlotte will be the center of the political world. Here's a program —R. T.
Party Favors: Parts of Charlotte got all gussied up for the DNC. And once the circus leaves town, we'll have more than memories —R. T. and L. R.
The Slideshow: Not all the action during the DNC will come from politicians. Here's a guide to the protests —L. R.
Dem Words: Since news broke that Charlotte had landed the DNC, much of the city has been obsessed with how it's been depicted in the national media. In case you haven't been following along, here is a curated selection of Charlotte-centric sound bites —J. H.