The Double Lives of Charlotte Roller Derby's Players
Join Ka$h Honey, Liability, Seams Legit, and the rest of the crew as they cram and jam on their crash course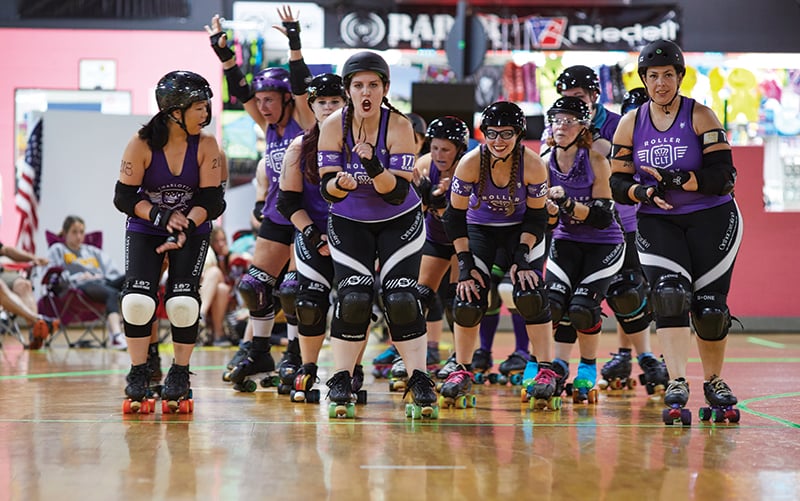 RYE UNZIPS HER GYM BAG and pulls out the gear: knee and elbow pads, wrist guards, mouthguard, helmet, and a pair of slick, black skates with bamboo-colored wheels. She spends a couple of minutes explaining each item to a dozen people, mostly women, at the Charlotte Roller Derby's orientation at Kate's Skating Rink in Gastonia.
Until she's interrupted by a smiling, 5-foot-2 woman in a black T-shirt and purple yoga shorts and a knot of dreadlocks fixed to the top of her head. "Yeah, yeah, yeah!" Ka$h Honey shouts as she gallops to the front of the room to join Rye, a.k.a. Katch Her in the Rye. "Let's do it!"
Orientation is over.
On the rink, skaters divide into two teams, mixing the experienced players with newer ones. The goal is to win "jams," or episodes within the game. Each side designates a "jammer" to push past four blockers in order to score, one point for each pass. It's a full-contact sport that ends after two half-hour periods.
Ka$h (yes, with a dollar sign) watches with me from the sidelines to prevent reinjuring a shoulder she hurt years ago before roller derby. She explains the rules while Princess Slaya jumps past a few blockers to score another batch of points and President Beer skates backwards as she holds the other team's jammer. Ka$h is itching to get on the rink.
"You gonna play?" a teammate askes her.
Ka$h smirks and cracks the tab of a Monster energy drink. "Maybeee."
CHARLOTTE ROLLER DERBY was founded in 2006. The team of women has grown to more than 50 active members, all with self-appointed, punny, kickass names like Princess Slaya, Doom (pronounced Doooooooom), and Cello Shot. It's exclusively an amateur club, so the team relies on its own volunteer efforts to manage logistics, communications, promotions, and more. That's why recruitment nights like these—a crash course in the rules of roller derby, followed by a literal crash course, a scrimmage—are important.
Ka$h is a nanny by day. (Her non-derby name is Kelly Cosgrove Romano.) She started skating with Charlotte Roller Derby four years ago and helps the team with public relations. She skates on the All-Stars Team, a traveling, highly competitive squad.
Most of the women—and men, who are welcome during scrimmages—work day jobs and head to the rink once work lets out. Doom is an attorney. Liability and Seams Legit work together as costume designers for Children's Theater of Charlotte. Charlotte Roller Derby's president, BeerN'Stein Bear (or President Beer), works in a bank. Rye and Cello Shot are educators; Cello, of course, teaches music. They're all here out of love for the sport, even if they're exhausted at work the next day.
KA$H LETS DOWN HER HAIR​ to fit the thick dreads inside her double-XL helmet, laces up her skates, and high-jumps a few times. Coach Paul Brooks announces this will be the last jam of the night. Ka$h slides a cover with a star on it over her helmet—she'll be the jammer.
A whistle sounds. Ka$h jabs her skate's toe stop onto the rink and pushes forward, sliding past all four blockers without a collision. The opposing jammer follows her but trips and falls, landing on his knees. Ka$h finishes a lap.
She laps the blockers again and earns four points. She cranks up the music, which she controls from her smart watch, takes a victory lap, and glides backwards into a huddle of teammates. The players high-five and roll off, unclipping helmets and loosening elbow pads. It's late, about 9:30 p.m.
In the morning, most will return to their other lives, in offices where they're known by everyday names and where hip-checking is a fireable offense.