The 'Dump Dominion'-North Carolina Connection
It's more than just BofA underwriting a natural gas export plant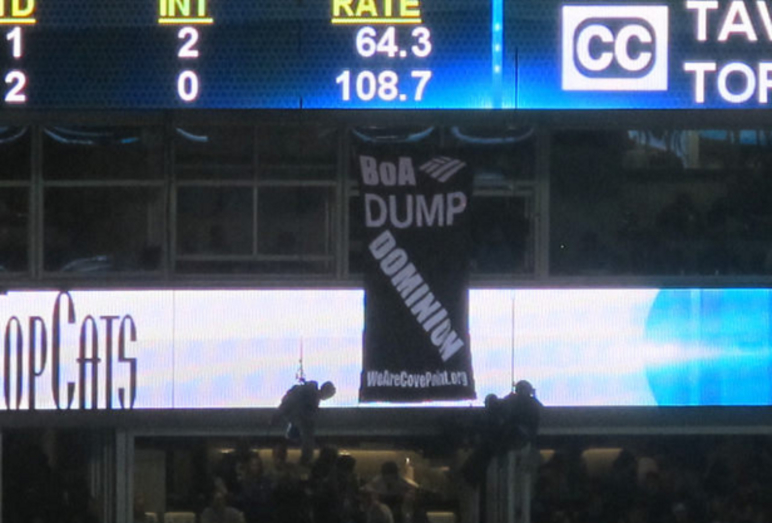 A pair of environmental activists' rappelling-with-banner stunt during last night's Panthers-Colts game at Bank of America Stadium—depending on your perspective, either the act of "bozos," a righteous protest against offshore oil and gas exploration, or a spectacular approach to content marketing—accomplished its primary goal, which was to make millions around the nation wonder, "What the hell does 'Dump Dominion' mean?," then commence the Googling.
If people clicked a few times, they learned about a Virginia-based energy company's contentious plan to export liquefied natural gas off the southern Maryland coast via an export plant that awaits federal approval. The organization behind the protest, We Are Cove Point, was protesting BofA's underwriting of the project, led by Dominion Energy Solutions in Richmond:
Since oil and gas prices have plummeted, industry experts have increasingly seen LNG export facilities as bad investments, and the financial sector has been inexplicably propping up the gas industry. As recently as August, a report from Bank of America itself warned that plummeting crude oil prices have hurt the prospects of LNG export projects. President and CEO Zin Smati of Engie's GDF Suez Energy North America said, "You cannot ship gas from the United States anymore. … Nobody really is making money from LNG now. Certainly, we are not."
Dominion Cove Point is a proposed LNG export terminal that is slated to send up to 1.8 billion cubic feet of LNG to Japan and India. The facility would be the only one in the world to be built in a densely populated area, in violation of basic safety siting standards. It would drive demand for harmful fracking across the Mid-Atlantic, emit more than 20 tons of hazardous air pollutants each year, and spew two million tons of greenhouse gases, making it Maryland's fourth-largest climate polluter. LNG exports are predicted to increase domestic gas prices, resulting in economic loss for every major sector of the US economy besides the gas industry …
You might not care so much about a proposed natural gas project in Maryland, but you ought to care quite a bit that North Carolina's new environmental director, Donald van der Vaart, is tepid on renewable energy but thinks offshore gas exploration and fracking are just dandy, thank you (from the N&O):
Van der Vaart's outspoken skepticism about the potential of wind energy and solar power troubles many environmental leaders in the state. They say the secretary is anything but balanced when it comes to weighing the risks and rewards of alternative energy sources.
"The comments sound as if they had been prepared by a right-wing think tank," said Molly Diggins, director of the Sierra Club's North Carolina operations. "It's remarkable that the comments have nothing but praise not only for natural gas but for fracking itself, with no stated downside."
Even some Republicans admit being surprised by van der Vaart's willingness to openly disparage a sector of the economy that other Republicans have embraced. While Gov. Pat McCrory has attended ribbon-cutting ceremonies for solar farms and the recently announced the Amazon Wind Farm in eastern North Carolina, van der Vaart often points out the limitations of renewables in his presentations.
"It's a known fact that the Secretary does not embrace renewables," said Republican Rep. Bob Steinburg of Edenton. "I think there are some who would say he is overstepping his bounds."
"I'm just offended by the way the department seems to have lost its purpose," said another Republican, Rep. Chuck McGrady of Hendersonville. "He seems to be the chief promoter of offshore drilling and hydraulic fracturing and any energy except anything renewable."
These are Republican lawmakers, by the way. And they think van der Vaart, who's now in charge of North Carolina's main environmental agency, is too extreme in his corporate approach to environmental protection. (And to running his agency, too, bulling ahead on his own, in the manner of a good CEO; note the N&O's account of his reassignment of longtime legislator and assistant environmental secretary Mitch Gillespie, no supporter of regulation, to Asheville for being insufficiently committed to the cause.)
So the banner from last night's game might not be the last. Hockey season has started, and I imagine security staff at PNC Arena in Raleigh have already sat through a PowerPoint this morning on line, hook, and carabiner identification.