The Earth-Helping, Money-Saving, Stress-Relieving Bike Life
Many of us like the idea of parking our cars in favor of bikes. But can we do it? Some people already have. And plans are in the works to entice more of us to join them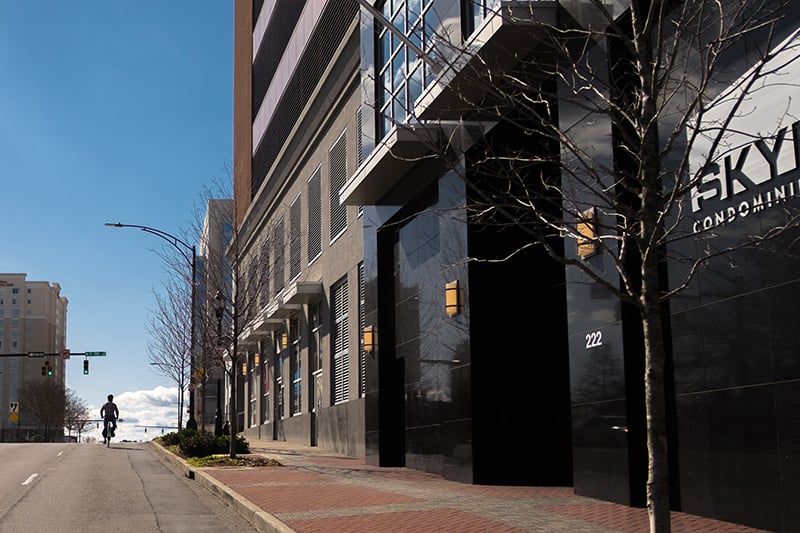 WHEN ARTIST CECE STRONACH left Madison, Wisconsin, in 2014 and moved to Myers Park, she decided to get rid of her car. The 26-year-old now goes everywhere on her Trek Lexa road bike, to Dilworth or uptown or South End, and even all the way to NoDa, a little more than six miles away.
Her pedaling life has not been without incident. Traveling the busy Sugar Creek Greenway on her bike, Stronach has taken a few falls due to mix-ups with walkers and runners regarding who has the right-of-way. Still, she's one of Charlotte's most vocal proponents of ditching four wheels for two.
"I consider myself a utilitarian cyclist," Stronach says. "I rely on my bike for about 97 percent of my transportation. The other three percent I would consider a mix of taking an Uber, an occasional rental car, and rides from friends or family who have cars."
Charlotte has a growing number of people who, like Stronach, bike not only for fitness but also to get around. City officials don't yet track the number of bike commuters, but they do count people who bring a bike onto a city bus. That number grew from 19,000 bikes in 2001 to more than 103,000 bikes in 2014 (the number dipped to about 97,000 in 2015).
Why is bike-commuting growing more popular? It's cheaper. Parking is easier. It's exercise. And it doesn't pollute the air. But more bicyclists on the road means more conflict with cars. Each year, more than 960 bicyclists and 2,400 pedestrians are hit by cars in North Carolina, says Watch for Me NC, a program run by the North Carolina Department of Transportation. North Carolina is one of the most deadly states in the country for bike riders—a cyclist here is eight times more likely to be killed by a car than in Oregon.
In Charlotte between 2008 and 2012, 520 cyclists reported to police that they were hit by cars, most of any city in the state. But the city's average yearly crash rate per 10,000 residents was 1.4—much lower than, say, Raleigh (2.1) or Wilmington (4.5). The tension between cars and bikes resulted in a tragedy in September, when 73-year-old Al Gorman died in a multi-car accident on Parkwood Avenue near Plaza Midwood while riding his bike to a self-service laundry. A few days later, dozens of cyclists attended a vigil for Gorman, riding their bikes in silence and placing a white "ghost" bike on the corner of Parkwood and Hawthorne, near where he was killed.
Every bicyclist seems to have a story about a close call. After living in Asheville and Boulder, Colorado, Kyle McNamee was surprised by Charlotte's bicycling community when he moved here in 2014. He now uses his bicycle more than his car. He commutes to work from his apartment off Scaleybark Road to his office at Steele Creek and Westinghouse about three times a week. It takes about an hour to cover the 18 miles.
"I've been yelled at, had stuff thrown at me, and I've almost been hit several times," McNamee says. "All I'm trying to do is ride my bike."
***
IN 2003, when Ken Tippette became bicycle program manager for the Charlotte Department of Transportation, the city had one mile of designated bike lanes. Today, the city's bike lanes, greenways, paths, and signed bicycle routes total 190 miles.
As the director of the program, Tippette's goal is not only to make cycling in the city safer, but also to tell citizens about the benefits, for your health and your finances. The average driver spends more than $9,000 each year on automobile-related expenses, such as oil changes and gas and other maintenance costs. The average Charlotte driver spends about 43 hours a year sitting in traffic, burning about 17 gallons of gas in the process, according to a recent study from Texas A&M University. The cost of sitting in rush-hour traffic is about $1,000 a year per Charlotte driver.
Meanwhile, bicyclists burn no gas, spend much less on vehicle maintenance, and burn about 470 calories an hour.
"As Charlotte continues to grow, congestion will get worse before it gets better," Tippette says. "There is a transportation need, and we are trying to answer it."
The city has adopted long-range bicycle plans. Infrastructure improvements, which are a big part of those plans, include increasing the number of bike lanes, signed routes, paved shoulders, and bicycle racks. The plans helped Charlotte earn bronze-level recognition as a bicycle-friendly community from the League of American Bicyclists last year. Other cities on the bronze level include Asheville, St. Louis, Los Angeles, and San Antonio.
Communities selected at the platinum level—including Madison, Wisconsin; Boulder, Colorado; and Portland, Oregon—have a comfortable and safe bike network, ample bike parking, great bike-education programs, a community-supported bike culture, and a supportive police force. Bikes are everywhere in these places. Meanwhile, bronze-level communities may "not necessarily feel bike friendly." They have a limited number of bike lanes and motorists who lack awareness and understanding of how to share the road, but they are making progress in all five categories.
"We are a bike-friendly city, but we still have a lot of work to do," Tippette says.
In March 2015, the John S. and James L. Knight Foundation created a $600,000 Cycling Fund at Foundation for the Carolinas. Its purpose is to encourage connection and coordination among local cycling organizations, develop new educational cycling programs, and support events such as safety classes.
The fund's first grant created a bicycle program director position within Sustain Charlotte, a nonprofit organization that raises awareness about sustainability challenges and presents possible solutions to those challenges. The director position was filled by Jordan Moore. Moore made his bicycle his primary mode of transportation shortly after he graduated from UNC Charlotte in 2003. He says he's ready to change perspectives about cycling, hoping to overcome common assumptions that cycling is only for upper-class people and that it's unsafe to do here.
"[My job is to] keep people safe [and] provide people with a better quality of life," he says. "If we can do this, we could be the premier [cycling] city in the Southeast."
***
CHARLOTTE'S POPULATION is expected to grow by about 400,000 people in the next 25 years—roughly the population of the city of Cleveland, Ohio. The need to offer residents alternative modes of transportation will increase, and "citizens need to get involved with the vision," Moore says.
The city of Charlotte is partnering with Mecklenburg County to create a 26-mile trail and greenway facility that will stretch from Pineville to the Cabarrus County line. The project is called the Cross Charlotte Trail (XCLT). It has been funded so far by a $5 million public improvement bond secured in 2014, which has covered the initial planning phase of the project. A second bond, $30 million this time, will be on the November ballot. If approved, it will fund the remainder of the project. Once construction starts, city officials estimate that it will take 10 years to complete the trail.
For people such as McNamee and Stronach, the wait will be worth it—not just for them, but for the next generation of bicyclists.
"That's what excites me the most about being in Charlotte right now," Stronach says. "We have the ripest of opportunities to make Charlotte a premier bike city, and I look forward to being part of making that happen."
Erin Maddrey is a writer and content strategist in Charlotte. A Virginia native, she loves watching Charlotte grow and change, and writing about the evolving city. Follow her on Twitter @ErinMaddrey.
CYCLING DESTINATIONS
Want to escape from Charlotte, but don't want to travel too far? These options are ideal biking destinations for a weekend or day trip.
The American Tobacco Trail
About two and a half hours from Charlotte, the American Tobacco Trail offers riders more than 22 miles to explore. The route crosses through Durham, Chatham, and Wake counties; Cary and Apex; and the Lake Jordan project land of the United States Army Corps of Engineers. The trail is open to people of all skill levels, and riders can hop off the trail and explore the towns along the way.
Prime time to visit: All year, but especially fall and spring.
The Outer Banks
About six hours from Charlotte, the banks include 150 miles of North Carolina shoreline begging to be biked. Visit lighthouses, such as the iconic Cape Hatteras Lighthouse, or ride through Pea Island Wildlife Refuge, with miles
of secluded marshlands.
Prime time to visit: Fall, when the crowds have left but the warm weather remains.
Beech Mountain
Less than three hours from Charlotte, Beech Mountain is eastern America's highest town, with an elevation of 5,506 feet. Ideal for mountain biking, routes range from short, one-mile trails to treks that are more than 11 miles. Elevations range from 3,800 feet to 5,000 feet. Visit the Emerald Outback, a year-round destination for hikers, trail
runners, and mountain bikers.
Prime time to visit: Spring and fall, when the Blue Ridge Mountain views are at their peak.
Greenville, South Carolina
Less than two hours from Charlotte, this town is sometimes called "Bikeville," thanks to the city's bicycle-friendly-community initiative. Bring your own bike, or rent a bike from one of the B-cycle stations located around the city.
Prime time to visit: May for Artisphere, the annual arts festival.
---
LOCAL BIKE SHOPS
Charlotte has a variety of businesses to assist all levels of cyclists
Bicycle Sport
Locally owned and operated, Bicycle Sport has an impressive inventory and knowledgeable staff. 2916 Selwyn Ave., Ste. A, 704-335-0323
The Bike Gallery
The Bike Gallery, which has been family-owned and operated for 41 years, offers a selection varying from children's bicycles to bicycles worthy of competitive cyclists. 2500 Park Rd., 704-332-2165
Bike Line of Charlotte
Bike Line of Charlotte sells Trek road fitness and mountain bikes, and services and repairs bicycles in a shop located near UNC Charlotte. 8528 University City Blvd., Ste. M, 704-549-8804
BikeSource Charlotte
BikeSource has been in the Charlotte market since 1995 and carries a wide variety of bicycles for every type of rider. 4301-A Park Rd., 704-525-8410
Espada Bicycles
Espada Bicycles is a mechanic-owned and -operated bicycle shop and service center. Espada's services include repairs and custom-built bikes. 3448 N. Davidson St., 704-557-0303
Performance Bicycle
A chain retailer started in Chapel Hill in 1982, Performance offers an extensive inventory of clothing, accessories, bicycles, and more. 4436 South Blvd., 704-837-0578
QueenCity Bicycles
QueenCity Bicycles is a full-service bike shop offering bicycle sales, service, and rentals. 128 E. Park Ave., 704-522-7006,
South Main Cycles
South Main Cycles has a bike for everyone, as well as clothing, parts, accessories, and a service department equipped to handle everything from custom wheel and bike builds to minor repairs and flat fixes. 4 N. Main St., Belmont, 704-825-8585
The Spoke Easy
The Spoke Easy is a full-service bicycle shop located in the Elizabeth neighborhood, with most of its stock geared toward the everyday rider. In addition to bikes, The Spoke Easy also serves beer on tap at the in-store bar. 1523 Elizabeth Ave., Ste. 120, 980-224-7681
Trek Bike Store of Charlotte
Offering something for everyone, the bikes in the store are organized by road, mountain, triathlon, family, fitness, and juvenile. 10129 Perimeter Pkwy., 704-598-0057; 12194 Johnston Rd., Ste. 110, 704-619-5802; 24 Trade Ct., Ste. F, Mooresville, 704-663-8812
Ultimate Bicycle
With the motto, "We want to be a bike shop for the rest of us," Ultimate Bicycle has equipment for the novice and the expert alike. 9129 Monroe Rd., Ste. 115, 704-841-1044
Uptown Cycles
Bicycle sales, parts and accessories, maintenance services, coaching, a Retül fitting studio, and CompuTrainer classes. 1432 W. Morehead St., 704-632-7440