The End of Jennifer Roberts' Hard Two Years
Mayor's brief, troubled term ends in primary loss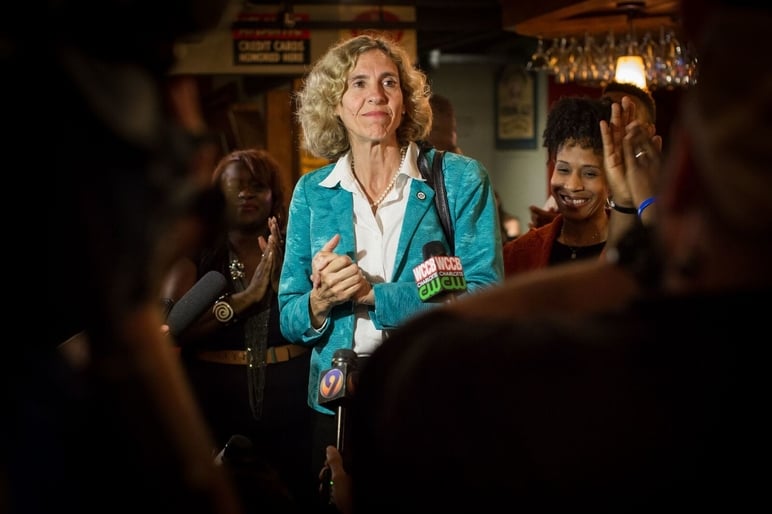 The gathering at Jennifer Roberts' watch party Tuesday sensed the coming defeat not long after the polls closed at 7:30 p.m. The crowd on the second floor at Peculiar Rabbit in Plaza Midwood slowly thinned, leaving behind a core group of about 30, many of them sullenly checking the returns on their smartphones. Vi Lyles' comfortable lead hardly wavered. A little less than two years ago, a happy throng welcomed the mayor-elect on a muggy Tuesday night at Jackalope Jack's over on East Seventh Street, chanting, "Jen-ni-fer! Jen-ni-fer!" Jackalope Jack's is gone now, torn down and relocated to make way for another mixed-use development, and November 2015 seems like another era.
At 9:25 p.m., Sam Spencer, Roberts' bearish, bearded campaign manager, appeared at the stairwell and began jostling through the group. Spencer stopped and told a volunteer that Roberts would be up in a few minutes, after she got off the phone. "She's talking to, erm …" He paused and briefly looked away. "… the next mayor of Charlotte." Then he stepped to the front of the room and took the microphone to deliver the bad news that by then wasn't news at all.
Whatever you might think of Jennifer Roberts' performance as Charlotte's mayor, you can't deny that her lone two-year term has been a wringer. Roberts alluded to this in her concession speech. "It has been such an honor," she said, "to serve as mayor during probably the toughest two years Charlotte has seen in her history." You can argue how much of that was self-inflicted, or how much her erratic leadership contributed to her loss to Lyles, the mayor pro tem, who stands as the favorite to become the city's first black female mayor.
On the surface, Tuesday's primary was a classic "change" election, with the defeat of longtime council incumbents Claire Fallon and Patsy Kinsey and primary victories for 30-somethings Dimple Ajmera, Tariq Bokhari, Larken Egleston, and Braxton Winston. It's hard to draw too many hard conclusions from an election with turnout that fell short of eight percent. But a quick glance at the precinct map in the mayor's race displays what you might expect: Roberts doing well in some precincts just east of uptown and along the Park and Monroe road corridors—and Lyles taking everything else. This being 2017, the few who bothered to vote largely decided to ditch the establishment.
Which is understandable. Roberts, and the City Council that set policy during her term, will be remembered mainly for two things: the nondiscrimination ordinance that ushered in House Bill 2; and the reaction (and lack of it) to the unrest that followed the police shooting death of Keith Lamont Scott a year ago. The first was sound, principled, and unfairly demonized by a hostile state legislature; the second was fumbled and, especially for Roberts, embarrassing. The week after the shooting was the mayor's low point, a string of days when she—the elected face of Charlotte—was confused, indecisive, and prone to fall back on tired official-speak at a time when her city desperately needed the same kind of leadership she showed in standing firm for LGBTQ Charlotteans. For whatever reason, she couldn't, and she paid for it.
That doesn't mean her brief tenure as mayor was a failure. "You know, three years ago, people weren't talking about transgender individuals. People didn't even realize they were being discriminated against, (that) they weren't being included," Roberts told her group at Peculiar Rabbit on Tuesday. "I do not apologize for standing up against discrimination, because we cannot afford to be silent." Lyles acknowledged the same via Twitter. Roberts, 57, may never run for office again in Charlotte—she said Tuesday night that she doesn't know what she'll do when her term ends in December—but she's not going to recede into the shadows. "I'm open to all kinds of things," she told me Tuesday after nearly everyone had gone home, "and I've got a lot of energy left and a lot of passion left."
She's always had those to spare. She's still the mayor, and still one of the best political campaigners in the city's history. Has Roberts been a great mayor? No. But she has mattered. "I think she really did stick her neck out for a group that's been marginalized," said Jeff Patterson, a 29-year-old Charlottean who attended the watch party after voting for Roberts. "She could have backed down, but she didn't. I admire her for that." She stood for something—not the worst legacy for a public servant whose work, it appears, isn't done yet.