The Entertainer: Tom Wilkinson's Backstage Life
Suing Miles Davis, selling flying toys, and other adventures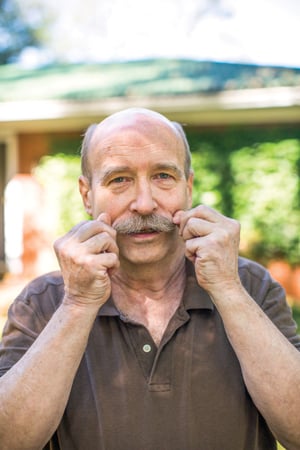 Tom Wilkinson was a union stagehand for Charlotte theater companies for 17 years. Now 62 and recently retired, he shares memories of a career that spans from the Vietnam War to the filming of The Patriot.
My great-grandfather was the man they named Wilkinson Boulevard after, and that was the first four-lane road in the state. We moved to Charlotte from Raleigh when I was 5, when Providence Road was a two-lane road.
By the 12th grade, the Vietnam War was happening. Getting a job, except part-time retail, was a joke because they expected to lose you to the draft. I've had probably 50 or 60 jobs in my life, easily. You know the saying, "Jack of all trades, master of none."
I've always kind of worked in entertainment. Two of my friends and I started a business called Wombat Productions in 1974, and we produced musical events. We started at what is the Grady Cole Center now. We put on what we called Almost Free Dance and Shows. We charged $1.50 and had four bands, belly dancers, fire eaters, comedians, and jugglers. It was a big party, and we'd make just enough to put another party on.
We put on jazz concerts at Dana Auditorium at Queens University before we got a hankering to go big time and booked Miles Davis for a concert at Ovens Auditorium and two more shows in Miami. I hired a bunch of street hippies to pick up his instruments from the airport, and once I had them in the truck, I took off with them because he canceled. He sued us for his equipment, and I counter-sued him for canceling.
"We'd dress up in pilot costumes and stand out in the mall throwing Nerf boomerangs."
After that I went to flight school in Florida. Then I opened a company called School Street Aerodrome that sold flying toys with a friend. We opened stores at Carolina Place Mall, SouthPark, and others. We'd dress up in pilot costumes and stand out in the mall throwing Nerf boomerangs and taught the history of flight in schools. So that was fun. But there's no money as a toy salesman.
I started stage-handing in the mid-'90s. I was a union employee for the International Alliance of Theatrical Stage Employees Local 322. I worked for Children's Theatre, Opera Carolina, and [the now-defunct] Charlotte Repertory Theatre almost exclusively for years, building their sets.
I helped build the church in the film The Patriot [whose production headquarters were in South Carolina]. It was July, and we roofed from 6 a.m. to 6 p.m., and as soon as we finished, it was burned for a scene! Sting played at Ovens Auditorium at that time, and I worked backstage and got to hang out with Stevie Wonder and Mel Gibson. I can't remember having much more fun backstage.
Life is one day at a time whether anyone likes it or not, and I didn't get that from AA. My mother always says, "If you're not having a great time, what are you doing?" That's a pretty simple rule to live by. —Tom Wilkinson