The Evolution of SouthPark Mall
How SouthPark mall became the high-fashion destination it is today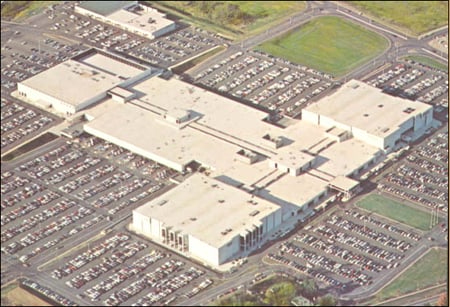 Before an influx of luxe retailers made it possible to snag silk Hermes scarves or graphic-print kate spade cocktail dresses at SouthPark mall, local shopaholics often had to travel far for high-fashion fixes. As the city has become more cosmopolitan, SouthPark has stepped up its game. Here's a look at how the mall has evolved over the past four decades.
1970
SouthPark opens, with Belk, Sears, and the now-defunct Ivey's (since replaced with Dillard's) as its anchors. The shopping hub is about six miles from uptown.
1988
The mall expands to encompass a fourth wing. Thalhimer's department store is added as a fourth anchor; it's replaced by Hecht's (now Macy's) in 1992.
SouthPark boasts 1.6 million square feet; Concord Mills has 1.3 million square feet.
1996
Regal Phillips Place Stadium 10 opens in Phillips Place, a new high-end mixed-use development center located less than a mile from SouthPark. Today, the development is studded with upscale restaurants (Upstream, the Palm) and boutique shops (Luna, Brooks Brothers).
2002
Simon Property Group acquires SouthPark mall from Rodamco. Simon tweaks the former owner's plans for a renovation and expansion, adding amenities and architectural touches such as oak and cherry accents. The renovation takes six years to complete.
2002
SouthPark unveils Symphony Park, a seven-acre outdoor public space. The park is home to the Charlotte Symphony's Summer Pops concert series and hosts outdoor fests such as the Beer, Bourbon, and BBQ festival.
2004
Nordstrom opens in the mall's brand-new luxury wing, and several existing high-end tenants (Tiffany & Co., Coach) relocate to be near the new anchor. A slew of slick shops such as kate spade, Apple, Louis Vuitton, and Burberry also unfurl flags nearby, while artsy lifestyle brand Anthropologie makes its home right next to Nordstrom.
2006-2007
Neiman Marcus rolls out a SouthPark storefront, anchoring another luxury wing. Ralph Lauren, Hermes, and Juicy Couture open outposts nearby.
2006
The Shops at Morrison opens less than a block from SouthPark. The development offers 130,000 square feet of street-level boutique retail space. Today, tenants include EarthFare and Capitol, a locally owned boutique stocked with runway designs from the likes of Alexandra Wang and Balenciaga.
The Village at SouthPark measures 82,769 square feet.
2007
Simon introduces The Village at SouthPark, next to the mall. Today, tenants include Design Within Reach and Crate & Barrel, making it a go-to spot for home goods ranging from high (iconic Herman Miller–designed sofas at DWR) to low (affordable glassware and graphic-print pillows at C&B).
2010
SouthPark mall welcomes a wave of purveyors that are brand new to the Charlotte market. 7 for All Mankind houses its signature designer denim in a 2,106-square-foot space in the Nordstrom wing. The Container Store, Tory Burch, Lululemon, and True Religion also open SouthPark outposts.
2012
At least five new shops will open this year, including a Paul Simon for Women outpost at the Village (formerly located in Myers Park) and a Lilly Pulitzer boutique.
Note: This story contains three corrections from the original version posted. Macy's replaced Hecht's, not Dillard's. Lilly Pulitzer was misspelled, and Paul Simon for Women was formerly in Myers Park, not Phillips Place.