'The Exit Interview' is a Must See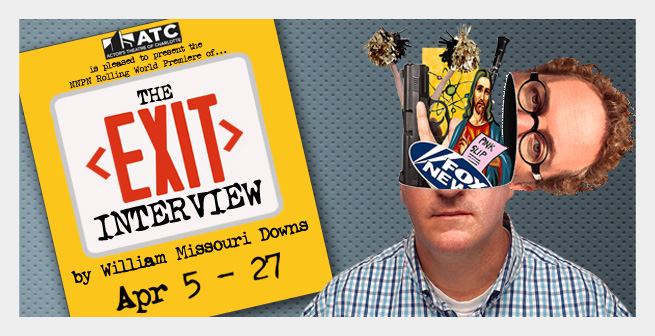 William Missouri Downs' comedy The Exit Interview, currently running at the Actor's Theatre of Charlotte, is blasphemous, violent, politically incorrect, and the best local performance going right now.
Directed by Chip Decker, the play follows the exit interview for downsized college professor Dick Fig, played by Joe Rux, conducted by university administrator Eunice, played by Kelly Mizel. During the interview a gunman is spotted on the campus and is heading toward the tiny office where the two are holed up. As the gunshots get ever closer to their door, Dick and Eunice open up about their pasts and ideas about God and the human condition.
But it's not that simple. The action is constantly interrupted with vignettes and side stories that keep the audience from ever empathizing with the actors. Instead we are forced to watch the events unfold on stage as bystanders rather ever being able to inject ourselves or ideals into the story.
These satirical vignettes include: two scientists who disagree about new medical innovations and cast plagues upon one another; cheerleaders who act as the Greek chorus; and the head of the Lutheran church decreeing "Lutheranism is canceled" after science proves Mormonism to be the one true religion. These asides provide the biggest laughs of the show and give Downs the ammunition he needs to make his points.
Downs seems to enjoy playing with the idea that polite society hinders us from having meaningful, intelligent conversations. Rather than reach across the void in search of honest connections with one another, we discuss the weather and make small talk to avoid offending anyone. Much of the story hinges on this idea as the characters are constantly hemmed in by this social contract.
The play consists of 20 characters, 18 of which are played by four actors: Lauren Dortch-Crozier, Jennie Greenfield, Lee Thomas, and Brandon Smalls. This immensely talented cast does a phenomenal job at hitting their jokes and keeping this play light in spite of the sometimes dark subject matter.
This is a smart, engaging, and thought-provoking play filled with great performances that you won't want to miss. The Actor's Theatre will end it's run of The Exit Interview this weekend.
Tickets are still available for Friday and Saturday's shows – both at 8 p.m.