The Fall of the Lions
When busing ended, West Charlotte High School went from being a model for the nation to a problem the city has yet to solve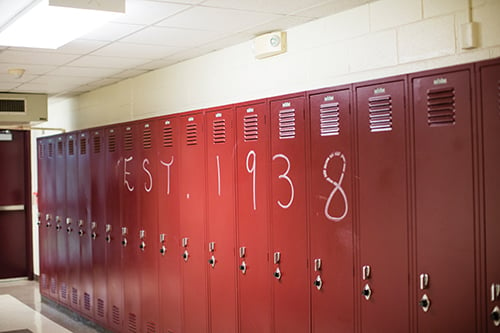 On the last day of the 2013-2014 school year, Lori Williams cranks up the air conditioning in her car, hoping to cool the backseat where the students will sit, if she ever finds them.
Driving out of West Charlotte High School's parking lot, she glides under the canopy of trees on LaSalle Street and heads down Beatties Ford Road, using GPS to navigate through a neighborhood that is both familiar and strange. She's been teaching at the school for 16 years, but she doesn't live in west Charlotte and she's not searching for her own students. She's reading off a list of names, addresses, and credit hours, a page-and-a-half-long litany of troubled kids. Some have the word "jail" scribbled by their names, or "runaway."
These kids didn't show up for their year-end exams, and that has school leaders worried. Federal and state rules require 95 percent of students at a given school to take the exams. If not enough kids participate, the state of North Carolina will say the school didn't fulfill its goals for academic growth, and teachers fear their bonuses based on student performance will be jeopardized. That's why Williams and her fellow teachers, counselors, and social workers are fanning out through the neighborhood today, knocking on doors, searching for warm bodies to sit in front of computers and make the numbers add up.
Williams has straight, black hair with purple highlights, and today wears glasses, a white, cable-knit sweater, and pink-and-white checkered pants. She's 52, with a 20-year-old son in college and a daughter headed there after graduating from West Charlotte this spring. Before she began teaching interior design and apparel development at the high school, she worked as an interior designer, and it shows. She dresses professionally for the classroom. She doesn't enjoy sweating in the June heat.
Beside her in the passenger seat is Aurelia Gilchrist, a substitute cosmetology teacher at West Charlotte. With fingernails painted fluorescent green, she holds the list of student names while Williams drives.
"Booker Avenue, Charlotte, North Carolina," Williams commands her phone.
She drives past a house with boarded-up windows, and another where a man is sitting on the porch at 11 a.m. She finds the address she's looking for. Police cars idle at the bottom of the cul de sac. A "beware of dog" sign is posted outside the house.
"We certainly will. We certainly will beware of dog," Williams says as she turns off the car and heads for the front porch.
There's no answer when she knocks. On the porch is a cage full of pit bulls—five adults and 10 puppies, by her estimation: "They breed and sell pits, and [the student's] not coming to school." Williams sighs as she climbs back behind the wheel.
In one morning, she cannot fix all the things that might be preventing these children from attending school. More than 86 percent of West Charlotte's students are classified by the school district as "economically disadvantaged." In 2011, the surrounding neighborhood's juvenile arrest rate was nearly seven times higher than the Mecklenburg County average, and 36 percent of residents received food stamps. Nine years ago, a Superior Court judge said CMS had committed "academic genocide" in its failure to serve the at-risk, low-income students at West Charlotte and other struggling high schools. Private donors are now pouring $55 million into a venture called Project LIFT, the latest in a string of much-heralded solutions designed to "fix" West Charlotte and the schools that feed into it.
But less than a generation ago, West Charlotte was not a school that needed to be fixed. It was a national model of racial integration. The billionaire investor C.D. Spangler enrolled his daughter there, and former mayor and current U.S. Transportation Secretary Anthony Foxx was a star student. Then, 15 years ago, a court order changed everything.
***
When Williams began teaching at West Charlotte in 1998, it seemed as though every student belonged to some kind of organization. There were cheerleaders and basketball players, a chess club and debate club, letter girls, flag girls, an annual student government-led carnival with dunking booths. "Student government used to be really, really big," Williams remembers. "Now it's hard to even say who's a leader in each class."
One day in early May, about a month before her drive through the neighborhood, Williams is munching on an apple in her classroom, surrounded by tables of sewing machines. She and fellow teacher Stephanie Wyatt are reminiscing about the way West Charlotte used to be.
Back then, students expected to graduate from high school, so they competed with one another about college, grad school, and post-college jobs. They went off to law school or became journalists or businessmen. Even less-wealthy kids "rose to the occasion," Williams says.
Parents volunteered at the school so often that they would end up with permanent staff positions, Williams remembers. The neighbors were involved, too, and they would crowd the streets for the school's annual parades. "And it wasn't just minority students out there," Wyatt adds. "It was an abundance of white students, parents—I mean, I've got goose bumps, because during my time, West Charlotte, you wanted to come to school."
They are not discussing ancient times. Wyatt graduated in 1990, and Williams began teaching here eight years later. Both women joined an institution with a long, proud history.
West Charlotte opened as a school for blacks in 1938 and soon had a sprawling campus with stately trees and outdoor paths leading students from one building to the next. Over the next three decades, its "Mighty Lions" became the pride of the black community. Students won statewide competitions in football and drama. Teachers traveled north in the summers to earn advanced degrees. Although the school was given hand-me-down books and football uniforms from the white high schools, West Charlotte teachers brought in their own typewriters to help the kids learn. They knew their students' parents and the parents knew them; both worked to make sure the kids stayed out of trouble.
In the early 1970s, the Swann v. Charlotte-Mecklenburg Board of Education Supreme Court ruling required the city to desegregate its schools. To comply, Charlotte-Mecklenburg Schools shut down many black high schools in the district and bused black children to white schools. But West Charlotte stayed open. White children from Eastover and Myers Park—some of the richest neighborhoods in the city—were bused here, to the same campus where Williams and Wyatt now sit.
The transition wasn't smooth. "I was really hurt to see all of the daily riots that were happening in the school," William Hamlin, a black student at West Charlotte, said in a 1998 interview with UNC's Southern Oral History Project. "Because I thought that the opportunity was there for us to really embrace one another."
But over time, the violence subsided, and school districts around the country began to view West Charlotte as a model of integration. Television cameras documented its successes on the nightly news, and students and teachers from Boston traveled to the campus to see what they could learn about getting along. "When I got to college, I was proud of the fact that I had gone to a high school where there were a lot of African Americans," Carrie Abramson, a white West Charlotte graduate, told the Oral History Project in 1999. "Because I knew people of a different color who were really, really smart, and were probably smarter than I had been, you know, and had accomplished things I wasn't able to accomplish. And that was important."
Black and white kids mingled at ball games and in school clubs. They worked on class projects at houses in SouthPark and off Beatties Ford Road. They made real friendships that defied racial divisions. "If you talk to anybody that graduated from that time, you will see the love, the pride and admiration that they have for West Charlotte," Wyatt says.
Adds Williams: "It was just like a great microcosm of what life could be."
But, of course, a school is also a microcosm of the society surrounding it, and in the 1990s, racial integration plans across the country began to lose their political popularity. In Charlotte, a steady stream of families moved to the city from other states, and new housing developments pushed the boundaries of the city south and east. The newcomers hadn't lived through the battles over busing. They didn't see the point in forcing their kids to commute across town when they had perfectly good schools in their own backyards. Slowly, the bubble of diversity at West Charlotte began to collapse.
First, CMS revised its busing policy, so many families no longer had to send their children across town to attend school with kids of other races. Instead, the district established magnet programs, meant to attract white children to black neighborhoods for specialized academic offerings. Magnets aimed to enroll student populations that were 40 percent black and 60 percent non-black. Black children were often bused out of their neighborhood schools to achieve these goals.
Then, CMS began opening new high schools and redrawing its attendance boundaries. Many of West Charlotte's best teachers left to join the staffs of the new schools. Middle-class black families, who had enrolled their children at West Charlotte for years, also decided the new schools were a better choice. Many schools in the district reverted to having a majority of students of one race.
In September 1999, the most important choice was taken out of the district's hands. U.S. District Judge Robert Potter—who had been against busing when it began three decades earlier—ruled that CMS had achieved its goal of desegregation. Students could no longer be assigned to certain schools based on their race.
***
Lori Williams has photo albums full of memories from the days when West Charlotte changed. She points to pictures of the last white quarterback and the last white cheerleader.
Black plaintiffs from the original Swann case appealed the Potter ruling, but it was upheld by the 4th District appeals court in 2001. By the fall of 2002, CMS was once again assigning students to their neighborhood schools (although they could still attend magnet programs if they wished). Art teacher Beverly Smith says the transformation at West Charlotte was swift and jarring. Suddenly, the school her siblings had been proud to attend, and where she was so excited to begin teaching in 1998, reverted to de facto segregation, with a majority of black students and a high poverty level. "Our whole approach to teaching changed," she says. "We started losing a lot of teachers."
It was a loss for the students, too. Studies show that children who attend racially and socioeconomically diverse schools are more likely to have better grades and higher test scores, and are more likely to attend and graduate from college, says Roslyn Mickelson, a sociology professor and education policy expert at UNC Charlotte who has been studying West Charlotte for years. They are likely to be prepared for work with diverse clients and customers, and they have less involvement with the criminal justice system. "It's not just children of color; it's white kids, too," Mickelson says. "White, middle-class kids benefit from diverse education on all these indicators."
However, she adds, "Poor children from disadvantaged, minority families benefit most."
That inequality of benefits can make busing a tough sell for voters. Why should parents in Myers Park send their kids on long bus rides to West Charlotte? Shouldn't families invest in their neighborhood schools? And wasn't there a reason they moved to those neighborhoods in the first place?
In a 2004 report, researchers at Columbia University and UCLA set out to address some of these questions. They interviewed more than 200 black and white students who graduated from desegregated high schools in 1980—including graduates of West Charlotte. They found that "students who lived through desegregation consider it one of the most valuable experiences of their lives."
Gary Orfield, co-director of the Civil Rights Project at UCLA, who has written and testified extensively on the topic of school desegregation, agrees. "There's good evidence that white kids and kids of color both find it a positive and stimulating experience," he says.
Yet as court-ordered desegregation policies ended in recent years, schools across the country have been reverting to a new kind of isolation. In May, the Civil Rights Project released a report on North Carolina schools called "Segregation Again." It found that many black students are attending schools with very few white students. Meanwhile, as the level of racial segregation increases at a given school, so does the share of low-income students. This means black kids are not only surrounded by other kids who look like they do, they are surrounded by poverty. Perhaps this is why, instead of asking her about college, Williams's students now ask her why she's not on Medicaid, or why she owns a house instead of receiving a Section 8 rental subsidy. "I have sat in graduation and literally cried because I think, 'What are these children going to be able to do?' " Williams says.
In 1989, less than 2 percent of black students in the Charlotte-Gastonia-Concord area attended a school that was 90 to 100 percent minority. By 1999, 6 percent of black students were in that situation; by 2010, it was 36 percent. This year, an analysis by The Charlotte Observer found that 60 schools in CMS have student populations that are less than 10 percent white, and most of those schools have "very high poverty levels."
After busing ended at West Charlotte, Smith watched the school cycle through policies meant to stem the tide of poverty and racial segregation. CMS leaders fired teachers, replaced principals, and offered bonuses to teachers who raised test scores. "We've been transitioning every year, just about, since we stopped being integrated," Smith says.
Some school districts have found ways to integrate their student populations without busing kids based on their race. Wake County, which includes Raleigh, created a successful busing and magnet program that relied on socioeconomic factors—limiting the number of kids at each school who received free or reduced-price lunch to 40 percent. That program lasted for a decade and was lauded by desegregation advocates throughout the country. But some parents still complained about sending their kids on long bus rides. They wanted to return to neighborhood schools. In 2010, despite vocal protests, the Wake County school board ended the diversity policy.
At West Charlotte, city and school district leaders have given up trying to diversify the student population. Instead, they throw private money at the problem. The school now has weekend and summer tutoring, "credit recovery" programs aimed at helping students graduate, and laptops and Wi-Fi access for younger children so that when they arrive at high school, they won't be ill-prepared. The sense of desperation is so palpable that even the best students can feel it. "Nobody in the community believes in us," says 11th grade honors student Breonda Snead. "Like, the whole city. Nobody thinks we're as great as we really are."
Treating West Charlotte as if it's a charity case is easier than addressing the more complicated question. Busing worked. But is the city willing to try it again?
***
Nancy Contreras-Quinteros learned about West Charlotte's busing policies in her civics and economics class at the school. Her teacher showed students a video, and the lesson was clear. "When they stopped enforcing busing, then [the school] kind of went back to where it was to begin with," Nancy says.
This spring she was a senior, headed to Appalachian State with a full scholarship to college from the Bill and Melinda Gates Foundation. She's the first to admit that she's not like many of her classmates.
In May, she meets a friend in the cafeteria. Nancy is Hispanic, with pale skin and long, bleached hair, and her friend is a tanned, Asian boy. Most of the kids at the
surrounding tables are black. They make up 85 percent of the school's population, compared to 5 percent of students who identify as Hispanic, 6 percent who are Asian, and less than 2 percent who are white.
The lunchroom is segregated by race, and Nancy is too smart to break the social code. In a far corner of the room, a girl comes in skipping and singing, "You're my African queen."
Nancy moves through the lunch line quickly, filling a tray with beef mac-and-cheese, salad, bread sticks, and milk.
Her friend keeps his earbuds plugged in until she joins him at the table. They discuss prom, which is coming up this weekend. Nancy plans to have her soccer coach style her hair and makeup.
Behind them, in the middle of the cafeteria, Principal John Wall stands sentry, walkie-talkie holstered to his hip, his football coach-sized presence lending order to the controlled chaos.
When she finishes her food and lingers to chat, Nancy grows nervous. "If you don't leave, they yell at you," she explains as a security guard approaches.
West Charlotte was not always her first choice of schools. In ninth grade, she enrolled in the International Baccalaureate program at Harding High School, catching a ride home from school with a friend. But the next year, the ride was no longer available, and there were no buses to transport her to or from Harding. So she had to transfer back to her neighborhood school, West Charlotte.
Over time, she developed a strong sense of Lion pride. She joined the soccer team and senior class council and enjoyed support from her teachers and counselors. Still, she felt her differences strongly. She's ambitious and driven. She won a full ride to college. And she is not black. This lack of diversity, as she calls it, is hard to ignore. "I'm accustomed to it. I just wish that I could see more people," she says one afternoon, sitting in her creative writing classroom.
"I don't mind. It'd just be more interesting."
***
Back on Booker Avenue on the last day of school, Williams drives past houses with signs in their front yards announcing they are patrolled by police. When she finds the one she's looking for, she pulls in next to the garbage cans, and the stench is strong in the June heat.
She knocks on the front door, and a woman appears holding a baby in her arms.
The teenager Williams is looking for has zero class credits—no coursework at all. Williams chats with the woman and closes the door, her eyes downcast, sighing. Back at the car, she explains that Mom says her son doesn't want to go to school because people there are eager to fight him. They show up at the house on weekends with guns, looking for him.
Williams and Gilchrist spend a few tense moments waiting in the car. Finally, the boy appears, a skinny kid with a comb stuck in his hair and jeans that hang below his boxers. Gilchrist wastes no time starting the interrogation. "So why you didn't come take your test today?" she asks.
"I don't know," the boy says, his voice low and sullen. "They didn't tell me nothing."
"So what's the deal with, who, wanting to fight you all the time?"
"Oh, we done got that settled. They kicked me out from that," he says.
"Oh, you got kicked out of school?" Gilchrist's voice changes, leaning toward an accusation.
"They say me and this other student jumped a girl," the boy explains. "But the girl say I ain't had nothing to do with it, and he still kicked me out."
Williams's voice rises an octave. "Well, why you always fighting? Why is a fight always around you?"
She doesn't give him a chance to answer. "We're gonna take you back to school and get you started, alright?"
"Alright."
The boy yawns, one earbud in his ear and his cell phone in his lap, looking straight ahead. For the entire ride, he has avoided eye contact with the teachers scolding him from the front seat.
Williams treats her students as if they're her own kids—fussing, joking, encouraging them. She's learned that this boy has an older brother who was recently in the band at West Charlotte, and in junior ROTC. She wants to know why one sibling was so successful, while the other one is struggling.
For the first time, the boy's bravado fades. His voice is low, defeated. "I don't know," he says.
"Baby, you gotta want it, you gotta see it, you gotta want it," Williams cajoles.
"Don't let nothing stop you," Gilchrist chimes in.
"You can't do anything without an education," Williams continues. "Everything comes back to getting your education."
At the school, Gilchrist escorts the boy to the library to take his test, while Williams idles the car, preparing to head back out into the neighborhood. The third house on her list does not appear to have paid its power bill. When Williams knocks on the door and pokes her head in, she sees that the rooms are dark—no television blaring, no radio, no air conditioning. She later learns that the mother has 12 children, seven of whom live at home. Williams will eventually wait for more than half an hour, while the mother leaves to have her brakes fixed. Inside the house, one teenage daughter shouts at another—a 17-year-old in 10th grade—to go to school and take the test.
Williams stands outside with her hands on her hips, sweating in her cable-knit sweater. Neighbors stare indiscreetly from a van in their driveway. Gilchrist opens the passenger door and calls out to her colleague. "We got a pickup? Ms. Williams, we got a pickup? She coming?"
Williams doesn't say anything. She just looks back at the car and holds up her hand, crossing her fingers.
Lisa Rab is an associate editor for this magazine. Reach her at lisa.rab@charlottemagazine.com or on Twitter: @lisayrab.