The Fifth Element of Taste: Umami
Savor the fifth taste, umami, with this decadent burger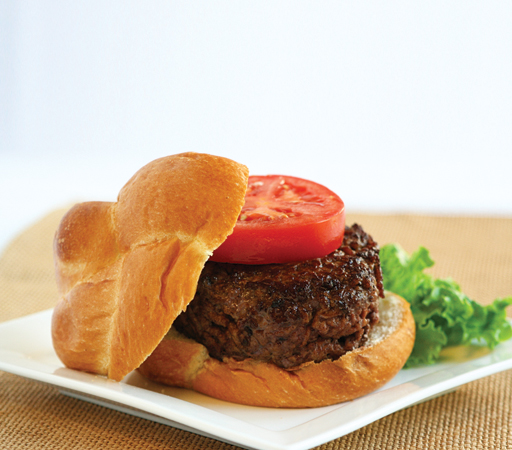 Umami, a Japanese word meaning "savory taste," is commonly described as the fifth taste. For some foods it lends depth and for others it amps up their natural richness. While it's not necessarily a trend—we've been tasting umami since cavemen were enjoying spit-roasted wild boar—its almost-decadent taste has become a recent hit on the culinary scene. Want to dig into your own umami? This beefy burger, mixed with dried mushrooms and fish sauce, is the perfect way to indulge at home.
Umami Burger Bomb
Makes 6 burgers
This burger is all about the sum of its parts. Just three ingredients create a burger with an incredibly beefy oomph! Fear not the fish sauce; it amps up the beef flavor without tasting the slightest bit fishy.
1. Sprinkle the mushroom powder evenly over the meat and drizzle the fish sauce over as well. Mix all ingredients together. Try not to overmix or the burger will take on a meatloaf consistency.
2. Cover and rest in the fridge for at least 1 hour, but up to 24 hours.
3. Shape into burgers and cook any way you like. The caramelization that occurs when cooking indoors on a griddle gives an additional umami flavor layer. Serve on a good bun (toasted is a nice touch).
For an even bigger umami blast, top with Parmesan cheese and slowly roasted tomatoes.
Order Up
To enjoy the taste on the town, try one of these three umami-heavy dishes
Charcuterie Platter at Georges Brasserie
These cured meats offer all the delightfully beefy flavors of umami on one plate. (market price)
4620 Piedmont Row Dr.
980-219-7409
Phwah Burger at Halcyon, Flavors of the Earth
With its foie gras center, ribeye exterior, and egg on top (not to mention bacon, aioli, and cheese), this burger brings umami to gourmet heights. ($24)
Pho Bo at Lang Van
Asian dishes are often heavy in umami, and this classic, brothy beef noodle soup is a perfect example.