The Fog of SCOTUS
Blind handicapping of the N.C. redistricting case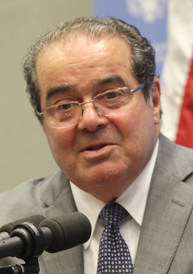 And you may ask yourself, "What effect will the death of U.S. Supreme Court Justice Antonin Scalia have on the North Carolina redistricting case?"
And you will have to live without an answer for a while, because nobody knows.
The N&O ran a story Sunday that attempted to answer the above question. It failed. This isn't necessarily the fault of the reporter who wrote it or the editor who assigned it. These things happen. It's a Sunday. Big news has broken the day before. A second-day story is needed. The desk editor asks him or herself the question above and assigns the story.
Hours later. Deadline approaching.
Reporter to editor: "Nobody knows, at least nobody I can reach on a Sunday that's also Valentine's Day."
Editor: "It's slotted. Write it up."
So the poor reporter is forced to submit wads of anti-clarity like this: "The North Carolina redistricting case, which invalidated the state's 1st and 12th congressional districts, is one that could see a different outcome now, legal analysts speculate." They might as well have posted a GIF of a coin flip.
It breaks down like this:
The state government asked the Supreme Court to issue a stay of the invalidation order at least until after the March 15 primaries. If the court grants the stay, the primaries would go on as scheduled and with the existing district lines. If not, not, and the state has to redraw the lines, perhaps delaying the primaries.
If the Supreme Court votes 4-4 on this or any other matter—a distinct possibility in a polarized court—the lower court ruling stands.
It all hinges, in other words, on a Supreme Court ruling no one can predict. There are times when "I don't know" is the honest answer.