The Food Truck Situation
What's what in Charlotte's food truck world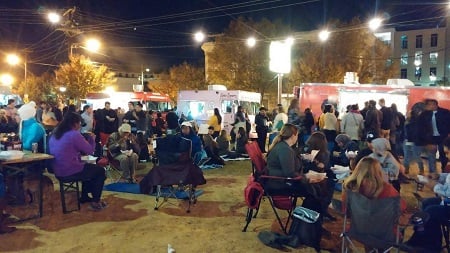 Charlotte's food truck scene is booming, but it's had its ups and downs. From a fight over zoning back in 2014 to a scramble after the spot for Food Truck Fridays was sold, here's a breakdown of what you need to know about the Queen City's roaming eateries.
The Battle: Back in early 2014, the food trucks of Charlotte faced a problem: a new ordinance proposed that food trucks would be limited in how many times they could be at a specific site as well as where they could set up. One piece of the proposal even prevented food trucks from operating within 100 feet of a restaurant, nightclub, or bar while another piece prohibited food trucks from gathering more than once a week in a specific location. Luckily, the ordinance did not pass, thanks in part to a petition written up by now managers of Food Truck Fridays, Karen and David Trauner. The city loosened the proposals, and although still a work in progress, Charlotte seems to be embracing its food truck army.
Food Truck Fridays: If you hadn't heard, the lot where Food Truck Fridays used to take place – the corner of Camden and Park – was recently sold, essentially leaving the future of the mobile food gathering up in the air. Luckily, Gaines Brown, founder of Food Truck Friday, announced that the event will continue starting on April 1, 2016, at Sycamore Brewing in SouthEnd. In a news release, Brown said, "Originally, the plan was to relocate to Wilmore Centennial Park, but when the opportunity to partner with Sycamore Brewing was presented, we felt that it was a perfect fit." Pluses for the new venue include better parking, plenty of outdoor tables, and, obviously, beer. Equally exciting, The Light Factory in Plaza Midwood will host a SECOND Food Truck Friday across the street from Harris Teeter, offering a spot right in the middle of Plaza's eclectic neighborhood.
Ahead of TWO Food Truck Fridays, here are a few food trucks you should know:
Meet and Greet:
Here's to hoping Charlotte's food truck keeps growing. Check out tons more food trucks here!