The Future of Good
First of a two-part series*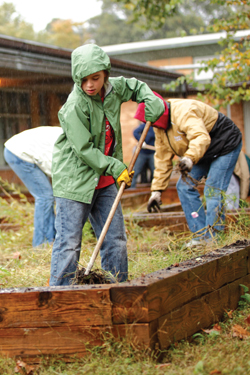 It's well documented that Charlotte's charities, once the beneficiaries of such philanthropic largesse that it was a point of civic pride, have suffered mightily during this recession. The reasons have been equally well documented: health and human services nonprofits have been dependent on the United Way for funding; arts and culture organizations have relied on the Arts & Science Council. Those two fundraising machines have been, in turn, overly reliant on Bank of America and Wachovia — and their employees — for money.
And the rest doesn't need to be spelled out.
So what's next? Now that they're needed more than ever before, can our charities get back their mojo? And if so, how?
Those are the questions we set out to answer with this two-part package, The Future of Good. In part one, we talk to Michael Marsicano, the unofficial czar of Charlotte's nonprofits, and we profile Jane McIntyre, who has the unenviable task of leading the United Way out of the abyss. We show you how a network of mostly unknown charities is helping keep fragile neighborhoods together—and how leaders in that community fear for the survival of their organizations. And we highlight the work of five charitable programs that offer models of new ways of thinking.
Part of this package is a collaboration through Charlotte Mission Possible, a coalition of local media outfits that is tackling the charity crisis head-on. Look for the CMP logo on those stories, and learn more at www.charlottemagazine.com.
*Part two will run in the January issue.
The Interview
Michael Marsicano, President and CEO, Foundation for the Carolinas
The Secret Charities
As most of the city focuses on the big-name nonprofits, dozens of largely unknown charities provide critical services while fighting for their own survival
Sweet Jane
Jane McIntyre is doing her best to transform the local United Way, one miracle at a time
Behind the Scenes
Shedding light on five charitable programs you need to know about