The Gallery Opens, Bringing Wine, Cake, and Coffee to Southend
New space merges art gallery, coffee shop, and bistro.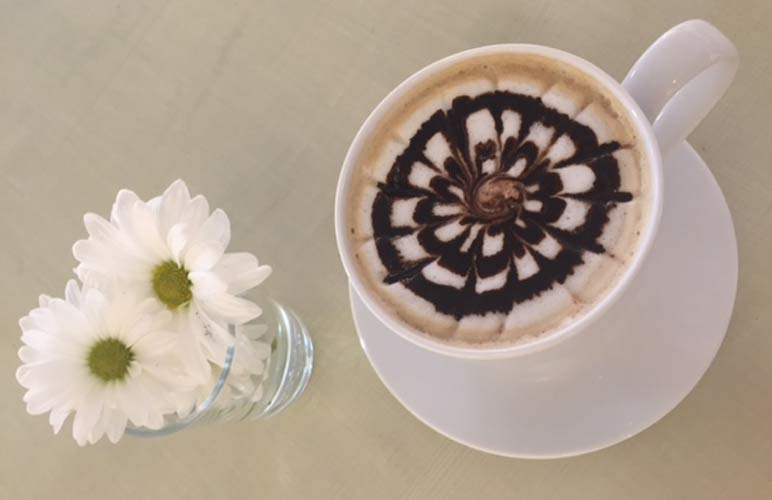 Compared to the natural, manly feel of so many breweries in the neighborhood, the all-white interior of The Gallery at South End is enough to make the bistro stand out. Its wines by the glass and bottle, Stumptown coffees, and divine cakes only add to the experience, and the wine-averse can order bottled beers. At 1320 S. Church St., around the corner from Craft, its proximity to the multitude of apartments in the area bring in couples, groups of friends, and those looking for a different place to sit down with a cup of coffee and do some work.
Owner Ana Amigo-Antonio and her family have lived in Charlotte since 1980. Her husband, William Antonio, is an artist, and Ana decided she wanted to open a gallery with a twist.
"I knew it was going to have coffee and art, and then it evolved into, let's just go ahead and do cakes and things that appeal to your senses," she says. "That feeling of, 'I just want to enjoy it.' The enjoyment of your eyes, the enjoyment of your palate, the enjoyment of your ears."
Antonio's brightly-colored abstract art adds color to the otherwise white walls, but he won't be the only artist on display at The Gallery. Amigo-Antonio says she hopes to be a home for new artists to show their work without the pressure of a big gallery. The art will always be colorful to complement the space's whitewashed brick, and Amigo-Antonio will be the gallery's curator.
"I don't want art to be intimidating," she says. "I know sometimes it can be, but I want it to be friendly enough where anybody and everybody can appreciate it—you don't feel like you have to go and buy. Just look."
The artwork is all for sale, and since opening earlier this week, The Gallery has already sold six pieces off the walls. Antonio has been asked to commission another.
A white, marbled countertop holds an array of cakes, made in New York, flash-frozen, and sent to Charlotte where they'll be served by the slice and whole at The Gallery. Their signature cake is a Mille Crepe cake, 30 thin layers of crepe with a custard-like cream between each layer. You can get it in chocolate and green tea, or order several other beautifully presented cakes to pair with your afternoon coffee or evening wine. There's also beer by the bottle.
The Gallery also serves sandwiches, breakfast (they open at 7 a.m. during the week), and cheese plates created by two chefs who graduated from Johnson & Wales. The breakfast crowd has been steadily increasing, Amigo-Antonio says, and people seem to be embracing the concept.
"We wanted them to sit and have coffee and not be in a hurry," she says. "A lot of people, what they'll do is they sit, they have their coffee, their cake, their sandwiches and salads, but they stay and then they look around [at the art]."
Amigo-Antonio is working on adding an all-day brunch on Sundays, and says to expect live music soon, as well as several events. She'll be hosting a trunk show and jewelry sale Aug. 8-10, wine tastings, art classes, and says the space can be rented out for private events.
Learn more about The Gallery on their web site or Facebook page.