The Good, Bad, and Ambiguous in Charlotte Law Enforcement
As Baltimore burns, we examine shades of gray in the QC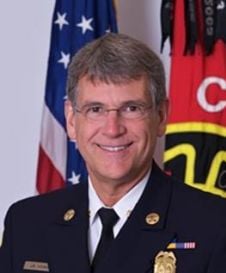 As we watch West Baltimore burn, let's check in on the good, bad, and ambiguous in Charlotte law enforcement:
From the moment her ill-timed and tone-deaf Facebook post was made public in August, it was obvious why Crystal Eschert was fired from her job as a Charlotte fire inspector. Public-sector jobs require a certain amount of discretion in such things as social media posts, and referring to anyone as "a thug and worthless to society" goes way beyond what's tolerable. Even if, as Eschert claimed, her firing was really over her concerns about safety at a Fire Department arson unit center, her Facebook post about Ferguson, Missouri, justified her dismissal.
But she and plenty of other CFD employees were quick to assume her firing was retaliation for her complaints about the center to City Council member Claire Fallon. And that indicates a significant internal problem within CFD and with the leadership of Chief Jon Hannan, as an independent investigation commissioned by City Manager Ron Carlee and made public Monday concluded:
Based on our investigation, it appears clear that there is an atmosphere of distrust among many within the Fire Department. Because Ms. Eschert was a fire investigator, our investigation had a greater focus on that division of the Fire Department; but it also included interviews with several on the firefighting (operations) side of the organization. Although no one could provide specific information to establish retaliation or targeting, most everyone we talked with believed that it very well could have happened. Many gave voice to a fear that appears widespread that any action deemed undesirable by certain members of the command staff will result in targeting and discipline. Crystal Eschert raised concerns about Fire Department actions related to the building at 1517 North Graham, and she did so to people outside of the Department. It was not the first time she had complained about a Fire Department building. Others who knew of her complaints warned her that speaking out could draw negative attention and thus result in Ms. Eschert having "a target on her back."
The Eschert episode swung some rare attention to CFD, a law enforcement agency that, unlike Charlotte-Mecklenburg police, doesn't get much. For years, the department's public face was the affable, moustachioed Capt. Rob Brisley, who was happy to accommodate reporters on the scene of a three-alarm blaze at an old mill complex or something. But Brisley retired last year, and Fire Department officials surely wanted no publicity that didn't involve community service, whether through a toy drive or employed hose. From the looks of it, though, the attention is exactly what CFD needed.
Speaking of CMPD, the department is taking a couple of important steps toward improving its relationship with the community it serves—the kind of actions that might have tempered or headed off what we're seeing this week in Baltimore.
The first, long overdue: body cameras. (I wrote about why they're necessary a few months ago.)
The second: a series of community forums initiated by a barber and aimed at helping police and citizens better understand each other. From Lisa Worf at WFAE, in a story picked up by NPR's "All Things Considered":
Usually, police simulators are tucked away in training academies. But in a Charlotte, N.C., middle school gym, a crowd of 100 people watches Capt. Rob Dance as he leads a teenager through a simulated traffic stop that goes bad.
The simulator lets out several loud bangs. Dance notices the teen is nervous; his hands are shaking.
"You shot 24 times," he tells the student. "Did you realize that?"
It's part of the effort to bridge the disconnect between what police do and how people see it. Most of the attendees are African-American, many from surrounding neighborhoods with crime problems. It's not that easy to pick out the officers from the crowd. For the most part, they're wearing jeans and khakis.
Charlotte hasn't seen the intense unrest of other communities spurred by high-profile police shootings of black men. Still the department wants to be ahead of the problem and address the mistrust that is out there. Shaun Corbett, a barber who came up with the idea for the forums, role-plays with the officers.
"Do I look like I break into houses or sell drugs or rob people?" he asks. "No, I have on my school uniform. So why are you bothering me?"
In 2013, a white Charlotte police officer shot and killed an unarmed black man. The officer was arrested right away. His manslaughter trial is this summer. That incident didn't come up during the forum, but the recent shooting in North Charleston, S.C., did. Charlotte Chief Rodney Monroe says murder is murder. There's no reason to shoot a fleeing man who appears to be unarmed.
"What is the process of weeding out those officers that are just bad seeds?" Yasmin Young, an attendee, asks.
Monroe tells the crowd that identifying those officers is partly up to the community. He encourages them to file racial-profiling complaints to police.
"If someone treats you—or mistreats you—in a way you do not believe is correct, you have to say something," he says.
We've all heard police officials behind lecterns talk about "community policing," to the point at which it's become a trope, more marketing slogan than statement of policy or practice. But the idea is a sound one, and at base it's ground-level public service—acting as members and protectors of a community rather than occupiers. It's OK to be skeptical of how seriously CMPD will take citizen complaints about police misconduct, but consider this, too: What does a young black man in Charlotte think when the police chief, a black man himself, encourages people to speak up when his officers treat them badly?
Of course, for a certain segment of the population, many of them occupying seats in the Legislative Building in Raleigh, there's only one solution to any real or imagined social ill (from WRAL; emphases mine):
A package of proposals aimed at loosening state and local restrictions on guns is headed for a House vote after winning approval in committee Tuesday.
House Bill 562 would require schools to allow gun owners with concealed weapons permits to bring their guns onto school property as long as they leave the gun locked in their vehicle. It would allow citizens to sue local governments that try to restrict the right to carry concealed weapons.
It also would require property and business owners who don't allow weapons to place a large sign to that effect in a prominent location. A violation of such a notice would no longer be a misdemeanor, just an infraction.
The bill would ban doctors or psychiatrists from asking patients in writing whether they own or have access to guns. They would be banned from passing that information along to anyone, even law enforcement, even if a patient were to express a desire to harm himself or others.
It would exempt shooting ranges from any local noise ordinances passed after they were built. It would also allow hunting with silencers and allow guns at the State Fairgrounds, though not during the State Fair.
The proposal would also shorten the list of misdemeanor crimes for which a person can be turned down for a concealed carry permit and limit those bans to three years, with the exception of domestic violence crimes, which under federal law result in a permanent ban.
It would also allow district attorneys and assistant DAs to carry concealed weapons in the courtroom. It would forbid a county sheriff from asking for more information about a permit application than is allowed under state law, and it would force the sheriff to issue a permit after 90 days, even if he or she has not yet received mental health or other relevant information about the applicant from other agencies or states.
Sponsor Rep. Jacqueline Schaffer, R-Mecklenburg, said the goal of the measure "is really making sure that we are protecting the Second Amendment rights of our law-abiding citizens."
"We have these weapons for our protection and our self-defense," she said.
Right. Because heaven forbid an ADA go unarmed during an evidentiary hearing, lest a bad guy with a gun leap out from behind the court reporter. (Courtrooms already have security officers, do they not?) Perish the thought that someone go quail hunting without a silencer.
If these rights are protected already by the Second Amendment, why the need for a brace of state laws that explicitly allow people to carry guns with them into the bathroom to shave, or to open-carry an AR-15 to the barber shop? In all seriousness, are these people hypercynical, f*cking crazy or some horrible splicing of the two?