The Good, the Bad, and the Ugly of BofA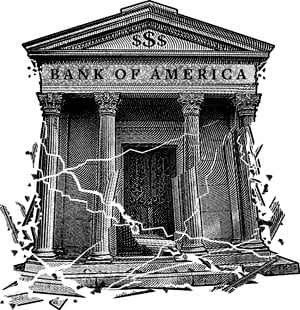 What a long, strange trip it's been. Before the new CEO (who wasn't selected at press time) takes over, here's a look back at the development of what some call the Walmart of banks.
July 1960
NCNB was born out of a merger between Charlotte's American Commercial Bank and Greensboro's Security National Bank.
January, 1982
NCNB tests the waters outside North Carolina by expanding into Florida. New CEO Hugh McColl puts Ken Lewis in charge of running the interstate division and watches as NCNB quietly starts collecting banks. "Wherever I sent [Ken], he always made money," McColl told Fortune.
July, 1988
NCNB takes advantage of bank closures and picks up a chunk of seized assets while also expanding into Texas. "This bank wasn't built from the ground up. It was built from mergers and acquisitions," says Judson Russell, former Bank of America employee and current clinical associate professor of finance at UNCC.
November 1991
NCNB changes its name to NationsBank to downplay the North Carolina tie and to be perceived as a national bank. (McColl supposedly wanted the name Bank of America, but it was already taken.)
September 1998
NationsBank and Bank of America merge, taking on the BofA name and becoming the first bank to stretch across the country, with offices around the world. (Bank of America began as Bank of Italy in 1904, so named because it was started by an Italian, though it was based in San Francisco.)
April 2001
Chairman and CEO Hugh McColl steps down after eighteen years at the helm. McColl's protégé, Lewis (then president and COO) is named his successor. "I was captive to my own machine, the one that I created at Bank of America," McColl told Fortune Small Business.
April 2004
BofA buys FleetBoston Financial Corp. (a deal initially valued at $47 billion), locking in important exposure in the Northeast. "We are now truly the bank of America," said Lewis.
January 2006
Cha-ching: BofA purchases MBNA for $35 billion to become the biggest credit card company in the world.
January 2008
BofA purchases Countrywide, making it the largest mortgage lender in the world.
August 2008
"We have a ray of optimism now that we haven't had for a few quarters," Lewis said after BofA reported a $3.4 billion second-quarter profit.
October 2008
BofA buys Merrill Lynch and becomes an investment firm for the first time in its 100-year history. New York's attorney general and the SEC investigate the details of the deal. "[In Ken Lewis's worldview,] bigger is better and biggest is best," banking analyst Nancy A. Bush told The New York Times.
January 2009
BofA, which was already granted $25 billion in capital from the Treasury's Troubled Asset Relief Program in October 2008, gets $45 billion more in government bailout money.
April 2009
Lewis is ousted as chairman. "Ken Lewis has now become the lightning rod of controversy, and that is highly distracting," Jeffrey A. Sonnenfeld, a professor at the Yale School of Management, told The New York Times. "Even if everything he did was appropriate, it has hampered his legitimacy to lead."
October 2009
Lewis announces his retirement. Among the potential replacements are several Manhattan-based BofA execs, sparking questions about whether BofA will keep its headquarters in Charlotte.