The Great Decorating Debate
They took lifelong vows. But did that include the fight over the family room sofa? Our writer navigates the murky (and sensitive) topic of merging styles in a home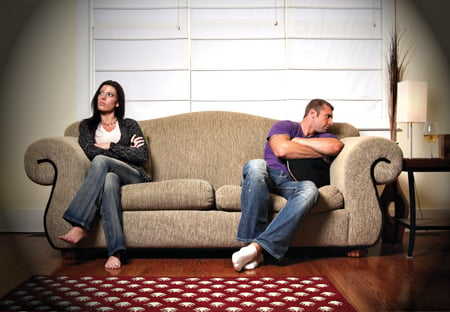 We like to refer to it as the Great IKEA Battle of 2005. While giggling kids were crawling over colorful mock-room vignettes and a hip couple was smiling at the unbelievable price of a dark purple slipper chair, my boyfriend and I were blindly walking into what was about to be the biggest fight of our relationship. Of course now—four years and a marriage later—we don't remember what it was exactly about (dining room table, I think, or maybe it was a desk?) but the message was clear: we both had strong opinions about furniture, and neither of us was going to budge.
As we learned the right and wrong ways to approach things, the sarcasm and eye rolls stopped, but the issue stayed the same. In our second apartment, when we were ready to trade in our hand-me-down black leather sofas for something more streamlined, we, naturally, couldn't agree. So we compromised and wound up with two square-arm sofas in the color beige, aka blah. What we needed was a style arbitrator. Which, sadly, is the role that professionals often have to play.'
"Decorators aren't therapists, but we get put in that position a lot," says Kevin Carpenter, an interior designer with Meyer Greeson Paullin Benson. I could fully understand that. Because that is exactly what my husband and I decided we needed as we posted our blah sofas on Craigslist less than a year later.
We had learned our lesson. Fighting doesn't work. But neither does passive- aggressive compromise. According to Carpenter, what we needed was some big-picture vision. "You can't just look at one item. You need to look at the whole room and how it functions." Ah. A plan. But where to start? First, suggests designer Phoebe Howard, who owns her own eponymous design firm, you need to define what you want as a couple before you even start talking paint chips. "Are you modern? Traditional? More relaxed? Do you have pets? Want it to be cozy?" asks Phoebe. I get her point: it's less about pattern and more about vision. I like clean and spare, my husband likes warm, but we discovered through those big-picture conversations that we both like modern. And we both like browns with pops of color.
OK. Things were looking up.
Specifics still need to come in baby steps. Carpenter suggests putting a budget on the table right away. "It's important to take the budget and plan the whole space. You just can't love a sleek Italiana couch on a $1,500 budget. It helps to set priorities." Which, we found, eliminates choices — in a good way.
Finally, it was time to talk specifics and turn to the glossies. "You should find pictures of complete rooms that you like and have your partner do the same. Often there are similarities that you can start building on," suggests Carpenter. I loved this idea. And it worked. Not only was it fun to spend the afternoon flipping through my piles of design mags, we began to see how much we agreed. (You love the Eames chair? Me, too!) But something else emerged from this exercise that became invaluable: it's not really about this couch or that lamp, it's about the bigger picture. "You need to focus on the whole room — how decisions on individual objects fit into that plan," says Carpenter.
And with this advice we found ourselves at Mitchell Gold + Bob Williams buying our second couch to replace the square-arm mistake. We rather quickly settled on a Mad Men-esque sofa in a rich, bold blue. It was miles away from beige, and while it's a risky color for such a big purchase, we both loved it and it fit into our overall plan. "Keep in mind," says Carpenter, "both people want a beautiful room. That is the end goal." I agree with that — as long as it means no more beige-colored furniture.
Ashley Primis is the food and lifestyle editor for Philadelphia magazine. Her work has appeared in Lucky, Women's Health, and Charlotte magazine.