The Great NC BBQ Map
Two Plaza Midwood residents set out to create a map of every barbecue joint in the state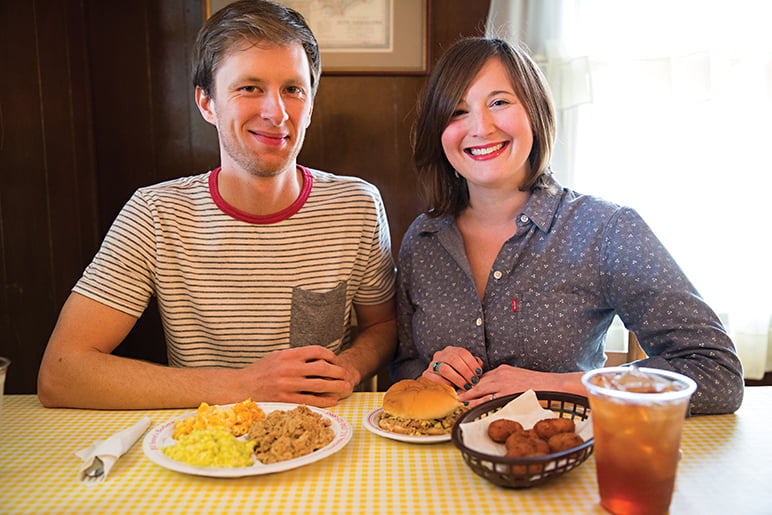 Amanda Aileen Fisher and Paul Bright have eaten more barbecue in the past year than most people eat in a lifetime. It's all part of their quest to create "The Great NC BBQ Map," the first release from their new map company, EDIA (which stands for "Every Day Is an Adventure"). In February, the couple launched a successful 30-day, $10,000 Kickstarter.com campaign to fund the project, a comprehensive map of barbecue joints across the state. More than 300 backers contributed, but if you missed out, don't worry: The map will be on sale this month in barbecue restaurants, gift shops, and boutiques in Charlotte. Find locations online at thegreatbbqmap.com.
---
ALEIGH ACERNI: How did the map come about?
AMANDA AILEEN FISHER: Well, really I was in the middle of planning this Florida trip. Whenever I plan a trip, it's serious. I do some crazy digging—I'm like a little gopher to try to find all these things that are beyond the books. I had this memoir [Two For The Road by Jane and Michael Stern]. [I was] surrounded by maps and I'm reading this book and it just clicked: Well, this is what I need to be doing, something that involves travel…and storytelling, too. Because it's about the things you discover along the way, and the people, and that's always been a big part of what barbecue is to me…it carries so much about our state's history and traditions. That's one of the things that's always drawn me to barbecue places.
AA: You mean aside from the barbecue itself, obviously.
AAF: Yes, I love barbecue. (laughs) And definitely hush puppies. I'm a hush puppy freak.
AA: When you set out to make this map, how many barbecue joints did you expect to put on it? Did you have a sense of what you were taking on when you decided to make this map?
AAF: I would say no. (laughs)
PAUL BRIGHT: Maybe 200?
AA: You promised to be comprehensive. That's a big statement.
AAF:We have talked about the national chains and statewide chains and things like that. And definitely statewide chains are going to be on there, but we're leaning toward not doing the nationwide ones because that feels a little different and it's not so much about North Carolina history and heritage and everything.
AA: It seems like part of the beauty of this map is a sense of discovery.
PB: Right. And those [national chains] can easily be found.
AAF: Exactly. And then the other thing we've run into is "barbecue restaurant" versus "restaurant that serves barbecue." So those are two really different things, and trying to figure out where that line is drawn is kind of tough.
AA: Toward the end of the Kickstarter campaign, I was getting nervous that you guys wouldn't reach that $10,000 goal, and thinking, "I need my barbecue map!"
PB:She had the great idea to look for those [additional Kickstarter rewards for extra pledges] near the end. Which worked out.
AAF: We definitely had some things up our sleeve the last week…but I was trying to hold off because I wanted everybody who had already pledged to get that message about the add-on. And it was so hard, to like, WAIT. Like, "Don't do it yet, Amanda!"
AA: Well, barbecue is all about patience.
AAF: Yeah. That's true. (laughs)
AA: Did your phones buzz every time you got a pledge?
PB:Yeah. About halfway I turned my phone off where I wouldn't get anything like that, cause I just…
AAF: It was making you too nervous.
PB: But then I kept…I found myself just checking it every five minutes. Refresh, refresh.
AAF: It was just like bam, bam, bam, bam, bam, bam. It was crazy. So by the end of that night, we were really close. I mean, we were less than $1,000 away. And by then we were like, we're going to make it. For sure.
AA: You ended up raising more than $10,000. $10,418, to be exact.
AAF:Yeah, I know, it kept coming. It's like, maybe some people, they wanted to know they were really going to get it, or they were just procrastinators like you…
AA: Whoops! Guilty.
AAF:There was this race for all these people trying to get us to $10,000.
PB: There were a few people who increased their pledge $5 or $10.
AAF:Yeah, but all at the same time. That was the most surprising and most amazing thing of the whole experience…the energy. It was palpable. We could really feel everybody's eyes glued to the screen watching it, rooting us on, and believing in it. We didn't expect that at all.
AA: People have strong feelings about barbecue! It sounds like if it wasn't already, barbecue is kind of your life now.
AAF:That's one of the things I like about it. The people. We realized that there are a lot of new places in Charlotte who are carrying on the tradition of North Carolina barbecue. A lot of times people look at those new places that are shiny on the outside and they don't go there because that's not legit. That's not real barbecue. It has to like have duct tape on everything or flies in the windowsill or….
AA: I guess you just want to feel like they are investing every ounce of energy into making awesome barbecue—not details like linen tablecloths. When you guys go to a barbecue joint, what's your approach?
PB: Usually we get a sandwich and a plate and split it.
AAF:Or one or the other depending on how many places we're going.
AA: What about sides? Do you have a favorite?
AAF: Hush puppies. I think we agree we like the sweeter ones better. No onions. Corn nuggets. It's sort of like fried creamed corn. It's really good. I haven't found any around here. I guess I'm more partial to eastern style because of all the wonderful things that come with it. They do all the buffets out there, so they do all the country sides, and then fried chicken is considered a side out there. (laughs)
PB: I tend to like the smokier barbecues. I like some collard greens. I've found that more of the newer places do better collards.
AAF: Well, and a lot of older places don't have collard greens. Piedmont or Lexington style is more like hush puppies or slaw, obviously, baked beans, french fries. That's about it. There's all this history about these things and where they develop but they're just all over the place now. Whole hog is traditionally eastern style, but you might find a place that does whole hog with Piedmont or Lexington style sauce. Or collard greens for sides. And maybe there's something with mustard in it, so who knows?
AA: Are either of you tired of talking about or eating barbecue?
AAF:I don't think I'll ever get tired of talking about it, like I could seriously probably talk for five hours about barbecue. But, yeah, I'm starting to definitely get tired of eating barbecue.
PB: Yeah. That's where splitting it comes in.
AAF:I mean, luckily we are pretty close to vegetarian at home.
AA: Hold on. Pretty close to vegetarian…except when it comes to barbecue?
PB:Yeah. I mean, that's really…we don't eat much chicken. We hardly ever eat chicken or beef.
AAF:We eat a lot of pork, for sure. I mean, we love bacon and we love sausage. We only eat it, I mean, it depends on how much barbecue we had—maybe not at all during the week. Or like once. Or twice. We make culinary exceptions when we go out. So yeah, barbecue's a big exception. I would love to be able to count, like, how many barbecue sandwiches we had in the past year.
PB: Probably more than I ever had in my whole life, in the past year.
AA: The map will ready by mid-June. Now you have this new company. Do you already have a new project in mind?
AAF: We have talked a lot about what we want the next idea to be. At first we thought, we're just going to do all the barbecue states. We talked about maybe one of us working on one map. So I already have started a second map. Not a barbecue map, like a Charlotte themed thing. So I've already put a lot of work into that. All the ideas we want to do them all right now. I gave notice for my grant-writing job.
AA:So this really has been a life-changing experience.
AAF: It has.
PB: Cholesterol's gone up.
AA: Cholesterol? Really?
PB: A little bit, yeah.
AA: That's commitment.
AAF: We're only get what we give, you know, what we put into it. I feel like I just had to go all in and just bet on myself.