The Grown-Up Grilled Cheese
Papi Queso takes the childhood favorite to another level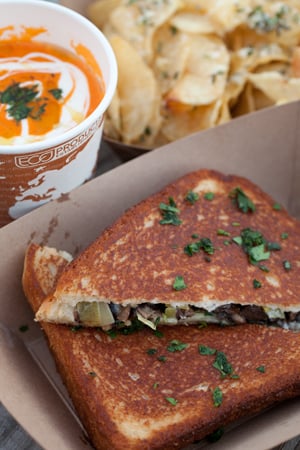 Brian Stockholm knows a thing or two about comfort food. Stockholm, who has been both a chef and restaurant manager, ventured out on his own last September to launch Papi Queso, a food truck that specializes in grilled cheese sandwiches and sides. "I wanted to take food that everyone can enjoy and elevate it," Stockholm says.
Standouts include the leek-and-mushroom grilled cheese ($8), made with Gruyère and truffle Robiola cheeses, leek confit, and meaty mushrooms; and the indulgent Pig Mac sandwich ($8), with pulled pork, bourbon onions, and a thin layer of mac and cheese. Other toppings you might find on the constantly changing menu: pickled veggies and seasonal fruits and vegetables. Don't miss the classic grilled-cheese-and-tomato-soup combo: Papi Queso's velvety tomato and tarragon soup ($3) with lemon crème fraiche is a staple, as are the house-made truffle kettle chips ($3), which are generously tossed with rosemary, lemon, Parmesan, and white truffle.
The truck regularly parks at Tryon and Third streets Mondays from 11:30 a.m.-2:30 p.m., at Sleepy Poet Antique Mall (4450 South Blvd.) Saturdays from noon-3 p.m., and at Triple C Brewery (2900 Griffith St.) Wednesdays from 5-9 p.m. Or track down the Papi Queso truck at facebook.com/PapiQuesoTruck or on Twitter at @PapiQuesoTruck.