The Guru Returns
Cy Santos is back in the kitchen at Sushi Guru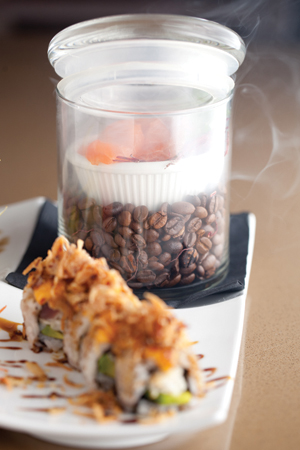 At first glance, not much has changed at Sushi Guru Sake Bar—except, of course, the name. Housed in the former location of Cyros Sushi, the SouthPark restaurant is still small and intimate, with a modest sushi bar and a handful of tables. Executive Chef Cy Santos, who was also executive chef and co-owner of Cyros, is in the kitchen once again. The décor is understated: pink salt votive holders glow atop the tables and contemporary art adorns the walls.
But a look at the menu reveals that Sushi Guru is much more versatile than its predecessor, which boasted—and delivered—"nothing but sushi." First up: a number of small plates and chilled specialty items, including shrimp shumai ($8), eight bite-sized steamed dumplings alongside a pungent XO dipping sauce, and a tuna avocado salad ($11), tangy and refreshing, with delicate cubes of fresh tuna and avocado lightly dressed in a sesame vinaigrette.
Knowledgeable servers are happy to assist in navigating the menu, and there are no bad choices on the small but carefully chosen wine, beer, and sake list—any selection will nicely complement the food. And while there are plenty of traditional sushi rolls and nigiri to choose from, the restaurant's inventive specialty rolls are the standouts. The Guru's Roll ($13) is an unusual mix of flavors and textures, with tuna, lump crab, and avocado drizzled with a spicy aioli, flash-baked until slightly warm, then topped with fried garlic and shallots. The Fujisan Roll ($10) offers a satisfying crunch, pairing spicy lump crab and ripe avocado with slices of Fuji apple, topped with eel and crispy wonton strips.
If you only order one specialty roll, make it the Hamachi Jalapeño Roll ($12), which includes delicate pieces of crab and avocado topped with slices of fresh yellowtail (Hamachi) and paper-thin slices of jalapeño, drizzled with a wasabi citronette for a tangy, citrusy taste and a hint of jalapeño flavor without the spiciness.
Already a solid option for Charlotte sushi-philes, look for Guru's fresh sushi and adept servers to make it even more of a crowd-pleaser soon: an expansion is planned for completion before the end of the year.
Location:
6601 Morrison Blvd.
704-362-3021