The Haunt Hopper: A Ghostly Guide to Mooresville
Historian and history teacher Chris Stonestreet shares three of his spookiest local legends—plus, one more from his father and fellow historian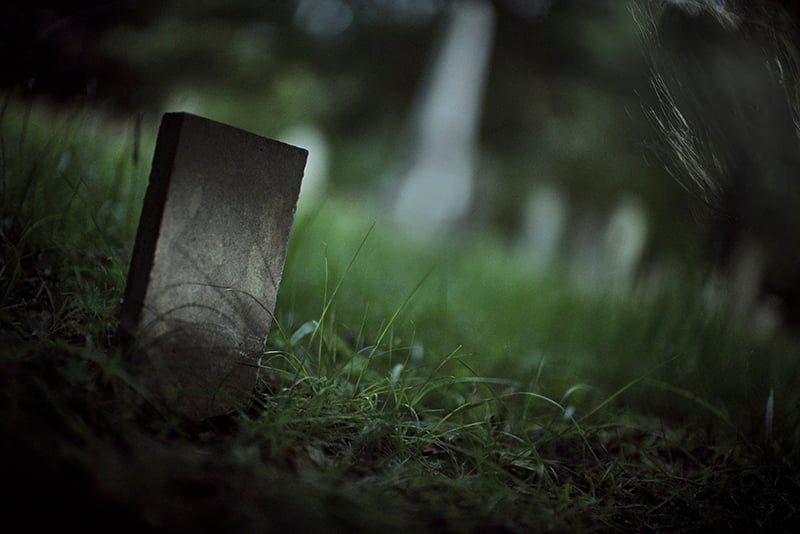 O.C."Chris" Stonestreet IV, 52, is a lifelong Mooresville resident who teaches history at Mooresville High School. In 2016, he published Curse of the Wampus, and Other Short Spooky Stories of Piedmont North Carolina, a collection of 10 local legends he's investigated over the years. His family has lived in the area for more than a century, so his fascination with history and folklore spans generations. His father, O.C. "Chip" Stonestreet III, is a longtime writer for the Statesville Record & Landmark, where he writes a weekly column on Iredell County history.
Chris often takes his students through some of the spookiest sites in and around Mooresville. "When you're teaching, you're an entertainer," he says, "and I've always been into folklore. It's like the classic fish story. 'Did you really catch a fish that big?' What's there and what's not? But with every legend, there's a kernel of truth." Here are his stories from three local haunts. His words have been edited for clarity and space:
The Shinnville Witch
Just outside the wall of the 200-year-old Mills Family Cemetery near St. James Episcopal Church on Shinnville Road, there's a small headstone without a name. The legend is, it's a witch that was killed and buried outside the wall, and her soul still lurks there. It may have been a bogeyman story, or a case of parents trying to keep their children in at night or away from the cemetery.
Seven years ago, I was part of a team from the church to investigate the possibilities of lost or unmarked graves. The church had started burying people there without realizing there were already bodies there. Within weeks, we identified a number of unmarked graves outside of the original walls. Turns out, in the 19th century, people who had committed suicide, murder, or were deemed evil couldn't be buried in consecrated grounds.
But the Mills Cemetery was also established before the Civil War, and burials were segregated. So there is a stone there now that says something like, 'To the beloved servants, you're not forgotten." The church came out and blessed the area, so once they found out, they tried to right that wrong. A legend led to us doing really good research and giving peace to those forgotten for 150 years.
***
The Girl at the Underpass
On a road just south of Jamestown, a girl named Lydia was trying to get home from a party one night. She flagged down a young man who picked her up, and she told him where to turn onto her street. When he got out of the car to open her door, she'd vanished. He thought maybe she'd run ahead, so he went to the house to ring the doorbell. An old woman answered, and he explained that he'd picked Lydia up by the overpass to drive her home, but she was no longer in the car.
The woman said that Lydia was her daughter, and she was killed in a wreck by that overpass in 1923. She explained that he wasn't the first one this had happened to; Lydia's ghost still flags down a driver some nights. I'd heard this story since I was a young boy. Lydia's family still lives in the area. Maybe it was a manifestation of someone trying to get back home.
When I investigated this story, a library archivist said Lydia died in 1923 coming back from a New Year's Eve party. Her car hit one of the walls and probably flung her out. They built a new overpass in the '60s on High Point Road; Lydia's Bridge is actually the old abandoned underpass on the right, about 100 yards in just through the trees, but you can still see it. I found that original concrete underpass and used it for the cover of my book.
***
The Magnolia Gym
There's a haunted gym across the street from Mooresville High School, built in 1967. Multiple people have heard a basketball bouncing after a girl was killed in the early '70s; the lunch crew, janitors, even the principal who doesn't believe in this stuff. I heard about it in high school when I was there, but I'd never personally seen anything.
The story is, there was a girl named Tina who was really good at basketball. She had college scouts after her as a freshman. But she died in a car wreck in '70 or '71. After that, people started hearing a basketball bouncing and a girl's voice in the locker room. My father knew one of the coaches there for 30 years, a guy named Al. Al told him one night as he was closing up, he turned off the lights to leave and heard a ball drop and roll. He turned the lights back on and didn't see anything. When he got about halfway down the court, he heard a girl's voice say, "Do you want to play a game?" He turned and ran, didn't even lock up.
I used to coach volleyball there, and about three or four years ago, we were in the gym for practice one Saturday. The girls were setting the net up and facing me, so I was facing the main entrance. Off to the side were the cleaning supplies, and I saw all of them being flung into the air to all corners of the gym. I swear I saw it with my own two eyes. I can't explain it; I can just say that in a highly trafficked area like a school or a church or a hospital, eventually some things happen that are unexplained. Maybe energy like that stays in a place.
---
The Beastie Up I-77: Meet the Wampus, Iredell's Bodacious, Voracious Cryptid
O.C. "Chip" Stonestreet III has researched and written about Iredell County history for most of his life. He studied under longtime Charlotte historian Dan Morrill at UNC Charlotte and taught 8th-grade history at Iredell County Schools for more than 30 years. He is also the author of Tales from Old Iredell County: Historical Legends, Murders, and Stories of the Unusual and Uniqueand They Called Iredell County Home. For the last 13 years, he's penned a weekly column for the Statesville Record & Landmark. Here, he shares one of his favorite local legends:
It's difficult to know what to do with reports of a quadrupedal mammal, a voracious omnivore that first appeared in and around Statesville 130 years ago. It would be easy to dismiss the so-called "sightings" of the beast as practical jokes or the misidentification of native but elusive species, such as foxes, bobcats, or even coyotes.
And then there's the problem that reports of the Santer, as it was first called, or the Wampus, as it was usually called in the 1930s, is still occasionally spotted.
Joseph P. Caldwell, editor of the Statesville Landmark and later The Charlotte Observer, introduced Iredell County readers to the Santer on the front page of his newspaper of August 28, 1890, with the headline, "The Antelope or Glutton—A New Sensation Among the Colored People."
Some critics maintain that this initial story was pure fabrication—something to sell newspapers during a slow news time. According to one eyewitness, this is how the creature appeared: "It is made in the shape of a lion, has a thick, short head, and a thick woolly body up to its head from his fore shoulders and runs out thin at the other end with a long thin tail with a brush on the end of it. It is as long as Mr. Key's big black dog and has a white breast. It is about as high as a half-grown hound but heavier. It has a loping motion and clears about eight feet at a lope … " It was also said to have had a peculiar, piercing howl, sometimes described as sounding like "a woman's cry from inside a rain barrel."
The mysterious beastie was the chief topic of conversation around Iredell's county seat in the days that followed. More rumors swirled. "It eats dogs, hogs, and young children bodaciously up and is a dangerous animal to be running loose …"
In those days, newspapers unabashedly copied stories, and The Landmark's article was republished widely. Soon there were similar sightings around the Piedmont and even further afield. Eventually the sightings subsided, only to reappear now and then, here and there. There was a rash of sightings in the Troutman/Amity Hill area, then further south around Mooresville and so on, down toward the Catawba River. Parents sometimes used the creature as a bugaboo to herd children, as in, "Child, you'd better not play in the woods after dark, or the Wampus just might get you!"
There have been more recent sightings of an unknown, Loch Ness Monster-like animal, "Normie," said to be a resident of Lake Norman. Whether this is our historical Santer or Wampus, or some new crypto-biological entity, remains to be seen—or, perhaps, not seen.
Taylor Bowler is lifestyle editor of this magazine.