The Host: Johnny Harris
This CEO of Lincoln Harris and president of Quail Hollow Club is No. 9 on our list of 50 Most Powerful People in Charlotte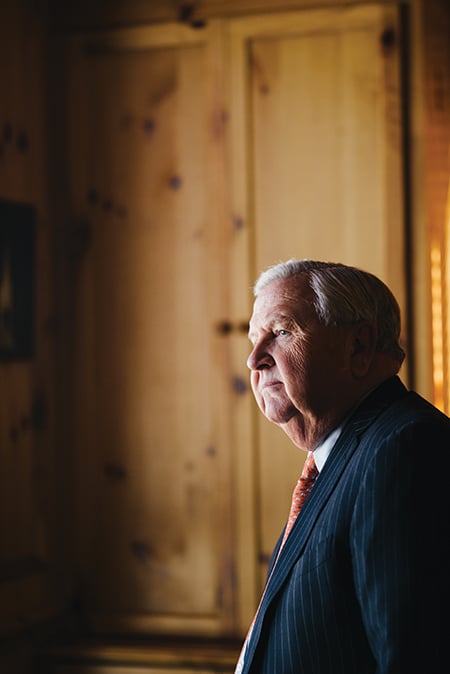 > Read the entire list of Charlotte's 50 Most Powerful People.
JOHNNY HARRIS REMEMBERS the night nearly 60 years ago when a group of Charlotte business leaders came to his family's house to meet with his father, James J. Harris, and what is now Quail Hollow Club was born.
Today, the 69-year-old Johnny Harris is one of Charlotte's most dynamic leaders, playing a significant role in real estate, sports, and civic issues. He is not bashful or shy. Ask his opinion, and Harris will give it, often calling you "podna" (partner) as he explains himself.
A member of some of the great golf clubs of the world, Harris is most at home at Quail Hollow Club, where he has been president since 1988. In August, Quail Hollow will host the 2017 PGA Championship, the first major championship ever played here.
It is a huge moment for Charlotte sports. For nearly 50 years, professional golf and Quail Hollow have been tied together, and Harris and his late father have been the knot between them. He is happy to play host to the best golfers in the world again. I sat down with him recently and let him talk.
Ron Green Jr.: Is the 2017 PGA Championship the culmination of what you imagined professional golf in Charlotte could be, or is it just another bright spot in a long arc of pro golf here?
Johnny Harris: I'm not presumptuous enough to say what I want Charlotte golf to be. I think back to Erwin Laxton and Bill Williamson and all the (golf) people, Keely Grice, even Leon Crump and James Black, Charlie Sifford. I'm just part of the journey.
My father used to tell me you were never going to know when all of a sudden it (would be) your turn at bat. Take advantage of it and knock it out of the park.
RG: When your father conceived of Quail Hollow Club, he did it with the support of Arnold Palmer, who later became one of your closest friends. How did your father and Arnold Palmer influence you?
JH: The two most important men in my life were my father and Arnold Palmer.
I was 29 years old, and Smoky (Bissell) and I built (Palmer) a house at Quail Hollow. It evolved into something way more important than golf and being a fan.
When Dad passed away (in 1985), Arnold sort of took me under his wing. He always called me John.
I started going to the Masters with Arnold at least 10 years before I was a member at Augusta National. (My wife and I) would stay with he and Winnie (Palmer's wife) in a house. We had some great times. On a Tuesday night after the Champions dinner one year, I remember sitting in the kitchen at a table and Arnold—he called Winnie "lover"—he said, "Lover, we need something to drink." She came out of the den and put a bottle of Jack Daniels on the table and brought two glasses. He poured us both a glass and we never left the table until the Jack Daniels was gone.
RG: What lessons did you learn from Arnold Palmer?
JH: A deep, deep respect for the game and for the people who played it, the people who play it well and the people who play it not so well. He respected everybody.
Everywhere I went, I was astounded at the respect people showed him. The thing you forget about Arnold is he had that smile that said, "Hi, I'm Arnold Palmer, and I'm up to something." Everybody knew he was up to something, and everybody loved him.
He would physically touch you. He'd grab your hand or put his arm around you and it was like a vice. His hands were so big.
RG: Sports, as we've seen through the years, can unify a community. Do you sense that in Charlotte?
JH: I've said many times that the first time I understood there were two parts of Charlotte was when I was 11 years old and I went to the Billy Graham Crusade. Every building I'd been in had "white" bathrooms and "colored" bathrooms. I went to the Charlotte Coliseum (now Bojangles' Coliseum) to the crusade and all the bathrooms were the same.
I took from that crusade that public buildings are great places to bring the city together.
As a little boy, my dad used to take me to Memorial Stadium for the Queen City Classic to see West Charlotte and Second Ward play (the annual football game between Charlotte's two black high schools ran from 1947 to 1968). Bringing people together is what I've always seen from sports.
I never misunderstood that sports could be a vehicle of social change and economic change. Look at this city now and what would we be without the NBA, the NFL, and racing and all of those things? I hope we never find out.
RG: You've never been afraid to dream big. You see a big picture. Did you learn that from your father?
JH: I love to tell the story my dad used to tell: If you're walking down the street and you stop to quiet every barking dog, you'll never get to the end of the street. So all the naysayers that are barking all around you, don't pay a damn bit of attention. You just keep going where you're planning to go, one step at a time.
RG: It hasn't always been easy, has it?
JH: John Belk loved sports and he was between my father and I (in age). There were times when he and I got sideways, but he was always quiet (publicly) when he didn't think I was doing the right thing. He'd tell me. He'd blow my ass away.
He never thought building the coliseum on Billy Graham Parkway was the right thing to do. After (the city) built it out there, we said it would attract economic development, and Belk's went out there and built their headquarters. But he never forgave me for building it out there. (Harris helped lead the effort to build the Coliseum off Billy Graham Parkway.)
One year at a (Charlotte Chamber of Commerce Inter City) visit in Dallas, he blew my ass out in front of a bunch of people. This one guy said, "I've never heard anything like that." I said, "You need to understand it was always coming." I knew I was going to catch it. I'm just so glad it was done in Dallas, Texas.
I was on the last bus back to the Anatole Hotel (from a meeting). I walk in and John Belk was standing there waiting on me. He said, "Come on, let's go get a drink." We never talked about it again. Not one time.
RG: Do you like where Charlotte is?
JH: No. I have real concerns about schools and how we get the schools where they go back to educating our children, not promoting our children. And do it so that it's quality education for all, not equal education because equal education is easy: You just do a bad job and everyone will be fine. We need quality education. If you don't have an education, you're not going to be anything but a problem for society.
RG: Did you ever consider running for public office?
JH: I got very close to running for governor—right after the Coliseum opened on Billy Graham Parkway. In fact, there were guys named Jimmy Glenn and Bert Bennett from Winston-Salem. They were the kingmakers back then. The two of them and (former governor) Jim Hunt came to see me and asked me to run.
For one year, I went to the dinners and did all kinds of stuff. I really thought about running until I talked to my wife. She said, "I don't think that's a very good idea." She said, "You're going to love Raleigh, but we're not moving."
I focus on Teach For America now because of the public school system, and TreesCharlotte, growing the tree canopy back up to (50) percent. That's important to me. We're making headway on that.
RG: You've done a lot of things. What's on your bucket list?
JH: I'd love to drive an 18-wheeler across the country.
RG: Why's that?
JH: Because I think this country is so big and you can touch it when you do it.
I want to make more dreams. I want to do things I haven't done. I love the Tetons. I worked one summer at the Jackson Lake Lodge in Jackson Hole.
My mom and dad used to take me out west and we took our family out west and we rode and did all the stuff you do. I always kept waiting for John Wayne to ride over the hill.
RG: What do you think about your nickname, "Big Podna?"
JH: Oh man…
Have you heard the one about Freight Train? You can hear me coming before I get there.
Ron Green Jr. is a writer for the Global Golf Post, and before that he spent more than 20 years as a sports reporter for The Charlotte Observer. Reach him at rongreenjr@gmail.com or on Twitter: @rongreenjr.