The House That Women Built
Habitat for Humanity's Women Build now reaches across the globe, but the first home is still in Charlotte, and the first owner still lives there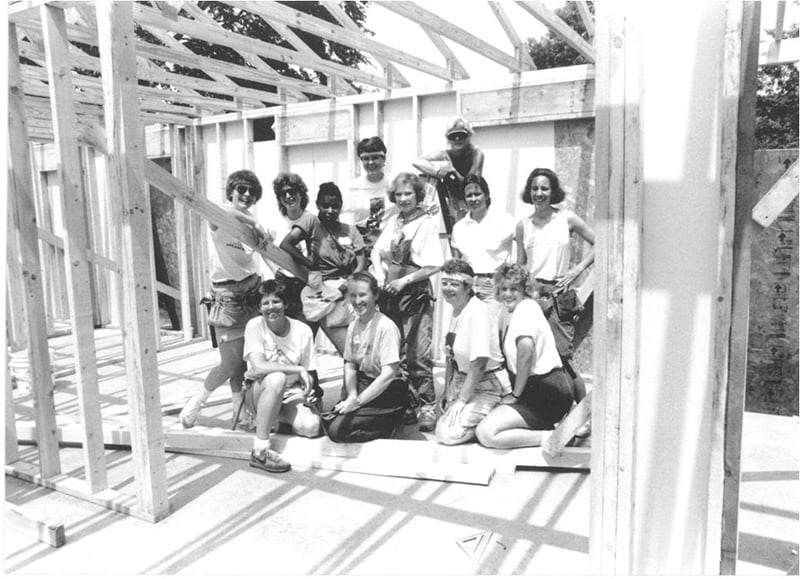 SHE WAS a princess. That she remembers.
Janet Stewart, now 57, sits in her dining room, moving aside piles of mail and canned goods, and she can still see her daughter's princess costume from one of those first Halloweens, nearly a quarter-century ago.
Her dining room.
After 25 years of sitting in this room, she still doesn't believe it. It's hers.
Twenty-five years is a long time to make memories in a place. It's also enough time to forget plenty of others. But her youngest daughter Tanita's princess costume at the family's annual Halloween get-together inside this home, that she remembers.
She also remembers buying blinds—regular white, vinyl blinds—as her first purchase for her 1,104-square-foot, robin's egg blue house, one down from a corner in NoDa.
Her house. It still, after all the years, doesn't sound real.
She remembers the time, after about four years of living in this three-bedroom house, after her daughters finally believed her when she said they weren't moving again, that Tanita asked to paint her room blue and put dolphin decals all over it. Tanita was 12 then. She wanted to feel like they were swimming around her.
Soon, Tanita asked to have sleepovers. She hadn't done that before. The tight family hadn't stayed in a place long enough for Tanita to make friends. Here, in this house, she did.
Stewart remembers buying cookie sheets, something she wouldn't do when she had to move every year. Now she didn't have to worry about lugging baking gear from terrible apartment to terrible apartment. Now she had a place to perfect her oatmeal-raisin cookie recipe.
And her famous chicken-rice-broccoli casserole. Oh, that one was special. She made it in her kitchen only for holidays and birthdays.
Her kitchen.
Still, it feels strange to say it.
***
BEFORE THE BAKING GEAR, before the blinds, before Stewart had any of this, life wasn't so good.
Stewart was a single mom of two, Shameka and Tanita, then 13 and eight, respectively, and the family bounced from place to place, forced out by higher rent nearly every year. She can rattle off the street names of her previous addresses: Tyvola, North Tryon, Plaza Extension, Statesville.
It's funny how memories work. Some things you just can't forget.
"I always felt so guilty for moving [the girls] from one place to the next," Stewart says now. "I explained to them, until it gets better, we can only stay until we can't afford it anymore, and then we'll have to move and find another place that we can stay in."
Stewart and her daughters even lived with her sister, Debbie, for a year and a half because that's all Stewart could afford while working nights in data entry at Wachovia. She worked that shift because it had better pay and the parking was free, and Debbie could watch the girls while she worked.
One day in the summer of 1987, Stewart was helping her other sister, Wanda, prepare to move into a Habitat for Humanity home. Wanda told her to apply for Habitat for Humanity's help. The organization could get Stewart into an affordable house, her sister said. Wanda was getting her own on Harrill Street. It could happen for her, too, Wanda said.
Stewart applied, not thinking anything would happen. She was used to nothing going right in her life, used to being forced from one bad year to the next. But Habitat for Humanity Charlotte did call. The organization wanted to build a home for Stewart and her daughters. And for this home, Habitat had a crazy, bold idea: The house would be built, planned, and designed entirely by women.
Habitat for Humanity Women Build now raises homes in all 50 states and 30 countries, including places such as Haiti, Zambia, and Nicaragua. It celebrates its 25th anniversary this month, having built 2,400 homes across the globe, including 18 in Charlotte.
Women Build is now a global phenomenon, and it all started with the little blue house near that corner in NoDa.
***
IN 1991, Susan Sewell (then Susan Hancock) was the executive director of Habitat for Humanity Charlotte. She'd just led the nation's first Habitat 24-hour build, in which Charlotte's affiliate built a house within a day from the ground up.
If the organization could build a house in a single day, she figured, surely a group of women could build a house for this deserving family.
This was the fall of 1990, though. Even the women involved weren't sure it could be done.
"To the younger generation [today], that probably doesn't make much sense, but to us, this was a bit different," says Pat Rodgers, president and chief executive officer of Rodgers, a construction management and general contracting firm. Rodgers was involved in that first Women Build construction site. "We had to feel comfortable getting out there and building."
Even after starting her own commercial interior construction firm in 1983, Tyler 2 Construction, Katie Tyler felt the same way before that first build.
"I had to admit: There were a lot of us who thought it was going to be tough to find women who can do all these things," Tyler says. "There aren't a lot of women in construction now, but there definitely weren't a lot of women in construction then."
Turns out, the hardest part wasn't teaching women how to build a frame or how to draw up blueprints. Surprisingly, Sewell remembers, the hardest part was managing all of the women who came out to help.
"It was one of those things where they all came out of the woodwork. Somebody knew somebody who knew somebody," Sewell says. "I would get phone calls from woman farmers who said, 'I've put up my own fence and I can swing a hammer and I want to help.'"
Rosalynn Carter, wife of former President Jimmy Carter, even came to Charlotte for the launch that May.
Tyler and Rodgers helped locate women in the trades who had expertise to handle specific jobs on the project. And those folks helped teach the volunteers the details of how to build a home. Sewell enlisted women executives throughout the city to raise money and market the plan to media outlets. A female graphic designer designed a T-shirt for the builders to wear. And ordinary, everyday women who had never before touched a hammer came out to lend a hand however they could.
The Porta-Johns became PortaJanes, with flowers inside. The building inspectors, who were men only because the organization couldn't find any female inspectors, donned wigs to play along. In fact, there were so many women there to help, Stewart, the soon-to-be homeowner, had to park a few streets away on the day construction launched.
Mary Nell McPherson, Habitat for Humanity Charlotte's director of operations at the time, recalls visiting the site that May with her 16-month old daughter, Mollie, and her newborn, Rosemarie.
Due in April, Rosemarie came late, and McPherson thought she would miss going to the site. Finally, on May 8, Rosemarie was born, and exactly one week later, on May 15, Rosemarie got to meet Rosalynn Carter.
"Mrs. Carter came up to me, asked me her name, and then just said, 'I'm a Rose, you know.'" McPherson recalls, laughing.
Meeting Carter on the site and having her hold Rosemarie was unforgettable, McPherson says. But there were other images, too.
"You'd look up and see a woman walking along on the top plate in a tank top and blue jean shorts and a cigarette, just setting rafters," McPherson said. "It was incredible to watch."
Three months later, in August of 1991, after they built the frame, raised the roof, and set the flooring, the women who built a home handed Stewart the keys to her first and only house with a 15-year, no-interest mortgage, purchased for $38,000.
***
TWENTY-FIVE YEARS later, Stewart looks around this house the women built and thinks about all that's changed. She looks at Sheba, an 18-year-old, one-eyed, mostly deaf and epileptic cocker spaniel mix, and Oscar, a jittery 6-year-old Chihuahua mix. She remembers the other pets, too. Soon after they moved in, the family took in Casey the cat, but he ran away. Then came Brandi, a Pekinese mix, but she was mauled by the neighbors' dogs.
Stewart never would've known pet ownership if she didn't have this place. In fact, 25 years later, Stewart believes that without Habitat for Humanity Charlotte, she'd still be looking for a new apartment every year. Without this house, where Tanita had her own consistent place to study, she wouldn't be able to tell stories of how Tanita earned her bachelor's degree in accounting from the University of North Carolina at Pembroke. Shameka's all grown up now, too, with three kids and a steady job as a financial crimes specialist at Wells Fargo. Without this house, Stewart wouldn't have been able to earn her own certificate in accounting from Brookstone College. She now works in the accounts receivable department at CHF Industries.
And after 25 years, Stewart says, the situation in Charlotte isn't much better for people like her.
"When I look around and see all these apartment buildings go up, I think, 'Low-income people can't afford those apartments. There's no way,'" she says. "The housing opportunities are very limited, and people find themselves homeless overnight. Once they hit that point, it's hard to get back."
The Charlotte Housing Authority, along with the United States Department of Housing and Urban Development, offers a housing voucher to 3,500 low-income Charlotteans. People who are awarded vouchers pay 30 percent of their incomes toward rent, and the agencies cover the rest. In 2008, the housing authority stopped taking applications for its waiting list. It reopened the list to new applicants for five days in 2014. It received 31,723 applications in those five days.
"That is really frightening," Ken Szymanski, executive director of the Greater Charlotte Apartment Association, says.
Charlotte booms with new apartments and cranes sweep the skyline—Szymanski estimates there are 120,000 apartment units now within the city. But UNC Charlotte's Urban Institute found that nearly half of all renter households were cost-burdened, spending 30 percent or more of their incomes on rent in 2013. Nearly 40 percent of those households earning in the neighborhood of $20,000 to $35,000 per year were paying 50 percent or more on rent.
Because of Women Build, though, people in situations similar to Stewart's don't have that burden.
"I don't think we would have been able to make it on our own," Stewart says.
Now, as Stewart looks back on her life in this house, she has memories, lots of them, many as special and vivid as that princess costume.
One stands out: Stewart remembers a time when her first grandson, Shameka's son, Noel, visited the little blue house near the corner where everything began. This was about seven years after she'd moved in. Shameka walked into the living room, where Stewart was sitting, holding the toddler and a stuffed bear she and Tanita used to play with when they were kids.
"It's like it had come full circle," Stewart says. "I couldn't believe we had been here that long."
Jared Misner is a writer who used to live only minutes away from that little blue house near the corner. Contact him at jaredsmisner@gmail.com or follow him on Twitter @Jared_Misner.
---
This article appears in the May 2016 issue of Charlotte Magazine
Did you like what you read here? Subscribe to Charlotte Magazine »
---