The Humble Chef: Greg Zanitsch of The Fig Tree
In an era when chefs become celebrities, and as Charlotte's food scene gains more recognition, he and his team have turned the spot into one of the best restaurants in the city. But you'll never hear him say that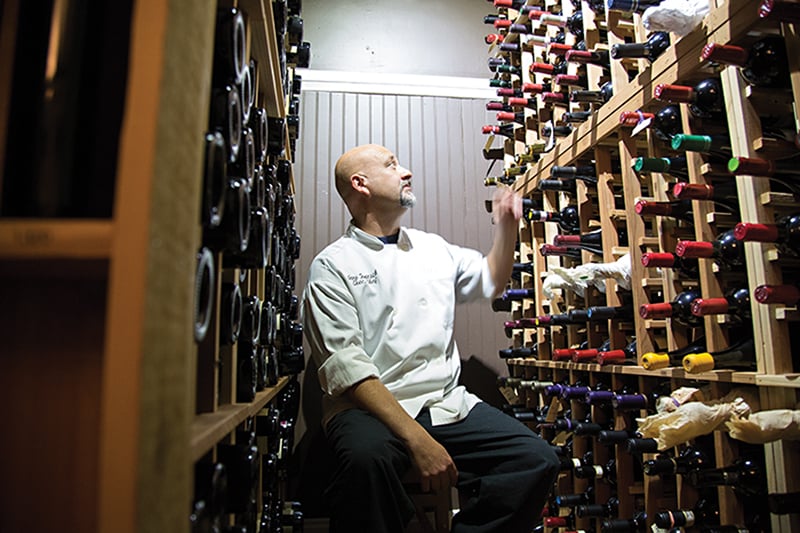 GREG ZANITSCH is good at this.
The chef of The Fig Tree Restaurant stands at the back of a boat 13 miles off the shore of Amelia Island, Florida, barely wobbling as the five-foot swells toss us back and forth. With a quick flip of his wrists, the line of a deepsea fishing pole glides past his finger, plunging toward the ocean floor to the click-click-click of the reel rapidly unraveling. When the bait finally hits the muddy bottom, Zanitsch quickly pinches the line, reels it up a crank or two, and holds the fishing rod steady, waiting for a bite.
Almost halfway into our fishing experience on this spring Friday, our cooler is empty, save for two small black bass. That's not enough to feed the 400 guests at tomorrow's Fish to Fork contest, the reason Zanitsch is here with his sous chef, Will McAvoy. There are five other chefs and sous chefs here, too. They're on five other boats, trying to catch enough fish to serve during tomorrow night's cook-off. The fishing trip is just one part of the chefs' schedules during the Fish to Fork experience at The Omni Amelia Island Plantation Resort, a weekend packed with socializing, eating, drinking, and touring the area. Last night, the chefs were introduced to a crowd of vacationers with VIP tickets, and chefs and guests mingled at a family-style dinner hosted by the Omni's executive chef.
First, though, there was a drawing. And that's how we ended up way out here on the ocean.
***
THE NIGHT BEFORE the fishing trip, chefs and food enthusiasts gather on a deck above the soft, rolling green grass of a golf course that fades into the water of Florida's marshlands. The six chefs in the competition, including Zanitsch, arrive at the opening ceremonies to find six toy boats floating in a tin wash bucket full of water. Each chef will draw a toy boat that will have one of three words on it: backwater, deep sea, or jetty. Whichever boat the chefs choose will determine where they find their main course for Saturday evening's cooking competition.
Contestants are called up one by one to answer icebreaker questions before picking their boat. Most try to be funny with their answers; others try to be endearing. Everyone, it seems, has a love of tequila.
In this group, it's easy to overlook Zanitsch. He doesn't have the roaring laugh of Hector Santiago from Atlanta; the easy charm of Daven Wardynski, executive chef at the resort hosting this event; or the bubbly personality of Linkie Marais, who competed on the Food Network's Next Food Network Star. Charlotte's chef has a shaved head and a gray beard, and he shies away from being known as the chef and owner of one of his city's most-beloved restaurants.
A man with a microphone introduces Zanitsch by mispronouncing his name (the correct pronunciation rhymes with "van-itch"), but the chef doesn't mind. Standing next to the evening's gregarious host, Zanitsch's words are noticeably purposeful. When he's asked what he'd want to be in his next lifetime, he slowly repeats the question to himself, then takes in a deep breath and says, "A jellyfish. They have an easy life." The crowd laughs, but he's serious.
In the audience is McAvoy, a 31-year-old, big, brawny, bearded sous chef with a camouflage hat who would be intimidating if he weren't always laughing. McAvoy, who has always lived close to where he grew up in Plaza Midwood, had only ever been on a plane once before today's trip down from Charlotte. He's never been deep-sea fishing either. So as Zanitsch pulls out the toy boat that will determine where they will fish tomorrow, McAvoy hopes they'll stay close to land. "Please," he says to himself, "backwater, backwater, backwater; jetty, jetty, jetty."
Zanitsch turns the toy boat over. Deep sea. McAvoy sighs. Come tomorrow, they'll be floating above the jellyfish.
***
AT 6 O'CLOCK the following morning, the chefs and guests who will join them on the charter boats gather in the lobby. Most of the chefs are red-eyed and sleepwalking their way to the breakfast buffet after a night of wine and tequila tastings. Our bus driver leaves for the docks without realizing one of the chefs, Santiago from Atlanta, isn't on board, and we have to turn back and get him. Santiago's own sous chef is so groggy, he didn't realize his chef was missing.
Most chefs aren't morning people. Even if genetics make them that way, late nights in the kitchen will change them. Zanitsch, 45, stays up late, but he wakes up early, too, ever since the first of his three children, Ava, was born in 2008. Since then, Grace, now five, and Wolfgang, two, have joined the family. After nights in the kitchen until as late as 2:30 a.m., he's up these days around 6 a.m. to be a dad. The practice makes him seem fresh and awake this morning as we head toward the docks, the sun just starting to peek over the edge of the sea.
Zanitsch has shed his chef's whites and looks the part of a fisherman, a floppy hat covering his head, secured by laces underneath his chin. He's not new to fishing. His parents live on Lake Wylie, and he fishes with his family when he has time. Fishing on the deep sea is new to McAvoy, though. He has worked at The Fig Tree for 10 years, almost since the restaurant opened. His sister, part of the restaurant's original wait staff, bugged Zanitsch to hire her little brother in the kitchen. He was working at Red Rocks Café when he got the job as pantry chef at The Fig Tree. He's been there since. "Probably the best chef you'll ever work for is Greg," McAvoy says.
The two sit quietly next to each other as the bus pulls into the parking lot at the docks. Two boats are ready for the two teams who drew the deep-sea trips. The host chef, who won last year's contest, gives Zanitsch his choice of boats. There seems to be a clear choice: One boat is larger, newer, and can fit more fishermen. But Zanitsch doesn't take the offer. He defers to the hometown chef, who picks the big boat. We hop on the smaller boat, and The Fig Tree team leaves first.
Turns out, charter-boat captains are competitive— especially ours. Nearly five-foot swells keep the other, bigger boat close to shore. But our captain and his mate aren't worried about the waves; they're worried about bringing in better fish. So the captain pushes the throttle forward and heads out, saying he wants to hit a spot about 13 miles from land.
***
WE MUST BE there, McAvoy and I agree at some point along the way, squinting toward the shore as the boat cuts through whitecaps. McAvoy turns to Zanitsch.
"How far do you think we've gone?" he asks.
"Maybe a mile," the chef responds. McAvoy raises his eyebrows in disbelief as Zanitsch turns his attention back to the water, bobbing along, unworried by the waves.
When we arrive at what the fish-finding devices say is a good spot, we're each handed a pole. McAvoy and I get a quick tutorial, followed by frequent comments that we're not doing something right. The others—Zanitsch and a couple from Pennsylvania, Mike and Corey Brandt— know what they're doing. We reel in some small black bass and throw them in the cooler, but the red snapper we're catching isn't in season, so the captain throws it back. An hour into fishing, we certainly haven't put enough fish in the cooler for 400 people to taste and judge at the Fish to Fork event.
McAvoy is focused on keeping his line steady along the ocean floor, as he's constantly reminded to do. Zanitsch stands at the back of the boat, endless water in front of him, looking content despite our rather empty cooler.
The captain decides to try another spot, and a few hours after leaving the docks, our luck starts to turn. By the end of the day, we'll have three grouper, a handful of black bass, and one 40-plus-pound cobia that Mike reeled in. When I catch a red snapper, one we couldn't even keep, I holler with excitement and pose for pictures until the captain tosses it back into the water with a splash. When Zanitsch reels in his first grouper, a large fish that does all it can on the line to not become dinner, his lips curve into a satisfied smile. That one goes in the cooler.
***
ON A TYPICAL, Friday night at The Fig Tree Restaurant, Zanitsch works on wine orders in the office until the dinner rush. When that rush hits, the wave of tickets sends him from station to station, wherever he's needed. First, he wipes off plates. Then, over to the pantry station to make salads or cheese plates. His green bandana darkens with sweat. Finally, when he looks up and sees the order tickets lining the counter, he stands between McAvoy and Jimmy Willoughby. Willoughby, the chef who works the sauté station, is one of McAvoy's childhood best friends who followed him to The Fig Tree from Red Rocks.
On a recent night in the kitchen, there's a running joke that only McAvoy and Willoughby seem to understand. But everyone laughs. When things get busy, one of them exclaims, " Don't help me!" Servers chuckle. Zanitsch smiles. Sometimes, when his eyes are fixed on the dish he's plating, he doesn't even notice there's a joke happening around him. When he pauses to look up, he'll see the others' expressions and realize he missed a joke. Other times, he'll chime in.
It's rare to see Zanitsch angry or animated in the kitchen. He's funny, McAvoy says, impersonating his boss with spot-on facial expressions and a raspy voice. During slower times, Zanitsch will dance or joke around. But he keeps his emotions steady, even during the restaurant's more chaotic hours. When The Fig Tree lost power to its air conditioning and kitchen ventilation hood this past July due to a blown transformer, the restaurant stayed open. The staff put a thermometer above the broiler to track the temperature. At one point, it hit 200 degrees. No diners left due to the lack of air conditioning, and neither did the executive chef.
"He's not a chef to where you're going to be yelled at, you're going to be belittled, you're going to feel like you're not worth anything," McAvoy says. " I probably would never—just because I've been spoiled now— I probably would never work for a chef that's like that. I would probably change careers."
Zanitsch says he learned to stay composed by watching people who didn't.
"I have worked with screamers, and I don't like it, and it doesn't make anybody happy," he says. He continues on the subject for a few moments. "I've worked in enough restaurants where I hated going to work, and that's just not a good way to live your life."
It's hard to think a restaurant run by such an easygoing guy could be as successful as The Fig Tree, no matter how much respect he earns in the kitchen. But when you meet Sara Zanitsch, Greg's partner in business and at home, the restaurant's all-around success makes sense. She works with the wait staff, keeping The Fig Tree's service among the best in Charlotte.
"You have a much more disciplined front of house, because it's what customers see," she says.
When the couple opened the restaurant in 2005, it took up nearly all of their time. Soon, a home near the restaurant went up for sale. In previous lives, it had been the offices of a financial firm, an architect, a private investigator, and a holistic health doctor. In 2011, Greg and Sara bought the building and turned it back into a house.
"We were here [at the restaurant] 80 hours a week each; we each had all sorts of stuff going on," Sara says. "We'd go home, and then we'd talk about work." When Ava came along, things changed. "She really made us stop and slow down."
The Zanitsches' desire to have more family time has caused them to become more efficient at the restaurant, with three new incentives for them to get their jobs done and get out. That need for order only helps them as they try to create a good dining experience for customers. It takes Sara's attention and willingness to have tough conversations with staff to ensure people leave happy with the service. Greg rarely leaves the kitchen, but Sara keeps notes on regulars' preferences to help make sure they enjoy their visits.
"Some restaurants will say, 'You can't please everybody,' " she says. "And yes, while that's true, you cannot please everybody, you're going to certainly try to if you work here." Sara's face gets a little flushed, her words louder and clearer. She has a lot she could say about this. "There's no room for that attitude here. Are we going to please everybody? No. No, not at all. But I'm going to try."
As she speaks, Greg chimes in here and there. Mostly, he listens. He thinks. The most emotion he shows is when the kids stop in for an afternoon visit. His eyes grow wide when talking about his family, especially Ava, who is old enough to have a developed palate now—and it's a good one. One day, when Ava had a tooth knocked out, Sara and Greg asked their daughter what she wanted to do that night—her choice, just the three of them. The seven-year-old wanted to go to Halcyon for octopus, her favorite food. As she sits on her dad's lap one recent afternoon, she begins patting him on the head. "Sweaty head, sweaty head!" she laughs. He laughs, too, and the smile stays, until he helps her off the barstool and sends her in the kitchen to McAvoy, who will make her a salad.
In the kitchen, the staff keeps a ball of rubber bands that were used to hold together produce. The ball's been a work in progress for nearly 10 years, and now it's bigger than a basketball, weighing in at almost 40 pounds. When the rubber-band ball was born, McAvoy was working in the pantry, making the restaurant's salads, and then the recession hit.
In the early years of the restaurant and through the recession, Greg and Sara barely saw paychecks. Sara would double as hostess and bartender, while Greg was executive chef and dishwasher. Some weeks, Greg couldn't afford to make any new wine orders.
"I know the struggle they've put in to keep this restaurant floating," McAvoy says. "I know what has happened in the past. I know the times we've had to have cuts because we couldn't afford any of it. … I've seen the bad and the good, and the great now."
McAvoy has grown much like the rubber-band ball in his time here, learning things from the Zanitsches one layer at a time. Today, as sous chef, he shares much of the responsibility in the kitchen. He runs things exactly as his executive chef would want them run in his absence.
"If I ever were to leave here and own my own restaurant, I would probably model the way I run it after Greg," McAvoy says. "He's gonna want things done a certain way, but he's not going to tell you you're an idiot for not doing it a certain way."
The Zanitsches are thinking about opening a second restaurant, one that can be "Greg's playground." This restaurant would be more laid-back, without the pressure of anniversary dinners or engagements and other events that make being too experimental at The Fig Tree risky. If they decide to open the new concept, it won't be until two-yearold Wolfgang is in school. If he hasn't already left to start his own restaurant, McAvoy will likely be Greg's first choice to run the kitchen in the new place. And he'd try to take the rubber-band ball with him.
There's one noticeable difference between McAvoy and Zanitsch: Zanitsch loves wine and tastes dozens daily for the restaurant, and The Fig Tree's wine list has earned a Wine Spectator award in each of the past 10 years. McAvoy, meanwhile, isn't a big fan of wine. Zanitsch often travels to California's wine country with staff members and has invited McAvoy each time. The sous chef always declines, instead staying back to run the restaurant. So this spring, Zanitsch extended the invite for something a bit more McAvoy's style—a trip to Florida for a cooking competition.
***
FOR THEIR ENTRY in the Fish to Fork competition, Zanitsch and McAvoy use the cobia Mike caught to create a ceviche. They stand in the Florida sun next to a black banner that reads "Charlotte" in white. As guests come up to their table and servings begin to dwindle, Greg is called up to the stage for one last dish.
Before the Fish to Fork champion is announced, the chefs are divided into teams of two and asked to cook a dish using a secret ingredient. Tonight's ingredient is tequila. Zanitsch is on the orange team, along with Chef Linkie Marais and Chef Tom Gray, from Jacksonville. Marais immediately has an idea of what she thinks the team should do. Zanitsch nods along, making a few suggestions. He grabs a bowl and some red potatoes and takes his place in the temporary prep kitchen. He starts dicing. His teammates dart around behind him as he glides his knife into the potatoes.
The sous chefs are free until plating time. McAvoy approaches the chef's station, a smirk on his face and the camouflage hat on his head, and moves straight for his boss.
"Excuse me, Chef, could you explain what you're doing right now?" he asks with his arms crossed.
Zanitsch laughs and shakes his head. When his potatoes are done, he helps when needed but lets the other chefs dictate the competition. As the host prepares to announce the winners of the team competition, Zanitsch stands in the back of the group, drinking a beer with the chef from Atlanta. The other team wins.
Soon, the chefs line up again at the back of the stage to hear the announcement of the winning dish. Each dish is judged by the amount of money diners put in a box at the chefs' stations. The more diners like the dish, the more money they put in, and the chef who earns the most money for the James Beard Foundation wins. Zanitsch's ceviche isn't the winner, but it finishes in the top three. The Omni's chef Wardynski takes the top prize, and Zanitsch walks off the side of the stage.
Mike and Corey, the couple who caught the cobia, are waiting for him, and they are quick to say he should've won. Zanitsch just responds by saying he had a lot of fun.
McAvoy and Mike are talking about guns and showing iPhone photos to each other as the band goes quiet and attendees make their way back to their rooms. Corey is standing nearby with a brunette woman she befriended on the trip, and on this chilly Florida night, they're shivering. Zanitsch takes off his chef's coat, then hands the jacket to the brunette. She puts it on over her dress and hugs it. McAvoy takes Zanitsch's lead, offering his coat to Corey. The chef and sous chef bought them new, just for this weekend.
As the group realizes there aren't many other people around, they start making their way back to the hotel's patio, and the two women offer to return the coats. Zanitsch and McAvoy refuse, and the women keep them, as souvenirs of sorts.
Mike and Corey join The Fig Tree chefs for drinks on the patio. Zanitsch holds a glass of chardonnay, while McAvoy has a Bud Light. Mike can't say enough good things about Zanitsch. He's never a met a chef like him, someone who doesn't want to be the next Food Network star.
Someone in the group mentions that Zanitsch and McAvoy make a great pair. This sparks a story The Fig Tree duo remembers clearly—about the time McAvoy saved Zanitsch's life. McAvoy, who learned the Heimlich maneuver in lifeguard training years earlier, recalls it like this:
"Greg went in [the kitchen], ate a crouton and went to the bar, and [another chef and I] were sitting there cooking and chopping and all that stuff. Next thing you know, a beet-red Greg comes back pointing at himself, pointing at his throat. … My brain immediately went to that trailer when I was taking my classes with that dummy, about sweeping the throat and doing the Heimlich maneuver and all that stuff. … It's stomach-churning. You start to realize mortality. You're like, 'Oh my God. He's dying. He can't breathe.' "
When the crouton came flying out and the purple drained from Zanitsch's face, they looked at each other in shock. McAvoy was so shaken up, he smoked a pack of cigarettes that day. He's since quit.
"We never really talked about it again," Zanitsch says later with a shrug.
It's getting late, and Mike and Corey have only a few hours before they have to wake up to fly back to Pennsylvania. They say goodbye to their new friends, the humble chef and the unexpected hero.
Somehow, floating through the weekend, they've become celebrity chefs.
Kristen Wile is senior editor of this magazine. She can be reached at kristen.wile@charlottemagazine.com or on Twitter: @kristenwile