The Illustrating Man
Rodney Raines isn't quite satisfied being known as the best tattoo artist in town. He wants to show you that art is more than you think it is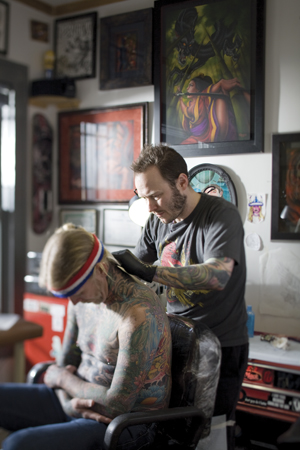 The buzz of tattoo guns firing up signals the beginning of the workday at Plaza Midwood's Ace Custom Tattoo. Shiny trophies, the kind you'd expect to win at a school athletic banquet or league bowling tournament, line one wall. Three gruff men in their mid-thirties and early forties gaze out the large picture window and discuss the tow-happy parking situation behind the barbershop across the street. A skinny kid in his late teens or early twenties wearing a hooded sweatshirt sits quietly on the sofa as an employee repeatedly photocopies a drawing, searching for the perfect size of a piece that will soon permanently grace the kid's arm.
Electricity shoots through the room when owner Rodney Raines pushes a rolling suitcase full of tattoo tools through the front door. It's not the straighten-up vibe that greets most bosses. It's a combination of relief and hurry, although Raines's aura is rarely anything other than relaxed. He's just back from a nine-day working vacation at a convention in Salt Lake City. He touched down less than fourteen hours ago, has barely slept, and was returning e-mails at five o'clock that morning. He is ready to get back to business.
Raines, thirty-seven, is a character but not a caricature — on the shorter side, with tattoos peeking from the neck and arms of the checkered-sleeve black leather jacket he often wears. His dark brown hair is slicked back like a 1950s rockabilly musician, and Wolverine-style chops often frame his pale, petite face. He greets regular client Josh Thompson, an arborist from Greenville, South Carolina, who is largely covered in Raines's work. Raines's workspace is decorated with his own artwork, including an X-ray of his own body embedded in a skateboard deck, the poster art he designed for a locally produced zombie film, and a painting of a crying girl holding a goldfish.
Since moving to Charlotte in 1999 after two years tattooing at a Gastonia shop, he's gained a reputation as the best tattoo artist in town. He collected many of those trophies at tattoo conventions over the last decade. He's tattooed in England, Japan, and across the United States. Last April he hosted the National Tattoo Association Convention in Concord. He's tattooed professional skateboarders and athletes like Panther Steve Smith, and clients fly to Charlotte to meet with him. But Raines isn't content just tattooing. His reach into the art world has extended into gallery shows, books, and businesses, all aimed at enriching Charlotte's arts scene and expanding the public's perception of art. Late last year, Raines and girlfriend Lise Barnett opened Twenty-Two, a gallery and wine bar that showcases artwork Charlotteans are unlikely to find elsewhere.
Art has always kept Raines sane. "One of my earliest memories is my parents quieting me down by making me draw," he says, tracing the outline of a demon head on the back of Thompson's neck. "My dad operated heavy equipment, and in church they'd hand me a pen and I would draw my dad's tractors on the program. It would keep me from doing somersaults across the pews."
Raines grew up in Easley, South Carolina, a sleepy town lined with chain restaurants and churches just outside of Greenville. He studied art at Lander University in nearby Greenwood, where he says he graduated in the top 5 percent of his class. Turned off by commercial art's move toward computers and digital design, he wasn't sure what to do with his degree. An ex-girlfriend bought him a tattoo machine, but in a state where tattooing was then illegal his career options were limited. Still, he was drawn to it. Tattooing was a hands-on art form at which an artist could actually make a living, and Raines liked having a stack of photos, a record of his time and effort, at the end of the day. Unlike many tattooists he didn't formally apprentice under an experienced artist; instead he learned his craft on the skins of friends. He got his first job at a shop in Hendersonville. He received his first award in 1998 and his first national press in 2001. He moved to Ace in Charlotte in 1999 and bought the business in 2003.
His goal was to do big, elaborate tattoos — full sleeves and colorful back pieces. "It's more comprehensive to the space, makes better use of the body and the movement of the body," he says. But clients with big ideas weren't likely to gravitate toward an artist who was populating the masses with Tasmanian Devils and rebel flags. So Raines began tattooing large work on friends for free in order to put his aspirations and ability on display.
"The more I did, the more it became known I was the guy to come to for large work," he says, his voice echoing the buzz of a tattoo gun with little hint of his Southern upbringing. As word spread locally, it did outside of Charlotte as well. "Rodney's both an insanely talented artist and a successful business owner. I've watched him climb his way up the chain and gain the respect and admiration from myself and many of our peers in the industry," says Joe Capobianco, a tattoo artist and owner of Hope Gallery in New Haven, Connecticut, who met Raines as a client in 1998. His work is displayed on Raines's left sleeve. "His shop is one of the most respected in the South."
Getting an appointment isn't easy for new clients. Even existing customers wait up to a month. You'd be hard pressed to walk in and find him available like Thompson did in 2004. "He happened to have a cancellation," Thompson says as he endures Raines's tattoo gun firing against his hairline. Raines has tattooed Thompson almost monthly since — more than 150 hours. Thompson has even had old tattoos lasered to make room for new ones.
"I liked his style and the way he interpreted the Japanese stuff," says Thompson, whose skin is decorated with mermaids, samurais, and other Asian-inspired artwork. "I look at his new photos [online] all the time. I look forward to what he comes up with on other people."
Raines grew up on comic book art, and his original paintings are often populated with the busty babes and monsters you might find on skateboard decks, graphic novels, or album covers. And he's a collector in addition to an artist. The walls of the Plaza Midwood home he and Barnett purchased last summer can't hold his personal collection. Raines met Barnett, who'd worked in corporate banking and in restaurants and clubs like Mythos and Cosmos, at the Penguin eight years ago. A youthful forty-two in pigtails and black tights, Barnett began accompanying Raines to conventions as far away as Japan, occasionally selling her own artwork. The pair co-organized five successful mixedmedia shows at local galleries and tattoo shops, focusing on original nontattoo art by national tattoo artists. Much like Twenty-Two, the shows aimed to change public perception about art—that tattoo artists are fine artists, too. The idea to open a latenight venue to showcase art, booze, coffee, and Barnett's desserts (which she plans to add to the current all-beverage menu) had been brewing for seven years but finally came together with an enviable corner location barely a block away from Ace. On opening night in November, Twenty-Two's crowd spills onto the sidewalks of Central and Pecan. Patrons run hands along the cold poured-concrete bar while gazing at flowery light fixtures above. "We wanted to have a place to see the kind of stuff we liked," says Barnett, whose original idea was triggered by her desire for late-night neighborhood coffee. Echoes Raines: "To us, Charlotte's art market was real stuffy. From an outsider point of view, being a working artist and traveling to New York, Philadelphia, and L.A., it made it obvious that there's not enough freedom in the art world here. I got to the point where I would fly to California to see an art show and was regretting coming back home on the plane."
"I think it's cool because I don't consider myself an artist or a photographer, but a point-and-shoot historian," laughs Steve Munsell, one of February's featured artists and the owner of Contagious Graphics, a screen-printing business. Since 2003 Munsell has pointed his fisheye lens at unsuspecting subjects wherever he is — concerts, comic book conventions, neighborhood picnics. He never expected his hobby to be considered show-worthy.
Reflects Barnett: "Everybody in the neighborhood is either in one of these photos or knows someone in these photos. I want people to see that this is art, too."
In May, Twenty-Two will partner with Heroes Aren't Hard to Find to preview the Elizabeth comic book shop's twentyeighth annual Heroes Convention. Fabric (Barnett's latest interest), graffiti art, and furniture are scheduled for later in the year. They also plan to co-promote shows with Black Sheep, a clothing and skateboard shop in South End, and Plaza Midwood neighbors Pura Vida Worldly Art and Snug Harbor.
"By and large the tattoo community hasn't historically been in museums or considered higher end," Raines says. "I'm used to being on the outside. I want to show art to people they may not have seen before and may not have thought was worth seeing."
Courtney Devores is a Charlotte freelance writer. She wrote about Concord band the Avett Brothers for the August 2009 issue of this magazine.