The I'm So Charlotte Halloween
15 costume options for the Queen City man or woman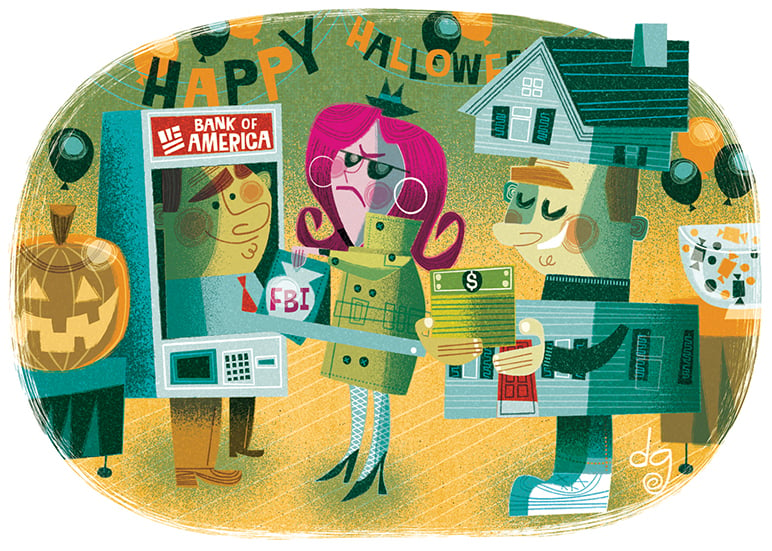 When I was a kid, Halloween was fairly straightforward. You dressed up. You went to houses. The good neighbors gave you candy. The bad neighbors gave you toothbrushes and apples.
At some point, Adult Halloween became a thing. Adult Halloween is complicated. There are parties. People drink too much. You somehow end up at the EpiCentre. Friends get dressed up in costumes representing professions they once respected as children, add the word sexy to them, and try to end the night by getting, uh, candy.
The best costumes, in my mind, are the ones that aren't blunt—they're recognized with a wink or a nod. Of course, that's just the opinion of someone whose Halloween costumes have been misunderstood nearly every year. Once, I went as Kim Jong-Il and fashioned his hair out of a modified Elvis wig. The response? That is the worst Elvis costume I have ever seen.
But anyway, it's in that spirit that I present to you some topical, Charlotte-related costumes for your Adult Halloween get-together this year. If you pick one and nobody understands it, just smile with the smug satisfaction of someone who's the only one in on your inside joke:
Bless Your Heart Woman: Dress in your Sunday best. Politely point out flaws in others' costumes. Passive-aggressively redeem yourself with your favorite Southern colloquialism.
Dilworth Bungalow: Dress as a small house. Then an hour later add a second story and crowd your friends into a corner.
Food Truck Rally: Set up a party in a vacant lot in South End. Put on rollerblades, hold a tray, and splash on perfume/cologne that smells like burritos and gasoline. Everybody swarm the hors d'oeuvres!
Historic Charlotte Property: Wear ratty clothes to the party. Go with a friend. Have that friend ditch you for someone younger and better dressed.
Patrick Cannon: Carry a leather Fossil briefcase. Try to fill it with cash instead of candy.
Snarky FBI Agent (couples costume!): Dress like a developer. Follow Cannon around and/or make ominously prescient comments to friends who may be doing something illegal.
Charlotte Snowstorm: Throw a light dusting of powdered sugar on the floor. Slip on it. Scream. Hunker down with bread and milk under a table until the threat has passed.
Uptown Man/Woman: Find a line to wait in. Put a $10 price tag on a drink that should be $5. Extol the virtues of loft living.
CrossFit Crony: Hang out only with other CrossFitters. Get surprisingly swole. If someone asks you how you did it, credit "Fran." Your fellow CrossFit Cronies will get the joke.
I-77 Rush Hour Traffic (group costume): Get a group of your friends to cut in front of people in the line for the bathroom. Don't move for a half-hour. Consider a toll if people want to move to the front.
Extraordinary Event Man: Dress as a police officer. Start looking through random people's pockets at will. Face no consequences.
Charlotte Bobcat: Wear a Gerald Wallace jersey. Disappear about halfway through the party and make sure everyone forgets that you were ever there.
Bank of America Boy: Wear a blue shirt and red tie. Take all of your friends' pocket cash, invest it in Dilworth Bungalow, then when Dilworth Bungalow can't pay you back, settle out of court with Snarky FBI agent and pay a fine of pocket lint.
Ric Flair: Dress in the finest suit you can find, bleach your hair, and walk around saying "Wooooo!" NOTE: You may be confused for Uptown Man.
Sexy Local Magazine Columnist: No such thing.