The Ins and Outs of Reception Music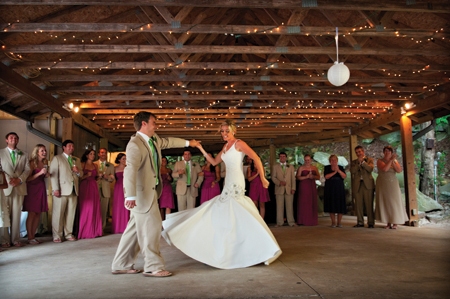 Perhaps the most remembered aspect of your reception will be the music. The tunes you play, or lack thereof, will set the tone of your reception and give a glimpse of the bride and groom's personality.
When deciding what direction to go with your reception music, there are a few things to consider.
First is the vibe you want to give off. What musical genre best reflects your personalities? Do you want a relaxed, party atmosphere, or a more formal, string quartet type ambience?
Second, make sure there is some variety to the music. It is important to play both fast and slow songs, and possibly old and new songs, so that each guest will want to hit the dance floor at some point.
If your budget is on your mind, you will also want to consider pricing. DJs often cost less than a band. Other factors that affect price are the day of the week, the number of hours the DJ or band will be needed, and the time of year. You could avoid this expense altogether and set up your own playlist via an iPod or iPhone… be your own DJ!
Last but not least, if you don't want to act as your own DJ, you must decide whether you want to hire a DJ or a live band. Here are some pros and cons of each:
Having a DJ is perfect if you want more of a variety of music… they will likely have almost all of the songs requested at their disposal. They are also generally cheaper than hiring a band. On the other hand, if your DJ has a not-so-stellar personality, the mood of your reception can be affected.
With a band, you and your guests will feel more like you are at a concert… like you are seeing a performance. Live music can enhance the atmosphere by lifting the excitement level. Although they have the ability to improvise their performance, a band might not be able to deliver every requested song or genre.
Keep all this in mind when making your decision on what music to play at your reception. The music might be what your guests remember most, so don't put that decision off until the last minute. One last thing… watch a band or DJ in action before you hire them. This way you might avoid any boring personalities or off-pitch lead singers.