The Jen and Ed Show
Mayoral debate reveals subtle policy differences, limits of mayoral power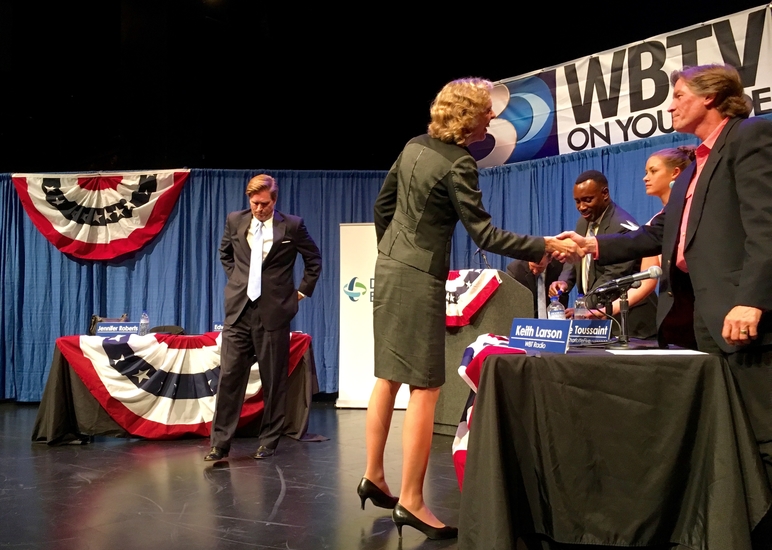 For the record, neither of the two remaining Charlotte mayoral candidates is a hard-liner on urination issues. "So do you care who pees where?," WBT radio talk show host Keith Larson asked Jennifer Roberts and Edwin Peacock last night during a mayoral debate at the McGlohon Theater. Both candidates said they'd have no problem with a transgender man using the men's room or a transgender woman using the ladies'—the sub-issue that hijacked proposed changes to the city's nondiscrimination ordinance in March. "We need to be clear that discrimination is never right," Roberts said. So that's settled.
Not much else was during the Charlotte Observer/WBTV debate. For an hour, Roberts, the Democratic ex-Mecklenburg County commission chair, and Peacock, the Republican ex-City Council member, jousted on the familiar city issues: crime, public transit, economic development on the east and west sides, managing growth, fair taxation.
But even with the occasional back-and-forth sniping—mainly over whether Roberts has a "crime plan," Peacock's term, and what role she played in the botched county revaluation four years ago—the policy differences between the two were fairly minor. Both have the same basic vision of Charlotte as a regional economic powerhouse that needs to ensure opportunities for citizens in "all four corners" (another phrase both used repeatedly) and serve as the magnet for business that, in most respects, it already is.
The trick, as always, is how to get there while acknowledging and working within the limits of the mayor's power in Charlotte's weak-mayor form of government. Peacock returned to his standard trope of "leadership," suggesting that he could unite disparate factions in the city to work together through such measures as a new citizens' task force on crime. Roberts was a little more specific, emphasizing her ability to convene and persuade. She cited her role in helping raise $8 million in private money for a new shelter for domestic violence victims on West Boulevard, saying she could accomplish similar things as mayor.
That touched off one of the harsher exchanges of the evening. Peacock, who emphasized crime as a growing issue, has criticized Roberts for lacking a prescription for solving the problem. Roberts countered with her focus on domestic violence and call for a more comprehensive system of after-school programs to help keep young people occupied. "My opponent has been saying that I don't have a crime plan," Roberts said, reading from notes. "That must mean that either he hasn't been listening to what I've been saying, or he believes that domestic violence is not an important issue in addressing crime." Peacock pursed his lips and winced.
The two had a few other skirmishes—notably over a proposed municipal ID card for undocumented immigrants, a measure Roberts supports and Peacock believes violates state and federal law; and the won't-die debate over funding for the Gold Line streetcar project. But both Roberts and Peacock know well that the mayor's office confers mostly unofficial power. The real juice lies with the City Council, which controls the budget and sets policy, and the city manager, who enacts what the council decides.
They also know Peacock's chances of victory are next to nil in a city with more than twice as many registered Democrats as Republicans; the latest Observer poll shows Roberts leading by 15 points. So it's Roberts who'll almost certainly have to shoulder the job's limitations and duties, including one she mentioned early in the debate: to act as chief advocate for business relocation and economic development.
Of course, successes in that sphere can turn around on you over time. Debate moderator Jamie Boll of WBTV landed a sharp jab midway through, when he bluntly asked: NASCAR Hall of Fame, success or debacle? Roberts briefly shook her head, then exhaled resignedly, in the manner of someone who's been asked a question that has no good answer.