The Knights Come Home
After 10 years of court cases, after a series of complicated land swaps, after two decades floundering away as the South Carolina baseball team with the Charlotte name, the Knights are home. And the pressure is on to make it all worthwhile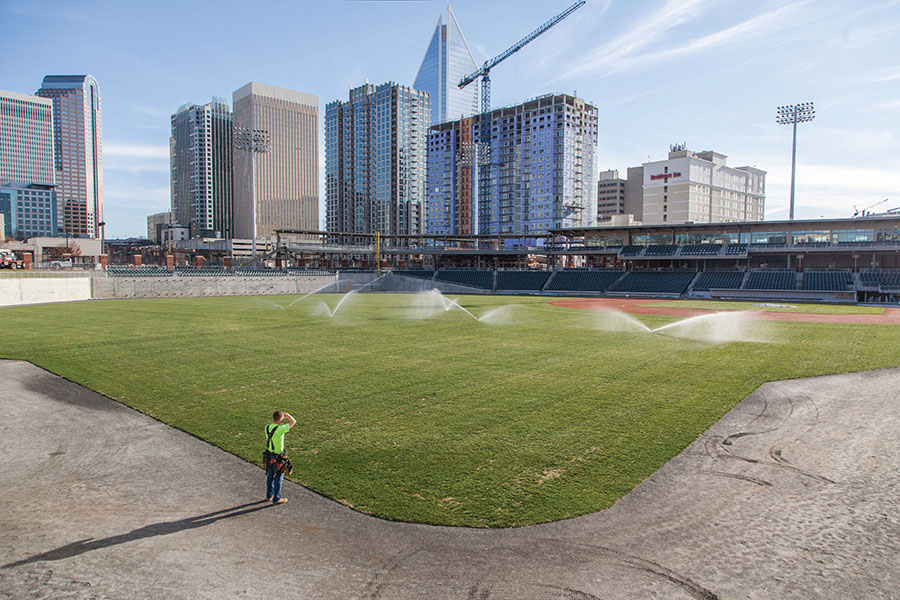 On a chilly Saturday morning in January, three men stand in the middle of South Graham Street, pointing with gloved hands, directing a line of traffic to a baseball field. This isn't baseball weather, but baseball is why the people are here.
They are here to secure their seats. Every 15 minutes, a group is allowed into the new stadium. Through the gates and to the right, the crowd picks up its pace. Almost half of the seats are marked with white tags showing that some Charlotte Knights season ticketholder has claimed them. The people scramble for the rest. A middle-aged man hops over two rows to claim his seat just left of home plate. A young couple checks the view from the third-base line, looking out across the field at the city's skyline, which rises up just beyond the outfield wall. Out in right field, construction workers put the final touches on the upper deck awning of BB&T Ballpark.
Third Ward is rarely this active. Aside from tailgaters eight Sundays a year during Panthers season, the area has been a wasteland of parking lots and decaying industrial buildings for years. Plans for the stadium date back more than a decade. With a complicated land swap stalled for years by a recession and a series of lawsuits, many doubted this day would come. But two months before opening day, more than 4,000 of BB&T Ballpark's 8,800 fixed seats have been sold for the season, ensuring a healthy crowd for opening day on April 11.
In the shadow of the uptown skyline, on county-owned land valued at between $20 and $24 million, the Knights find themselves in unfamiliar territory—the center of Charlotte's attention. And with millions of dollars in city and county money invested in the project, the team's move is about more than hits or runs or ticket sales. It's about the romance of the past and the promise of the future. It's about passion and patience and politics. It's about grand ambitions meeting hard realities.
***
It started with a couple of teenagers and a cigarette.
In 1985, on St. Patrick's Day, a fire engulfed Crockett Park, a wooden stadium on Magnolia Avenue where a series of minor league teams had played since 1940. The Crockett family built a makeshift 3,000-seat stadium, but for the next few years, Charlotte's baseball team was without a permanent home. Two years after the fire, George Shinn bought the franchise, which was affiliated with the Baltimore Orioles at the time. Shinn, who owned the Charlotte Hornets basketball team, changed the baseball team's name to the Knights. He also negotiated with the city to build a park off of Billy Graham Parkway, but that fell through when the city couldn't accommodate his plans for an expandable stadium capable of hosting a major league team. York County, in South Carolina, then agreed to pay nearly $6 million for infrastructure upgrades, paving the way for a stadium in Fort Mill. So Shinn took the team across the state line, and in 1990, opened in a place they called the "Castle."
The Knights moved from Class AA to Class AAA in 1993, but Shinn abandoned his major league hopes when he sold the team to Don Beaver in December 1997. Others were less pessimistic. A group of local businessmen and developers tried wooing the Minnesota Twins and Montreal Expos but struck out both times. The Twins stayed in Minneapolis, and the Expos moved to Washington in 2005.
The Knights had some decent years in South Carolina, including International League titles in 1993 and 1999. But aside from a fireworks celebration around the Fourth of July each year, they often played in front of as many empty seats as full ones. The team was consistently ranked near the bottom of the International League in attendance. In 2013, they drew an average of 3,803 per game, ranking last in the 14-team league. Despite grand plans, the Castle spent most of its days nearly empty.
***
Michael Smith talks in the cautious tone of a seasoned spokesman. The Charlotte Center City Partners President and CEO is always upbeat and always on message. Vacant lots are "underutilized parcels;" a stalled deal "remains an opportunity." It's the kind of measured optimism that can frustrate a reporter looking for a quote. It's also the kind of attitude, coupled with patience and persistence, needed to make big plans with powerful partners and see them through.
Back in 2004, when Mecklenburg County was seeking public approval to build a center city park, the county settled on the eight-acre parcel between Mint and Graham streets, the site of a vacant Virginia Paper Company warehouse. But Center City Partners wanted the park closer to the heart of uptown. They wanted it in a place where people could stumble on it from one of uptown's main streets—Trade or Tryon. There was one problem with that idea: Insurance company MassMutual owned much of the two blocks of parking lots between the proposed park site and Tryon Street.
One day in 2005, Smith gathered a couple of uptown developers for lunch. They ate at Showmars on West Third Street, and Smith looked out the window at the stretch of parking lots. He explained to the representatives his vision of a park and stadium working together. Then, he proposed The Land Swap.
It involved essentially four steps, with several smaller steps along the way. The school system, the county, the city, and MassMutual would swap several pieces of land and a good bit of cash. And in the final step, the county would lease the eight-acre Virginia Paper property to the Knights for $1 per year, allowing the team to build the stadium.
Smith laid it all out in that meeting at Showmars.
"I hate to dramatize any of this," he says. "It took hundreds of phone calls and hundreds of meetings. This was simply one of the first meetings."
***
Now picture this: 38,000 baseball fans cheer as they watch the Atlanta Braves play a new expansion Major League Baseball team with a Charlotte name. Maybe it's April and the retractable roof is open, letting the sunlight and warm breeze in. Condos and shops and office buildings surround the stadium. And it's all happening on Stonewall in Second Ward.
That was Jerry Reese's vision. Beginning in 2006, the real estate attorney filed seven suits in attempts to block Smith's land swap and stadium building. And although he gave up in 2013, Reese still says he doesn't regret a single lawsuit. For him, anything less than a major league team remains a "squandered opportunity."
"I have the same opinion I always did," Reese says in February. "Charlotte made a serious mistake. You're stuck with a non-expandable minor league baseball stadium and a postage-stamp sized park. The city is going to have to live with the consequences of some very short-sighted thinking."
Back in 2005, around the same time Smith was formulating the complicated land swap, the Florida Marlins started looking for a new home. They mentioned Charlotte as a possibility. Reese proposed his stadium and redevelopment project. City leaders, though, were not as enthusiastic. Even in the better days before the real estate market crashed, it was a bit far-fetched. Then-Mayor Pat McCrory told The Charlotte Observer that the city wasn't ready for a major league team.
The Marlins decided to stay in South Florida, and Mecklenburg County decided to lease the Virginia Paper parcel to the Knights. The county gave the team three years to find funding for the stadium. Between 2006 and 2008, Reese filed four lawsuits to block the stadium. Each suit was dismissed but stayed in the courts long enough to keep the project in limbo.
Then, the recession.
"We had this puzzle that was almost together, and then litigation came and knocked all those pieces off the table," Knights Executive Vice President and Chief Operations Officer Dan Rajkowski says.
"We picked it back up and started putting the pieces back together. They were completely different pieces." Banks that had loaned money freely for years began tightening up. The Knights scrambled to piece together a financing deal for the new stadium, but wound up with a significant shortfall. Although the team once planned to build without city funding, the Knights announced in 2012 that they would need the city's help.
The final deal looks like this: Charlotte will contribute $7.25 million in hotel taxes to the project, while Center City Partners will contribute $725,000. That's on top of $8 million in infrastructure improvements that Mecklenburg County will help defer. The county will also lease the land, valued at between $20 million and $24 million, to the Knights on a $1-per-year lease.
BB&T bought naming rights for the stadium for 18 years. Other corporate partners, including Bank of America, Carolinas HealthCare System, and Piedmont Natural Gas, have pledged undisclosed amounts on 15-year contracts to the team. Most of the money from these contracts will help pay debt service on the $54 million construction costs.
In other words, Charlotte is invested. And with such an investment comes the responsibility to make this big move must a success.
"Those are long-term commitments," Rajkowski says. "No one wants to see this thing fail."
***
In the minor leagues, teams measure successes and failures differently than they do in the majors. Players are pulled up or sent down a level. Some are traded. For fans, the experience is more important than wins and losses.
"I think [winning's] going to be more important than it was [in Fort Mill], but ultimately minor league baseball is more about the experience," Rajkowski says. "It's not like the other major sports where you follow it and people have been playing for seven, eight, nine years and they're buying jerseys with names on the back. But it's a lot more fun when you win. And certainly there's going to be more interest in this team."
This offseason, the Knights have been deliberate in laying out plans to create that experience. They've made announcements almost daily—a sleeker logo, a cheerleading squad, a craft beer garden, and a partnership with a barbecue restaurant—even the contract with the hotdog vendor warranted a press conference. (It's Sahlen's, by the way.)
"You're stuck with a non-expandable minor league baseball stadium and a postage-stamp sized park. The city is going to have to live with the consequences of some very short-sighted thinking." —Jerry Reese, a lawyer and longtime opponent of the park
Team officials estimate they can double their attendance numbers in the new stadium to 600,000 per year. They also believe they could turn a profit this year, something they haven't done since Shinn sold the team. The 4,000 season tickets are four times as many as the team sold in 2013 in Fort Mill. Club seats, which are sold in three- and five-year packages, also sold out. And the increased attention has led to a hiring boom, says Knights General Manager Scotty Brown. The team left Fort Mill with 18 full-time employees. Now, it's up to 30. Most of the additions have been in suite and season-ticket sales, something Brown says wasn't as needed in Fort Mill.
The stadium is by necessity smaller than the Castle. BB&T Ballpark's 10,200-fan capacity figure includes the bleachers, the grass berm in the outfield, and a standing-room-only deck in right field dubbed "home-run porch." With a right-field wall only 315 feet from home plate, the porch likely will live up to its name, especially for left-handed batters. Packing so many fans in such a small space will create an energetic environment, Brown says. That's not to mention the 30-foot-tall, 82-foot-wide scoreboard in left field—the widest in the minor leagues.
"A good player is going to play his way out of Charlotte and into Chicago," Brown says, referring to the team's major league affiliate. "You can't control who's on your roster. But you can try to put on an event that's special every night."
***
On that chilly, January day, the new season ticketholders leave smiling. They have plans for the seats—after-work outings, gifts for business clients, excursions with the grandkids. With 71 home games, the stadium will be open and available for other uses, including events like the Triple-A Championship, which will be held here in September, or possibly the ACC baseball championship, or concerts and festivals. It almost assuredly will be a busier venue than nearby Bank of America Stadium.
Other permanent fixtures are close to completion, including a year-round team store and a yogurt shop with a street entrance that will make the stadium a functioning part of the block most days.
Across Mint Street from the ballpark, cranes and half-finished steel frames of two mid-rise buildings loom on the south side of Romare Bearden Park. More than 1,000 units of residential and commercial space are either planned or under construction in the area around the stadium and park. More than 300 of those will be apartments in Element Uptown, a 22-floor apartment building, with views of the field. Next door at the Catalyst complex, restaurants like the Mellow Mushroom have moved into the once-vacant bottom floor. On the other side of the park, at West Trade and South Graham streets, more apartments rise at The Mint.
All of this has been popping up around a stadium that wasn't even finished. Now, the Knights know, it's on them to make sure those seats are filled. Charlotte is known for business. And this decade-long saga of lawyers and bankers and real-estate developers is no exception. And make no mistake—baseball is a business. But it's something else, too.
Near the ballpark's main entrance on South Mint Street, the sidewalk's bricks are etched with names and sayings and dates. Even before the first pitch, fans have spent money to honor friends, remember family members, even propose marriage. It's a rare glimpse of sentimentality in a high-stakes real estate deal.
Baseball will do that.
In Charlotte, the pastime has come home.
Chuck McShane is a writer and frequent contributor to his magazine based in Davidson. Reach him at chuckmcshane@gmail.com. On Twitter: @chuckmcshane.