The Last DJ
Last April, Cal Walker died alone and destitute, having never recovered from the day the music died. Which is no way to go out for Charlotte's—and maybe the country's—last real DJ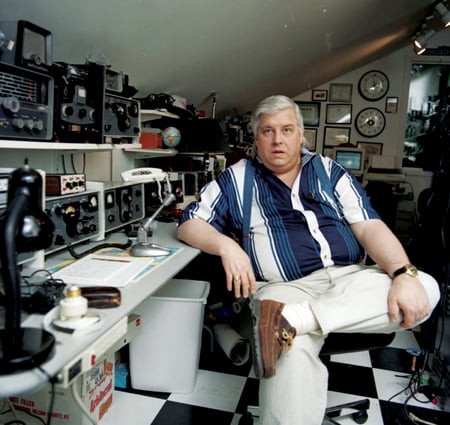 "Hey, your friend, the DJ … did you see the paper today?"
That's how I found out.
My friend the DJ. That would be Calvin Walker, the only real DJ Charlotte ever had. The guy who played the music that mattered circa 1967: Dylan, the Doors, Jimi, Janis, Jefferson Airplane. The high priest of Charlotte FM's deep cuts who dined with the Beach Boys; who spoke regularly by phone with the Conscience of America, Randy Newman; who counted among his friends that crazy James Gang guitar slinger, Joe Walsh.
"Tunes from the Attic" Calvin — who got so close to the mic it sounded like he was inside your head, telling you secrets, turning you on to something tasty or nasty. The big guy, all 300 pounds of him, flickin' his silver mane, stuffin' his hangdog face at IHOP in Pineville, toolin' around in that tricked-out red Volvo with a bad stereo—a mobile guerilla DJ beggin' you, with that goofy leer, to stay in the car for just one more from that pervert Lou Reed, the same track that almost got him kicked off the air, double daring you to get pissed, outraged, disgusted — anything, as long as you let him know you were there. That DJ.
No, you got it wrong. He ain't dead; he just moved up to the mountains somewhere to get away from Charlotte and the cops who won't lift a finger to get his family heirlooms back from some weasel who shanghaied his stuff in a storage facility on South Boulevard.
Are you kidding? I just spoke to him a few weeks ago. We figured out the solution to our money problems was to import some Zips from Sicily to go collect from the jerks who stiffed us. Well, not real Zips, guys like Luca Brasi or Paulie Walnuts. We were supposed to make a road trip to New York.
Sixty-two? That's way too young. And broke, too?
No, man, that just can't be. This was just some Third Act trouble. Nothing that the next job offer, a brilliant new audio patent, some consulting gig couldn't take care of. C'mon, how does this happen to a guy from Charleston's first families, roots going all the way back to William the Conqueror, for God's sakes! A guy from the broadcasting fraternity, a professional since he was what, fifteen? A guy who made, some years, a quarter of a million bucks? And one day he doesn't wake up and Larry Sprinkle, WCNC-TV's weatherman, who worked with him a hundred years ago at WAYS-AM, is saying stuff like this about him:
"He was one of these people who might have been overlooked and shouldn't have been. He was an innovator and was there in the beginning of Charlotte FM radio, and left us without that recognition." (Yeah, you also "left us" without reimbursing me for that breakfast at Landmark.)
What really made Calvin the herald, the 33 1/3 evangelist, was the gospel he proclaimed. The music itself. Without Frank Zappa, Jerry Garcia, the Doors, Janis Joplin, Jimi Hendrix, the Moody Blues, Buffalo Springfield, Calvin never would have stuck around. He would have been selling Benzes on Independence Boulevard. The music made him stay. Its death—which we can pretty well hang on one jerk by dint of his "advanced research" techniques, but more on him later—changed the face of popular music, not for the better, and ultimately to the ruination of one Calvin Walker.
It was ten years ago when I met him. I'd just gotten back from New York, having ghost written a book up there for Whitney Houston's mama. And one of my twenty-something coffeehouse peeps (whose mother grew up with Calvin) thought it would be a good idea if we met, Calvin having also spent some time in New York. Of course, she warned me, her voice dripping with singsong sarcasm, "Oh, Calvin, he-was-the-man-and-he-went-up-to-New-York-and-had-this-great-job-in-radio-making-a-million-dollars-driving-down-Park-Avenue-in-a-Ferrari-with-two-girls-then-he-hurt-his-back-and-he-had-to-come-back-to-Charlotte-and-he-is-such-a-big-baby."
My kind of guy. So, I drove out to his 7,000-square-foot Xanadu, in the exclusive Providence Plantation off Providence Road, one night to meet the big baby.
That was one cool house. It stretched out in every direction like a ranch, but then it had upper levels, too. A Rolls-Royce and a Ferrari in the garage. Three or four cats roaming the house. There was a whole room devoted to his ham radio gear. On the roof, he had enough hardware aimed at the sky to pull in all kinds of cool stuff. We sat there in the kitchen eating Melba toasts watching a wall-mounted monitor; there was Letterman relaxing after his show in New York was done, puffing on a big cigar, cracking off-color jokes, unaware of the live camera on him as the techies fed his show via satellite to California.
I could hold my own in any music discussion, but what really impressed him was my provenance: born in Manhattan, raised in the Bronx. I could have been a child molester or a serial killer: as long as I was from New York, nothing else mattered. We hung out and became friends.
We had some things in common: he'd had a dad just like mine, born before the first World War, made it through the Great Depression. One of those humorless guys who thought life was about surviving rather than enjoying. Counterbalancing this was Cal's mother, a fifth-grade teacher who indulged Cal's every aspiration.
Still, Cal grew up an only, lonely child. Both parents worked, and he came home from school to an empty, dark house. By fourteen, Cal already had a face and body type perfect for radio. He was chubby, a childhood bout with polio left him knock-kneed and too ungainly for sports, and he had a crew cut full of cowlicks.
Cal couldn't identify with the first wave of rock 'n' roll. Elvis, with his perfect jet-black hair and smooth features, was out of the question. Then, in 1962, from out of the West, came an overweight all-American genius, Brian Wilson. Starting with the Beach Boys' first Capitol single, "Surfin' Safari," their records exploded with foot stompin,' hand clappin,' twangy guitars, and a tight five-man harmony that captivated him. He later promoted the Boys with such devotion on the air that when they came to town, they invited him out to dinner.
Cal Walker had this photo taken of him in uptown Charlotte just before he moved to New York in 1975. He kept doing his show for Charlotte¹s WROQ while working for the National Lampoon Radio Hour. It would be the peak of his career, which started when he was a teenager working at WGIV-AM on Rozzelles Ferry Road.
Cal photograph courtesy of the Charlotte Observer Collection in the Robinson-Spangler Carolina Room
To get closer to the music, he talked his way into a job sweeping up at WGIV — a checkerboard station playing both R&B and white pop — on Rozzelles Ferry Road. Then, after an engineer there discovered he had a voice good enough to read the news, he started pulling shifts.
By 1963, at seventeen, he had a real job at WGIV, working the mic like the black jocks there, getting real close and modulating his voice, spinning Eydie Gorme's "Blame It on the Bossa Nova," the Four Seasons' "Walk Like a Man," and "Easier Said Than Done" by the Essex — all of which he hated, planting the seed for a lifelong loathing of Top Forty.
Well on the way to becoming the man, he had already graduated Myers Park High School, was getting paid to work at Charlotte's most popular radio station, and had his father's car to run around in. "You should have seen me then," he said wistfully.
His self-confidence had also multiplied — enough to flirt with a self-destructive streak that became a lifelong signature. One day, called upon to sub in a coveted drive-time slot, he couldn't resist doing an off-color air check for his friends who were listening: "This is WGIV-AM, at 1600, the brown spot on your dial."
And something else happened that signal year, 1963, at WGIV. In July, Calvin spun "Blowin' in the Wind" by Peter, Paul and Mary, the first record of its kind to crack the Top Forty — a watershed moment that would change the course of pop music and, with it, Calvin's life.
They called it "folk music." They sung it on marches in Washington and with Dr. King in Selma, and for a minute it became the soundtrack to the burgeoning civil rights movement. Suddenly, popular music could actually do something besides the slop, the mashed potato, and the cha-cha-cha.
Folk music's time on the hit parade didn't last long. But there was no turning back to a time before it existed. Musicians and songwriters began expressing themselves in ways that were personal and unprecedented. By 1967, the following artists debuted: Jimi Hendrix, Jim Morrison and the Doors, Frank Zappa and the Mothers of Invention, the Grateful Dead, Cream (with Eric Clapton), the Who, the Spencer Davis Group featuring Steve Winwood, Procol Harum (and their enduring "A Whiter Shade of Pale"), and Buffalo Springfield (with Stephen Stills and Neil Young).
The new music demanded a new presentation. Cal was ready. He kept that Edward R. Murrow gravitas in his voice, because this music was serious. It was art. The DJ became a seer, a herald, a spirit guide.
"At its height in FM, you could look to the announcer as a person to inform you about not only the music and artists but about the community at large," Ben Fong-Torres, one of Rolling Stone's founding writers, told Washington Post reporter Frank Ahrens in 2003. "They could bring in personal sensibilities to his or her broadcast day and, by their mood, tell you what is going on in the world around them."
From 1966 to 1970, judging by the number of war protest marches, the number of university administration buildings occupied, the number of big-city riots, the number of radical organizations bent on pulling down Lyndon Johnson's Great Society — with names like the Weathermen, the Black Panthers, Students for a Democratic Society, the Chicago Seven, the hippies, the Yippies, the Diggers — it's hard to believe that a revolution didn't happen. What no one realized was that the revolution did happen. It happened in your head, where the music was playing.
Cal was neither flag waver nor flag burner. But then he didn't have to be. All he had to do was keep playing the Mothers of Invention, the Rolling Stones, Jefferson Airplane, and Randy Newman. And keep being himself.
In the early 1970s while at WRNA-FM and WROQ-FM, Cal was probably the only DJ in the Southeast playing Randy Newman. Albums like Good Old Boys skewered racism in the South, so deftly impersonating the bigot that it sounded like the real thing. Cal was the only DJ in Charlotte who dared play the album's "Rednecks," until management got wise. Still, it endeared him to Newman, who chatted with Cal regularly by phone from Los Angeles.
Championing the alternative and the unpopular made Cal very popular as a radio personality. "Cal was the most knowledgeable album rock guy between New York and Atlanta," says Jack Daniels, veteran program director and broadcast professional, currently with Charlotte's WEND-FM.
Of course, it is every broadcasting professional's dream to work in New York. Calvin got the call when he was about to turn thirty.
Gotham, where there were a million people on the street twenty-four/seven who'd talk to you without even cracking wise. For a lonely guy looking for a friendly face and a listening ear, it was home.
The National Lampoon Radio Hour wanted that serious, Murrow-like voice for a show it had developed. The talent was virtually Saturday Night Live's bullpen, with most of the original writers and cast—Michael O'Donohue, Chevy Chase, John Belushi, Gilda Radner, Dan Ackroyd.
The Lampoon crew took good care of Cal, put him up in a loft in the Village. Cal became the radio voice, producer, and engineer of Lampoon's "True Facts" a compendium of oddball news items from around the world. From his perch on Madison Avenue, Cal was even able to record his shows for WROQ and FedEx them back to Charlotte. He had it made. One evening he looked the other way and let a young guy who'd come from Chicago to audition for the Radio Hour sleep at the studio. The next day, the guy thanked Cal and introduced himself: Bill Murray.
"Cal fancied himself a New Yorker," snickered one of his Charlotte buddies.
Why wouldn't he? He was living a life he'd only dreamed about. Bumping into saxophone legend Dexter Gordon. Hanging at a Miles Davis session. Riding the subways, hitting the clubs, a Tower Records store open all night. The glitz, the glamour, and all that food, all day and all night.
Then, one day, at the end of his first year there, just like that, it was all gone.
He would later refer to it as "the night I almost exploded." It turned out to be a not-so-funny blockage in his digestive tract. They operated on him up in New York. But once his parents found out, they spared no expense to get him back home. He had never planned on coming back to Charlotte.
He had to move in with his parents. But he never stopped talking about New York, of getting back there, one day, soon. "You know what I could go for?" he'd say with a faraway gleam in his eye. I could've finished the sentence for him. "A lean corned beef sandwich on some nice, dark pumpernickel bread."
Calvin was barely thirty years old. But if you'd asked some people in radio, they would have told you that Cal's career in radio was already over. It had nothing to do with his health or that he couldn't just order up some delicacy from the Carnegie. It was much more insidious than that.
Poor old Don McLean. He should have waited another ten months before he released "American Pie" — until September 1972 — because that's when the music really died. That's when a twenty-year-old radio geek from Chicago named Lee Abrams partnered with another radio consultant to form Burkhart/Abrams. Abrams saw a buck to be made in telling radio stations what listeners wanted to hear. Offering to be a "pipeline to the kids," Abrams became a "consultant" to a radio station in Florida, where he was vacationing with his parents. His research techniques consisted of hitchhiking around town, taking note of his drivers' radio listening habits, and reporting back.
Soon stations were paying for his list of songs that "tested well." In the 1970s and 1980s, when FM stations bought Abrams and his partner Kent Burkhart's consulting package, including their list of crowd pleasers, the station's listenership and ad revenues were all but guaranteed to blow up. During their heyday, Burkhart/Abrams serviced as many as 1,000 radio stations.
Today, Abrams is almost unanimously cited as the man who ruined radio, who pumped up stations with computer-generated playlists engineered to please advertisers seeking a certain demographic.
"I blame him for the death of FM free-form progressive-rock radio," Ben Fong-Torres said in the same Washington Post article.
The way Abrams told it in the article, "We were stuck with these underground DJs who thought they knew more than the listeners. They were elitists."
Calvin's "playlist" was a far-flung affair that reached all points on the musical compass. But he was anything but elitist. That was one of the things about him I continually marveled at. He didn't mind you turning him on to something. Most DJs would worry about losing face, admitting they weren't hip enough to have already known about your discovery. Not Calvin. This dude caused a scene the first time he heard "Just for a Thrill" by Ray Charles in my house. Had it been me, not knowing this masterpiece on Ray's very first album, I would have been looking for sackcloth and ashes in a size forty regular. Not Calvin. "Oh, my God, play that again!" Calvin didn't need to know it was from the album Genius of Ray Charles, that Ray wasn't even thirty yet, that Ralph Burns was the arranger — none of that! In a split second, he knew all he needed to know: it was perfect, a Rembrandt. Here was this cat dealing with the ultimate pain and yet singing it smoother than a mofo. Calvin just went bananas. Laughing. Like a baby with a new toy. "Oh, my God. Listen to him, he's just … whoo!"
The artists, too, recognized a kindred spirit. At the height of his soundtrack-composing years (Toy Story, Parenthood, The Paper, Avalon, Ragtime) Randy Newman often found time to talk by phone with Cal. At the Beach Boys dinner, he fielded a dinner roll drummer Dennis Wilson lobbed at him and fired it back across the table, igniting a full-blown food fight. Van Dyke Parks, the legendary writer/producer and instrumentalist, best known for his collaboration with Brian Wilson on "Heroes and Villains" and "Surf's Up," admired Cal for being "simply a colleague in music and a defender of music."
In the 1970s and 1980s, while Burkhart/Abrams covered the country with their schlock formats, Cal bounced around several stations in Charlotte. He also sold audio equipment, high-ticket items that paid him healthy commissions. He messed around with a jazz program on WPEG for seven years. Then in 1989 he hooked up with WRFX.
Galen Bolin was his engineer and assistant there. "He had that touch," says Bolin, a feel for just the right mix. Cal didn't manhandle
the music.
Bolin says he always had his hands full, fielding phone calls, requests, and e-mails like this one: "We're on the backside of a mountain ridge approx. 100 miles SW and drove the van to the highest point to catch your show. Good to hear the ole man. … Just when you think the WAVES are barren and you begin to ache, here comes Calvin with some soul-salve to fix it."
Despite Calvin's popularity, the program director would periodically nudge him to play the tunes that the consultants recommended. Cal would appear to be cooperative and agree to play the tunes, but he rarely followed through. "Cal loved the radio business," says Bolin, "but not the business of radio. He wouldn't kiss butt."
When the Charlotte Observer came calling to do a story on him some years back, he tried his best to alienate the reporter with some room-clearing humor: "On a charity dinner to benefit AIDS patients: 'Oh, good, somebody with AIDS. They won't eat much.' … On business: 'Every time in my life that I have made a deal with a religious man, I have gotten screwed.' "
In 1993, Cal's refusal to play from the consultant-approved list got him a showdown with management. He got fired in the spring. This time Cal went rogue.
Cal had sunk a hundred thousand dollars into enlarging a new home he'd bought just south of the Arboretum. He built an extra apartment for his mother and a studio in the attic. He created his own show, calling it "Tunes from the Attic," which aired on WXRC.
His heart wasn't 100 percent in it. A couple times I heard him get sloppy on the air, mumbling about his "on again, off again girlfriend." I'd heard him talk about her before but I couldn't always be sure she wasn't a figment of his imagination.
Eventually, he quit.
Cal's dad died in 1980. Cal's mother, up in her eighties, she finally came to live in the little apartment Cal had fixed up for her in the
new house.
In March 1999, his mother, ninety-one, passed away. Heartbroken and convinced the hospital had failed her, Cal spent the last of his money in an unsuccessful attempt to sue the hospital.
When the time was right to sell the house, he waited too long. With money tight, someone convinced him that declaring bankruptcy was the best thing to do. It was a mistake. Within a year, both his cars had been auctioned off.
Here's the part of the story you wish was just a dissolve — like the movies — and you didn't have to actually live through it. In 2003, after Cal defaulted on the mortgage, the sheriff came knocking with an order to vacate. A friend, William Culpepper, pulled together a crew and worked three full days and still couldn't get everything out. The last day was the most surreal and grim. That was when Animal Control came to take away Cal's cats. They scattered and some jerk went after them with a net. While the guy ran after Cal's favorite cat, Cal just looked on, in tears. "Oh, no, just leave him alone," he moaned, powerless. "He just sits in that tree and watches everything."
At the end of the day, the sheriff had the locks changed and wouldn't even let Cal back in to take a piss. In a fitting postscript, a recent friend who had offered to store many of Cal's valuables, family heirlooms, and furniture gratis had a change of heart several months later. He refused to surrender Cal's possessions, holding them for ransom until Cal paid for the storage he now claimed Cal owed him.
Cal got a room at the Intown Suites behind the Krispy Kreme on Independence. He called it "the gulag." He was the only guy in the parking lot with a (older) Mercedes. He stayed there for two years. That's where he started getting sick. They diagnosed it as congestive heart failure.
But he was still truckin' along, phoning or e-mailing me weekly with some hysterical warning about how Bush would never leave office, that he was going to declare martial law and make himself president for life. I reminded him that he'd made the same prediction about Clinton.
He was also convinced that we should all flee Charlotte, move to some town up in the mountains where we could renounce home mortgages and all possessions—the better to survive the coming world financial failure, race war, and famine.
In 2005, on a radio insiders Web site, Cal said his formal goodbye to radio. "I finally quit the radio business after watching it change from a fun, creative and popular industry to be in, to an automated and humiliating place to hang my hat. … I have vowed to never again enter a radio station. … Thanks to Clear Channel, Infinity and all you other idiots big and small who have ruined the radio business."
Meanwhile, Lee Abrams had become a legend, the Moses of programming, and had taken a job at XM Radio. He flies his own plane and (what a surprise) writes his own blog. A March 2008 entry details the day he signed a deal with George Strait for a twenty-four/seven George Strait channel.
After closing the deal backstage at a concert in Cleveland, Lee and a few of his well-oiled younger associates clambered aboard a private plane. Abrams describes a drunken flight during which "the cabin turned into a giant bathroom."
"Upon landing," he writes, "we all walked away thinking: we successfully organized a big deal with the biggest name in Country music. … This is what it's all about!"
This is what it's all about: closing the big deal. That ain't about music.
"I AM NOW ON A FIXED INCOME MAKING LESS THAN I DID IN 1973," Cal wrote in a post to a ham radio enthusiasts Web site. "I LIVE DAY TO DAY. OH, LIFE IN THE 21ST CENTURY IS SO HARD!" Two years ago, he was still looking for a couple vintage Heath pieces so he could put together a replica of his first serious shack. "I AM TERMINALLY ILL AND WANT TO DO THIS PROJECT VERY SOON."
I think someone jumped on him for using all caps too much, saying it was the equivalent of shouting. "OH, GOD. NOW I HAVE TO WORRY ABOUT THE INTERNET POLICE," he hollered back. A year ago he was still adding a comment to some obscure jazz album on Amazon.com: "THIS ALBUM CHANGED MY LIFE. IDRIS ON DRUMS — WHAT CAN I SAY?"
One of Calvin's last pals was Vernon Adams, a middle-aged Navy veteran from South Carolina. Calvin met him at some storage facility and for a few bucks Adams helped him move some stuff over to the gulag. In time, Adams helped Cal move out of the gulag and into a small house in Matthews. He continued to help Cal get around, built him some shelves, but wouldn't take any money from him. "I considered him a friend," Adams said. "I may not be here long," he told Adams. "I'm bleedin' inside and the doctors don't know why."
They'd go out to eat to some of Calvin's favorite spots, mostly family restaurants. Cal would order up collard greens and pork chops — neither of which Adams ever eats. Cal couldn't get over the fact that Adams, a black man, rejected these foods. "What's wrong with you," Calvin would leer, which sent Adams into peals of laughter.
I never saw him getting sick. Maybe I just didn't want to believe it. Maybe I thought this was just another "Bush declares martial law" exaggeration. I thought he'd be around forever, complaining, leaving dopey messages on my machine, keeping me in the car for just one more "you have to hear this."
On a Monday morning last year, April 20, Mr. Culpepper got worried when Cal didn't answer the phone. He jumped in the car and sped over to Cal's. During the last month, Cal had called 911 five or six times. Too weak sometimes to walk, he just left the door unlocked so the EMT people could get in. Culpepper opened the front door, walked through the living room and down the hall to Cal's bedroom. Cal was sprawled on the floor at the foot of the bed. "I touched his hand," Culpepper told me, "and it was cold."
More than seventy people turned out for the memorial service. "Calvin," Bolin smiled, "who didn't think he had any friends." But the biggest surprise came near the end of the memorial service. A movie-star beautiful woman stood up. In an instant, everyone realized who she was and a collective gasp went through the chapel — it was Calvin's "on again, off again girlfriend." One of Calvin's older broadcast friends took her hand and confessed, "We didn't think you really existed." While out of earshot, a group of younger DJs regarded her admiringly and debated among themselves: "Of course, she didn't live with him. Who could live with his ass?"
Someone handed Calvin's lady friend a CD he had apparently made for her. "These songs are all so beautiful and quite dear," he wrote in an attached note. "Please listen carefully to the lyrics. The music will take your breath away."
Later, she recognized a song on that CD that he used to play over and over again. It was a David Crosby song called "Where Will I Be."
"Who will I see/When I'm all alone?/Where will I be?"
Jonathan Singer is a ghostwriter living in Charlotte. He wrote How Sweet the Sound (Doubleday 1998), and was a contributor to Making Notes: Music of the Carolinas (Novello Festival Press, 2008).