The Lessons I Learned at Pinehurst
An essay on fathers and sons, grandfathers and grandsons, and walks through time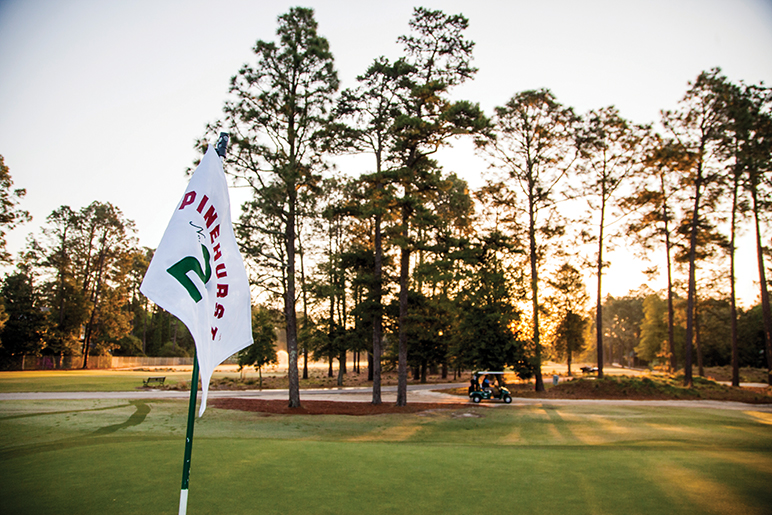 I should have been in school on that perfect Tuesday morning in April 1994, but what choice did I have? I was a high school junior, 16 years old, with a new driver's license in my pocket, a love of golf and its history in my veins, and a priceless ticket in my hand. Pinehurst was beckoning, as it had so many times before. So I skipped class.
As a boy growing up in Hickory, North Carolina, I made the familiar two-hour trip to Pinehurst many times to see my grandparents, who lived there. But the drive that Tuesday was different. Jack Nicklaus and Arnold Palmer were playing a made-for-TV match on Pinehurst's storied No. 2 course as part of a revival of the old Shell's Wonderful World of Golf Series, which had begun in the 1960s. I was one of a lucky few spectators who scored a pass to wander the fairways of Donald Ross's finest work that day alongside my idols.
The siren call of Pinehurst has always been hard to ignore. Countless souls have been drawn to the place for any number of reasons since James W. Tufts, the Massachusetts soda fountain magnate, first stepped off a train in 1895, felt the warm embrace of the Sandhills, and purchased 5,000 acres to build a winter retreat for weary Northerners.
Golfers, of course, flock each year to roam through what a newspaper columnist once called "a Mona Lisa of fair land." Pinehurst is filled with ghosts of the game: Ross, who arrived in 1901, not yet the famous architect he would become, living in his modest home off the third fairway of No. 2, forever honing the masterpiece outside his back door; Ben Hogan, the journeyman wondering if he would ever make it as a golfer, winning his first professional tournament at Pinehurst in 1940 and deciding to press on; Babe Zaharias blowing through town on her "slam bang" win streak of 1946; the 1951 Ryder Cup team, captained by Sam Snead, which trounced the Europeans. So many other greats have passed through these pines. To name one is to miss a hundred others, famous and infamous.
But the allure has never been limited to golf. Annie Oakley taught shooting courses here. Amelia Earhart landed her plane at the resort's airstrip.
Everyone from Will Rogers to the Rockefellers to Oprah Winfrey has come to soak up Pinehurst's serenity.
For me, the connection is a personal one. My father grew up in the village, a few blocks from the third tee of the No. 2 course. Visitors now shell out hundreds of dollars for a single round, but as a kid in the 1960s, my old man would sling his clubs over his shoulder after school and set off around the course until dusk, unbothered by the rangers who knew he wasn't a member.
His own father, a volunteer firefighter who worked in a nearby printing shop, first taught him the game on Pinehurst No. 1, where they would sometimes leave their clubs behind and fish the ponds on quiet afternoons.
Decades later, my dad taught me the game here, too. We'd load our clubs in the back of his green International pickup and make the journey several times each summer for my junior golf tournaments. We'd walk the courses together during practice rounds, mapping yardages and strategy, and we'd spend hours hitting wedge shots in the infield of the old horse track off Beulah Hill Road. Dad would drop me off at the small putting green beside the first tee of No. 2, and I'd linger until dark, making putts to win imaginary U.S. Opens as the nearby Village Chapel bells played "Amazing Grace."
Those were magical days—more blessed than I could have realized then—when my grandmother would wrap homemade sausage biscuits in tin foil and stick them in my golf bag before heading to her job at the local bank; when my aunt, who worked at the Pinehurst resort, sneaked me on to the 14th tee of No. 2 to play a few holes after the paying golfers had mostly gone for the day; when it was possible to spot Dean Smith and Michael Jordan lacing up their spikes for a round on a random summer afternoon.
Each time you cross into Pinehurst's borders, time somehow fades. The past is palpably, forever present. And the present owes so much to the past.
***
During that Tuesday match between Nicklaus and Palmer two decades ago, there were no scoreboards in sight. No TV towers. No Goodyear blimp. No whispering commentators. No gallery ropes. The two old warriors were relaxed and jovial most of the day, but it was easy to spot a flicker of the competitive fire. Palmer jumped out to an early lead, but by the back nine, the Golden Bear was cruising to an easy victory, 67 to 74.
Somewhere in the middle of the 16th fairway, I worked up the nerve to walk beside Nicklaus after he hit his second shot. On our way toward the green, I asked him the first question that came to mind, about the USGA's recent announcement that it would bring the first U.S. Open to No. 2 five years later, in 1999.
"Mr. Nicklaus, what do you think about the U.S. Open coming to Pinehurst?" I squeaked out in my nervous teenage voice.
He smiled and paused for a long moment as we walked. "I think it's just great," he finally said. "It belongs here."
Only later did I learn that Nicklaus had his own history at Pinehurst. His father, Charlie, had been by his side when he won the 1959 North & South Amateur tournament, when Jack was still just a chubby amateur on the brink of stardom. And Nicklaus walked the same fairways watching his son, Jack II, win the same tournament more than a quarter century later.
Likewise, Palmer and his father, Deacon, spent many hours together in Pinehurst. The son returned often while playing for Wake Forest University's golf team during the 1940s and 50s, even once winning the Southern Conference Championship on No. 2.
In September 1974, Nicklaus and Palmer had returned together—Palmer in a light blue suit, Nicklaus in a red one—to become among the first members of the World Golf Hall of Fame. President Gerald Ford spoke at the ceremony that day. In the crowd sat my newlywed parents.
History was happening in Pinehurst, and they wanted to be there to witness it.
***
There's something poetic about the fact that after the 2005 U.S. Open here, No. 2 underwent a major renovation—not one meant to modernize the course, but an overhaul meant to return it to an earlier era, to restore Ross's original, scruffier, more natural vision for the place, like a landscape plucked from his native Scotland. In Pinehurst, the past is present again.
My father sold that green International truck decades ago, and although we still meet in Pinehurst for holidays, we no longer make our summer journeys together. My grandfather long ago retired from the printing business. He doesn't fish the local ponds anymore, and his faulty eyesight gives him fits on the golf course. But he still tees it up most Tuesdays and still tends to his pristine yard a few miles from No. 2. My grandmother died in her sleep a few summers ago, but the memory of her rumbling laugh and unwavering kindness and homemade biscuits still wakes me some mornings with a smile.
Pinehurst has played host to the best golfers in the world for three men's U.S. Opens and one women's U.S. Open since 1999. And another men's Open is scheduled for 2024. Every time the world turns its eyes on the Sandhills I know so well, I listen and read as people resurrect all the legends of Pinehurst. The TV commentators talk of Ross and his Mona Lisa of a golf course. They recount Hogan's life-changing breakthrough. They replay Payne Stewart's winning putt in 1999, probably too many times to count. They sometimes even dig up footage of Nicklaus and Palmer going head to head on a perfect spring day in 1994.
But whenever I see those familiar images flash across the television screen, I think of long ago evenings hitting wedges with my father in the infield of an empty horse track, of the sound of church bells ringing as a boy dreamed on the nearby putting green, of my grandfather quietly watching a junior tournament from the shadows of the pines, of my grandmother at her kitchen table at dawn. I think about fathers and sons, about the blessings of childhood, about how quickly time goes by. And I'm thankful that there is still a place like Pinehurst, where the best of the past remains frozen, always, whenever you need to come home to it.
Brady Dennis, a Hickory native, is a staff writer for The Washington Post. He can be reached at brady.dennis@washpost.com.
---
The Secrets of Pinehurst
If you give a golf course your time, it will give you its secrets. Many of Pinehurst's finest gems are hidden from the cameras when the big tournaments come to town. To find them, you have to go there. Walk where the legends have walked. Sit on the patio of the 113-year-old Carolina Hotel. Have a beer in the pub downtown. Only then will you discover the details that make this little place such a big piece of the story of golf and our region. — Michael Graff
A Natural Wonder
Had No. 2 been built millions of years ago, it might have been an oceanfront course. Pinehurst sits on an ancient coastline. About 20 million years ago, the water receded and left a stretch of land about 30 miles across and 80 miles long that became known as the Sandhills.
Pinehurst is still defined by its natural surroundings. Signs are posted throughout the No. 2 course warning golfers not to disturb the endangered red-cockaded woodpecker, which makes its home in the pines. And there are the fox squirrels, native only to the coastal plains of the South, running around with black tails and white noses, ears, and feet, providing entertainment in between shots.
$10,000
Average rental price of a home for the week of the men's U.S. Open, according to newspaper reports.
***
Moo, Fore
How did Pinehurst become the home of American golf?
Cows.
James Walker Tufts founded Pinehurst Resort in 1895, and many guests from the North came for the healing powers of the pines. Two years later, in 1897, he spotted a few hotel guests hitting golf balls into a dairy field. He was concerned about the safety of the milk and the health of the cows, so he moved the golfers to another field and soon hired Dr. D. Leroy Culver to design the No. 1 course's first nine holes, which were completed in 1898.
Two years later, the resort hired Donald Ross, and he began working on his masterpiece, No. 2.
***
Back to Basics
No. 2 is like it should be again. From 2010 to 2012, crews restored the original look of the course, just as Ross originally carved it out 113 years ago. What does that mean?
Unlike most golf courses, which run water all the time to keep the made-for-TV green look, No. 2 now has only one irrigation line running down the middle of each fairway. Pinehurst wants the greenest areas of the fairways to be in the middle, with brown on the edges.
A tee shot in the middle has a better chance of catching good grass. A tee shot on the edges is more likely to skip and roll on the hard, brown ground and end up in the sand.
180,000 clumps of wiregrass planted during the restoration of the No. 2 course.
***
Bloom Surprises
Every spring, Augusta National Golf Course gets high praise for the beauty of dogwood and azalea blooms during the Masters. Summertime blooms are harder to predict, especially after a cold winter. Pinehurst Superintendent Kevin Robinson does expect the Portulaca, a pinkish-red flower native to South America, to be up for the television audience.
***
Every Name Has a Story
On any given day at Pinehurst, you can bump into UNC basketball coach Roy Williams or golf legend Jack Nicklaus or maybe even a president.
Other faces, though, might be a little harder to place:
Kirk Adkins is one of the part-time groundskeepers for No. 2. He mows grass now. But in a previous life, he earned an MBA from Wake Forest and lived in Hong Kong, working as vice president of intimate apparel for Hanesbrands Asia. His most recent accomplishment, though, is a turf-grass management degree from Sandhills Community College.
Mixed among the caddies is 80-year-old Willie McRae, now 60 years into a career walking No. 2. He carried bags for Ben Hogan and Sam Snead. A former soldier in the U.S. Army and an iron factory worker, McRae now needs a cart to get around the course he knows better than anyone.
Walk into any old establishment downtown and say the name Cleet Clyde Cleetwood. He died in 2007, but his name still stirs memories. After working as a schoolteacher and superintendent, Cleetwood served as a starter and course ranger at Pinehurst for 20 years. But he never worked on Fourth of July, and like everything here, there's a story behind that: Cleetwood bore a striking resemblance to Uncle Sam, making him >a sought-after character in Independence Day parades throughout Moore County.
14
Full-time employees working the grounds of the No. 2 course throughout the year. About 20 part-timers also pitch in.
***
So Does Every Piece of Land
When Pinehurst built its practice range in 1913, it was one of the first of its kind, and golfers swarmed it. The range is called "Maniac Hill" in honor of them. Tommy Armour once said the instruction that happened there was "the Oxford and Cambridge, the Yale, Harvard, and Princeton of advanced golf education."
There's another small piece of land near No. 2 with a sign that reads "Thistle Dhu." It's a putting course, built in 2012, featuring wild turns and rises and falls in elevation. It's a place where people of all ages can putt for fun and maybe even kick back in lawn chairs and make up games. "It's a putting course, not a putting green," says Robinson, No. 2's superintendent. "Here's where you decide who's going to buy lunch." The name dates back to 1919, when a local man named James Barber built the world's first miniature golf course on the grounds of his home in Pinehurst. When he finished it, he sized it up and said, "This'll do."
***
More Stories
"We have everything you need," the archivist in Tufts Archives in Given Memorial Library in downtown Pinehurst says. "Everything. I mean, we have 170,000 photos. You'll just have to tell me what you're looking for."
Few small towns have had their histories documented as neatly and orderly as Pinehurst. Although pin flags from golf courses all over the world line the walls, there's more than golf in Tufts. There are pictures documenting the cultural implications of setting a wealthy resort in a rural area. A cabinet is full of tributes to Pinehurst's caddies, who throughout time have been mostly African Americans. The exhibit includes photos of school buses brought in by the Tufts family, which owned the resort for 75 years, to take young kids back and forth to school from their jobs as caddies in the 1920s. It also includes newspaper clips telling of the five caddies who were called to war and killed in action in 1945, and a tribute to nearby Taylortown, named in honor of Demus Taylor, a 6-foot-4 descendant of the Ebu Tribe of Africa.
6,500
Volunteers signed up to help run
the two U.S. Opens.
***
Look Closely: This Almost Didn't Happen
It's hard to believe, but Pinehurst almost died. In 1970, the Tufts family sold to the Diamondhead Corporation, which swept in and updated the place with shag carpets and other gaudiness. It didn't work. The Holly Inn was placed on the National Register of Historic Places in 1973, and a year later, it was closed because of a lack of funds. The resort went bankrupt in 1982 and was sold to banks. In 1984, though, Robert Dedman and his company, ClubCorp, purchased the resort and set out to make it shine again.
In the 30 years after that, it would land three men's U.S. Opens, a women's Open, a senior Open, two PGA championships, and U.S. Amateurs for both men and women.
***
Hidden Gem: The Men's Locker Room
In the men's locker room in the clubhouse, deep in the back, past the bathrooms, is a small room with wooden lockers dedicated to champions of the North & South Amateur, which this year will be played for the 114th consecutive year, making it the longest-running amateur tournament in the country. Plaques for all the winners—including Jack Nicklaus (1959) and Curtis Strange (1975 and 1976)—are installed on each locker. Note: Winners also now receive a Putter Boy trophy, a replica of the statue of a young boy putting that has been the marketing symbol of Pinehurst golf since 1912.