The Making of Children's Theatre of Charlotte's Production of 'The Night Diary'
In Partnership with Children's Theatre of Charlotte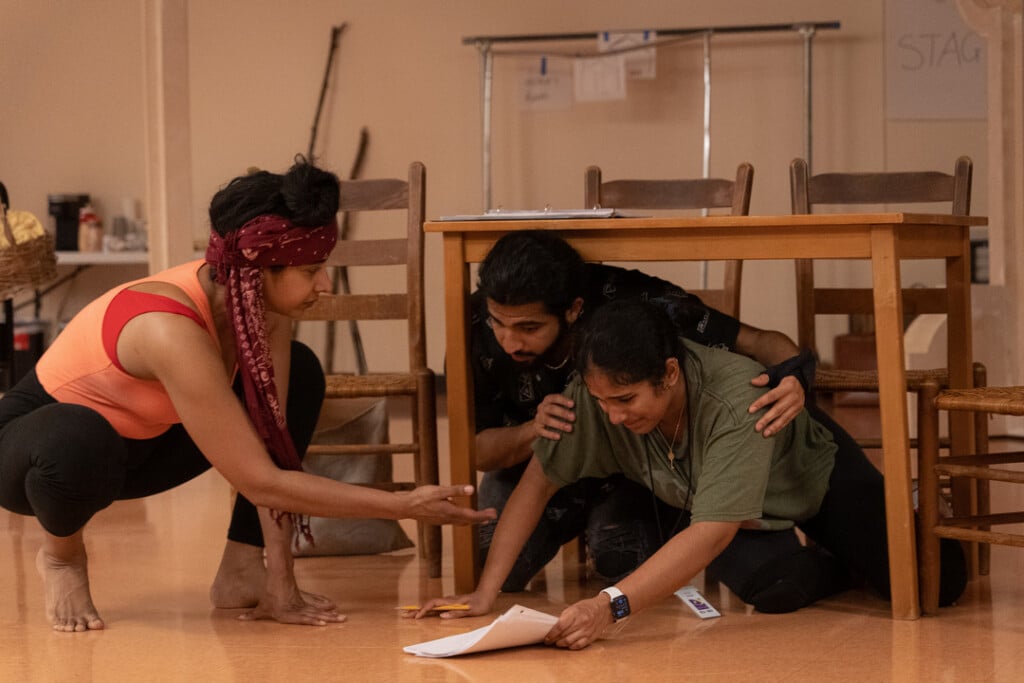 Last year brought a harrowing anniversary: It had been 75 years since the Partition of 1947—a violent, historic act that split Colonial India into Pakistan and India. This is the backdrop of the book The Night Diary by Veera Hiranandani, which follows the event through the eyes of 12-year-old Nisha. Half-Muslim, half-Hindu, Nisha struggles to determine the answers to painful questions: Which country wants me? Where do I fit?
An adapted play was in the works amid that anniversary, a collaboration between the Children's Theatre of Charlotte—which coincidentally happens to be celebrating 75 years in 2023 itself—and producing partner EnActe Arts, a nonprofit "developing and presenting thought provoking stories that put South Asian voices in a global context." Beginning March 10, the Children's Theatre of Charlotte will launch the world premiere of The Night Diary at Wells Fargo Playhouse.
Running through March 26, children and adults alike will identify with the story's theme of searching for a sense of belonging. When Nisha's father decides it's too dangerous to stay where they are, they embark on a long and dangerous journey as refugees. Told through Nisha's journal entries to her mother, this stirring and heartfelt story reminds us that home is more than a place: It's a feeling and a sense of belonging that comes from within.
In July 2021, actors gathered in Charlotte to collaboratively develop the adapted first draft of the script, written by emerging artist and playwright, Mukta Phatak. The play's director, Anjalee Hutchinson, is Phatak's former teacher and reached out to her to pen the play after realizing its potential. "The way that the story moved, the way that the landscape changed, the way the family grew together and sometimes apart, all begged to be on the stage," Hutchinson said, adding that spark arose from reading the story to one of her children. " … Mukta, with her cultural understanding, her family history and her personal connection to the story made her, to my mind, the perfect choice. What I also knew was that this beautiful story needed a playwright who was also a poet in order to transform it for the stage. Mukta, who studied theatre and poetry in her undergraduate years, had recently been awarded one of the National Cadigan Prizes for Younger Writers in Poetry."
The original novel is a 2019 Newbery Honor book, an ALA Notable Book, a New York Times Editor's Choice Pick, and received the Walter Dean Myers and Malka Penn Awards for its contributions to diversity, equity, and human rights. Knowing that many of those themes carry immense weight today, the creative team found a space for profound exploration within one of Charlotte's premier and rare professional theater companies.
"CTC has been really excited to be supportive of this [collaborative development] process," says actor Sonal Aggarwal, noting that the kind of freedom Children's Theatre offers is rare. That summer workshop in 2021 offered the chance to work through that incarnation of the piece. For one week, the actors spent hours with the play until a private showing that garnered feedback from guests. Phatak took that response to craft the next iterations, even conferring with the author Hiranandani herself. Her feedback inspired further evolutions that culminated in the crew's arrival in Charlotte this winter.
"CTC has given us lots of space to play," continued Phatak. "This building is amazing because a lot of the design elements are in house. It's definitely unique."
View this post on Instagram

The Night Diary finds itself among several productions at Children's Theatre with powerful, intersectional reflections of issues relevant to both young and adult theatergoers. Other productions include Sunjata Kamalenya, subtitled "The True Lion King of Africa," and The Gathering, which centers on the meeting of two students at a cultural diversity conference from differing communities—one from a Native American Reservation and the other of a small, Midwestern town. "CTC believes in the power of young people and the change that they can create and the stories we can tell them," says Phatak. "It's a theater that would elevate a story like this. It seemed like just the right spot."
Learn more about the production and get your tickets to see The Night Diary here.
---
MORE ABOUT THE NIGHT DIARY:
Before seeing the play, listen to this NPR interview with The Night Diary author Veera Hiranandani: