The Man at the Center of That Viral Exchange on I-277
During protest, Curtis Hayes Jr. took command of a passionate exchange among three generations of Black men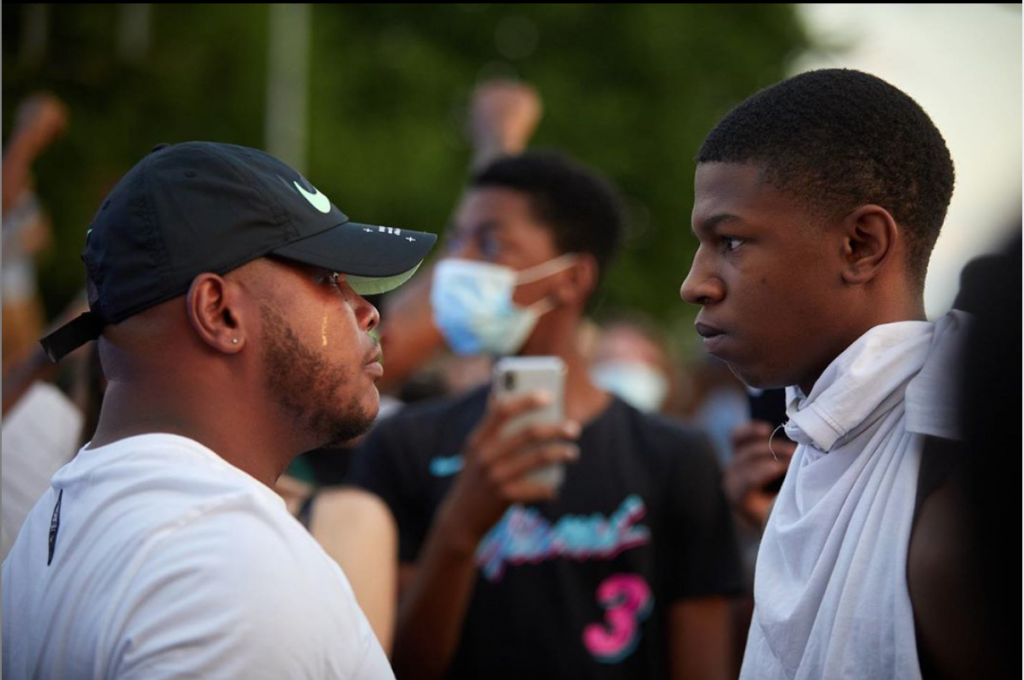 Ed.: Read an interview with the 16-year-old, Raymon Curry, here.
Early Saturday afternoon, a demonstration that began in uptown moved onto Interstate 277. Charlotte-Mecklenburg Police eventually guided protesters off the overpass without serious incident. But before then, near the Fourth Street exit, two Black men had a heated discussion. The older of the two, who's 45, yelled about how tired he was of injustice against Black people. He said he was ready to die to stop it. "I understand!' the younger man, who's 31, replied, repeatedly.
Then he pulled a third Black male into the conversation, a 16-year-old. The 31-year-old man delivered a message to the teenager about the frustration of generations, the sense—hammered home by a Minneapolis police officer's killing of a Black man Monday—that years pass, names and institutions differ, but nothing truly changes, and that younger people will have to "come up with a better way."
"'Cause how we're doing it? It ain't working! Come up with a better way. 'Cause we ain't doing it!"
> See the video here.
The 31-year-old's name is Curtis M. Hayes Jr., and the video of the three-person, three-generation encounter, shot by an unidentified observer, was tweeted by a woman in Houston. By late Sunday afternoon, it had earned more than 123,000 likes and more than 57,000 retweets, including one from The New Yorker staff writer and Say Nothing author Patrick Radden Keefe, who wrote: "This exchange, these awful truths. Three Black men, three different generations. It's two minutes long and every American should watch and listen."
Logan Cyrus, a Charlotte photographer who was shooting photos of the protest for Charlotte magazine, also captured a photo of Hayes and the 16-year-old, who commented on the magazine's Instagram post. During the 2016 Keith Lamont Scott protests, Hayes, as he did Saturday, acted as a buffer between protesters and police. He's a West Virginia native who lives in Charlotte and owns a property maintenance company; he and I spoke for about 20 minutes Sunday about what led to the passionate conversation on 277 and the thinking that informs his activism. Hayes' words have been edited for concision and clarity.
CM: How did that conversation come about?
Hayes: What led up to it was, you had two officers who were stuck in the middle of the protests, and myself, I was out there protesting and trying to make sure that peace was kept on both ends and that neither party from either side was hurt. And I looked over, and I saw a young man, and I asked him, "How old are you?" And he said, "I'm 16." And then I look behind me and I see this older guy who is just, you know, angry and upset, and he's a little irate because he's been dealing with it for years. And then you have myself, who's 31, who's right in the middle of both of them, and I look at my elder and I see that he is angry. I look at the young brother who is under me, and I see that he is angry. And it just created that moment that was needed, that dialogue that was needed between every generation to talk, and for everybody to see it together so that they can understand: How many years and how many generations do we have to put up with this? How many individuals will continue to be angry and hurt behind the injustice that happens in America?
CM: What did you feel compelled to say specifically to the older man?
Hayes: We have to set a better example. He's my elder, and I have a mother and a father who are close to his age. And, again, I understand that he is angry. But the message that I wanted to get to him was, us in conflict with each other, or feeling like one of our brothers is betraying us because they're trying to keep the peace, that is not what's happening. And as an elder, I need you to lead our community to where it needs to be led. And I need you to be an example for not only myself as a 31-year-old Black man but for this 16-year-old Black man who is behind us, and he's watching our actions, and he's watching how we take movements in this—he's watching us—so that we know that we are instilling a movement in him that he will go with his generation, and they will move strong and fierce, and they will move peacefully, but they will move with a purpose so that people understand them. And the way we were moving was not the way.
We had a guy, Big Mike, who was shielding people from possibly—and I'm not saying that it was going to happen, because I don't believe it was—but I think that there were some angry people who got caught right there in the midst of the protests. But we use ourselves as human shields to protect the other side while protecting ourselves because we understand that in those feet where we stand across from each other, that we are all human. And one reaction will cause more and multiple reactions that we do not need.
So, again, he kinda got upset with a brother that was in front of the police because they feel as though we're taking sides, and I need everybody to understand there's not a fight to take, but only one side, and that is to fight for equality of people everywhere in the world. I think people think that it was something against them. It's not even against CMPD. The movement and the message is much bigger than that.
CM: You said "we." Are you affiliated with any particular activist group?
Hayes: No. I'm out there as a concerned citizen, as a concerned father, a concerned uncle, cousin, nephew, son, that's what I'm out there as.
CM: You said something during a television interview Saturday, referring to Greg Jackson of HEAL Charlotte and the work he's been doing with CMPD and his community to try to prevent crime and violence between police and citizens: "They are taking more of us than we are saving." What did you mean? Do you think incidents like the police killing of George Floyd strip away what progress police and citizens in Charlotte have made in the past few years?
Hayes: I don't want to discredit or take away anything that has been done right. So when you give that answer that I think that it was all stripped away, that would be me discrediting so many of us before us who have fought this fight. I don't think that it was all stripped away. What I think we are facing is a repetitive situation where action is taken—but not enough to sustain it. Does that make sense? It's not to discredit anybody before me or anybody after me. It's the simple fact that everybody should understand that action has been taken, right? Little changes have occurred, awareness has occurred. But the action that was taken to get that little bit of ground is never enough, constantly or repetitively, to sustain the change. We always resort back to what we know, where we don't insert into people's minds that change needs to happen all the time and not only periods of time when tragedy strikes.
CM: Where do we go from here?
Hayes: Everybody who I've come in contact with who's on a platform who asks that question to me, I challenge them to ask the question back to themselves and say, "What can I do as an individual to just take a little bit of that work that (activists) put in—how can I use it on my platform? Who can I ask that question to who is blind to the fact of the issues and the injustice that's going on in the world?" Because you talk to people who don't see things how you see things. And I'm not going to connect with them better than you will connect with them. That's just the world that we live in. So I think that a lot of us need to really understand that.
My message is for a lot of people, and I pray that it reaches everyone, right? But at the end of the day, the message that I really want to resonate in people's hearts is, what can you do as a Black man, white man, Asian man, Hispanic, Latino, it doesn't matter: What can you do in your community? So I challenge my white counterparts who I don't know, who I do know, who I know and who I love dearly. I have friends who I give the same message to, because it starts in our communities as Black people, but it also starts with change in the white community. That's what we've been missing for so many years, is that our counterparts do not have enough people who support the movement for not just Black Lives Matter, but everyone, because if everyone can come together in solidarity and as a unit, then we will move forward so much better as a people.