The Manor Theatre Has Closed. Is This Our First Last Goodbye?
What other signature spaces will the virus steal from us?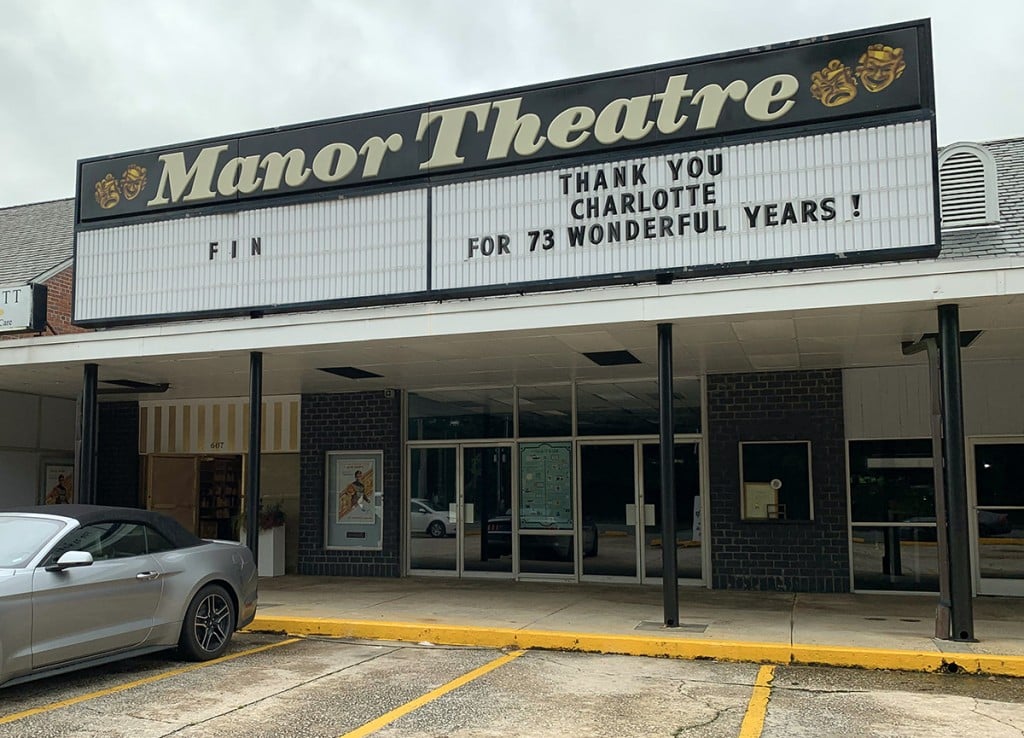 The closing of the Manor Theatre crushes. A business that's been in the same spot for 73 years, a millennium in Charlotte time, is gone. An art house theater that supported local filmmakers, that took a chance on quirky movies that usually don't escape bigger cities, has closed for good.
Could this be our first last goodbye? Is this the first in a series of COVID-related closings of places we can't imagine Charlotte without? We read foreboding predictions about the fate of small businesses, and it's impossible not to think about our favorite Charlotte shops, restaurants, theaters. At a time when we want nothing more than to be together again, how many of these places will we have to return to? How many will survive partial re-openings and lower demand? We're still in a disorienting limbo: We don't know whether reopenings will initiate a gradual welcome back to our old lives or reveal themselves as the opening days of a dreaded, dreadful alternate reality. What if, as Conan O'Brien posited in a recent tweet, these are the good old days?
Of course, a pandemic causes far greater grief and fear, and losing a movie theater hardly registers on the scale of loss these days. But we can't deny our hundred little griefs and sadnesses; they'll show up, somehow, whether we invite them or fight them off. We miss our friends and family. We miss our places. We miss our old normal.
During a recent virtual happy hour with friends, our conversation turned to the things we look forward to, a wistful subject that often follows the second drink. One friend said he can't wait to hear, "Do you want me to start a tab for you?" For me, it's, "You want butter on your popcorn?" (And yes, I do.)
I love a night in a movie theater. To sit in a big room of people who laugh at the same jokes together. To sniffle (or all-out cry) beside strangers. There we are, in the same room and going nowhere, but after a couple of hours, we leave feeling like we've been somewhere together. Who doesn't feel more warmly toward the people in the theater when you walk out, versus when you walked in?
Indie movie theaters like the Manor unite us with our people. A movie by Yorgos Lanthimos or Darren Aronofsky draws a different crowd than a summer blockbuster, and those of us who like indie films usually like each other, too. For the documentary Toni Morrison: The Pieces I Am at the Manor last summer, there they were: all the other people whose idea of an ideal Friday night was to sit in the company of one of the greatest American novelists and her words. We smiled at each other as we took our seats. How could we not? Toni!
Grumpy people insist that no one watches movies in theaters anymore. These people say no one goes to libraries, either. I think of them and laugh each time I circle the parking lot at the Morrison Library waiting for a spot to open, or when the best seats in the movie theater (center, two-thirds back) are taken on a Tuesday evening. Plenty of us love theaters and libraries. I suspect that not going to either might explain the grumpiness of those who claim otherwise.
But, like many, I didn't fully realize how important those spaces were until I couldn't go. They're fun, they're entertaining, but they also allow us to be the social creatures we are. Even for an introvert like me, stay-at-home orders have shown how much I need time with people. We lose something of ourselves when we don't share ourselves. I miss working, even solo, in coffee shops and libraries. Netflix can't compete with a theater. My deck has nothing on a restaurant patio. It has less to do with amenities and more to do with the people and the energy around me. I miss my city.
The last movie I saw at the Manor was JoJo Rabbit, back in February, twice. Few theaters took a chance on a satiric comedy about a goofy, imaginary Hitler that was also a treatise on racism and anti-Semitism. My husband and I brought his father, who had moved to Charlotte a few years ago, and I told him: You're not a true Charlottean until you've seen a movie at the Manor. It's one of those few unique experiences left in town. (I gave him a list of other such places and experiences, which I won't share out of superstitious fear that I'll write about them next.)
Before the final credits of JoJo Rabbit, part of a poem by Rainer Maria Rilke appears on screen. During that second viewing, I committed it to memory:
Let everything happen to you.
Beauty and terror.
Just keep going.
No feeling is final.
A month later, I wrote that poem in Scrabble letters on my dining room table as the potential of the pandemic became clearer. It connected me to my father-in-law, whom I couldn't see for a while; it connected me to a favorite place, which I couldn't visit. It connected me to a day that felt utterly normal when it happened but seemed almost surreal a month later.
Back then, I said JoJo Rabbit was the last movie I saw at the Manor, but back then, "last" meant "most recent." I think back now on my great meals, concerts, and shopping trips in Charlotte, and I hate that I wonder which were my most recent, and which were my last.