The Many Faces of Dawes
Jeremy Markovich on California alt band Dawes, and what makes them worth seeing as up close as possible.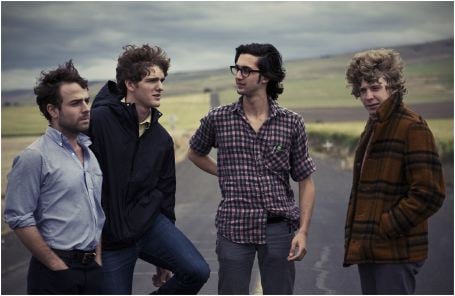 Halfway through "That Western Skyline," the intermittent hum from Taylor Goldsmith's foot pedal came back and would not stop. He hunched down and started pulling wires. Then he started yanking switches and circuitry. Then he just gave up on the damn thing and plugged directly into an amp. Then he lost his place.
"I'm totally blankin'," he said. "Mind if I start over?" The crowed roared.
This is how things are going for Dawes, four guys from Los Angeles who played to maybe two hundred people in Charlotte Tuesday night. They have this sort of laid back country rock sound going for them, as if they are playing music while taking a nap, and yet it looked like the whole thing was agony for them. Taylor Goldsmith's mouth and eyebrows twisted and pulled as he slid into a guitar solo. Wylie Gelber's face developed a tic from time to time when he strummed on the bass. In the back, Taylor's younger brother Griffin seemed to lose all control, everything below his Napoleon Dynamite hair writhed in pain, his tongue hung out of his gaping mouth as he drummed. Only the keyboardist, the bearded and well-coiffed Tay Strathairn, managed to keep it together.
There is this disconnect, then, between what you see and what you hear at a Dawes show. Turn off the lights and you hear this pulsating but mellow rhythm under thoughtful and passionate singing. Unplug the speakers and you see four surf bums trying to crack the lineup at Ozzfest.
Dawes has been somewhat successful, if you measure success by how often big corporations use their music. "When My Time Comes" appeared in a car commercial here, an episode of Hung there. Dawes closed with that song. Everyone knew the words.
You get the feeling that, watching them, you are witnessing something big before it gets big, although you don't know when their time will come. Last year, they played Bonnaroo, albeit the smallest venue there, so small that a man was able to pass out five feet from the stage without causing much of problem. They are still the sort of band that can't seem to fill up the Visulite on a Tuesday night (although it probably didn't help that, across town, the Flaming Lips' Wayne Coyne was playing a sold-out set, inside of his space bubble, at the NC Music Factory). Being there for the show was like stumbling on a secret. You just couldn't believe that these guys are this good and there was nobody there to see it.
After it was over, Griffin Goldsmith hawked t-shirts while Wylie Gelber puffed on a cigarette out front. The band's name was already gone from the marquee. At a table up front, you could pre-order the Dawes' upcoming new album, Nothing is Wrong. The picture on the cover shows the band from the back, playing to an empty auditorium. Appropriate, sure. But it's a pity you can't see their faces.
Jeremy Markovich is a contributing writer for Charlotte Magazine. For the April issue, he wrote about Plaza-Midwood's notorious Penguin scandal. Read it in full here.