The Many Layers of Mr. Mitchell
A preacher's child, a mother, a transgender man, and a breast cancer patient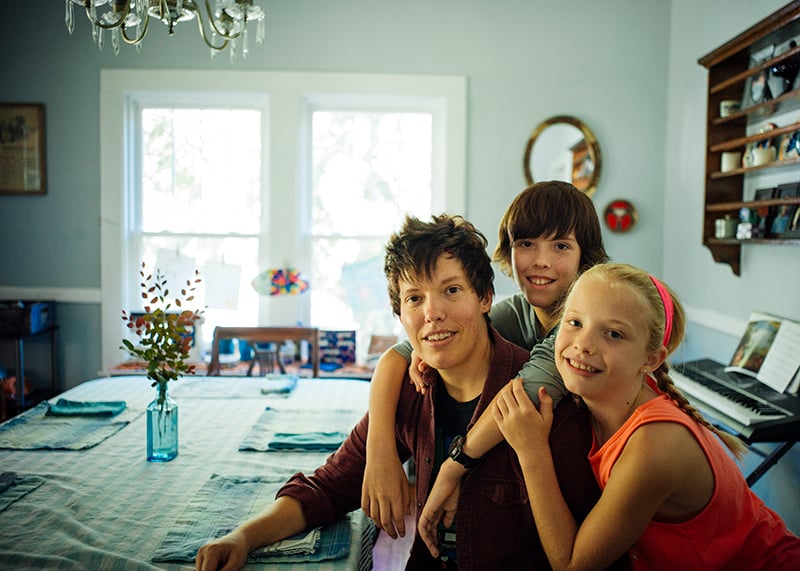 THE FAMILY of three with a lot to pray for lately is praying tonight for the tacos before them.
Mitchell holds his two children's hands as he bows his head, his short, brown, spiked hair like a dorsal fin pointing down the length of the table. On his right is 11-year-old Lee, gap-toothed and chatty. On his left is nine-year-old Maryrose, whose wispy, blond hair looks almost white. Mitchell thanks God for these tacos, and they all smile and say in unison, "Amen."
Maryrose and Lee sip milk from glasses, but it's hard to see Maryrose behind the tall vase of sunflowers. Lee keeps scooping freshly cut peaches onto his plate, as Mitchell tells him no more, then no more again, and, finally, "OK, Lee, I mean it, no more."
Maybe these tacos do deserve a blessing, given all Mitchell had to maneuver just to get them made and on the table. As he blackened the flour tortillas inside his Mount Holly home, Mitchell had to pivot back and forth between the stove and the bowls with taco fillings on the butcher block in the middle of his black-and-white checkered tile floor.
Meanwhile, he constantly stepped over his cousin's cat, Patch, who's living here while his cousin moves, meowing for food below. There was also Lee, showing off his magic card tricks. And Maryrose in her leotard, beaming as she showed off her latest gymnastics routine. It's the kind of routine that, really, is never routine. It changes with each showing. She's been practicing it all summer, and on this humid July evening, Maryrose had every intention of drawing an audience, whether the tacos were done or not:
"Mom, can I do my routine? Mom, can you watch?"
Lee, or as he prefers, The Amazing Lee, begged to be watched at the same time, fanning out his deck of cards.
Mitchell gave them the attention they wanted, of course. It's what moms do best.
To Maryrose and Lee, Mitchell will always be Mom. But outside of their home, Mitchell, who in 2014 began identifying as transgender, uses male pronouns and prefers that others call him by his last name rather than his legal first name, Betsy.
"I still feel somewhat in the middle with gender, but I prefer 'He,' " Mitchell says. "I like it better. It makes me happy."
Happy isn't always easy to come by for Mitchell these days.
From the sideways glances he gets from strangers, to the stammers from others about whether to say "sir" or "ma'am," to the March passing of North Carolina House Bill 2, which prohibits people like Mitchell from using bathrooms of the gender with which they identify, life isn't always as good as taco night.
As if all of that isn't enough, doctors diagnosed Mitchell with early stage-three breast cancer in March. And just six years before that, Mitchell watched his mom, Kathleen, die from the same disease.
The breast cancer diagnosis is a bitter one for a transgender man who has never wanted his breasts and often wears two sports bras to bind them.
The 39-year-old Mitchell has a red bandana in his faux hawk-style wig of short, brown hair, and as he opens the fridge, he pulls out two Negro Modelo beers.
"I can't drink too much because of the chemo," he says. "That's the worst part!"
He's joking, obviously. There are a lot of bad things about cancer. Especially when you consider this last thing: Two days before Mitchell's diagnosis, his little sister found out that she's fighting breast cancer, too.
***
BACK WHEN Mitchell was young and went by Betsy, he would swim in the baptismal pool under his church's sanctuary floorboards, but only if he promised his daddy, the preacher, he wouldn't tell anybody else.
Mitchell also got to roller-skate in the basement of Baptist Bible Church in Akron, Pennsylvania. He also ran around in the sanctuary, but that was probably best kept a secret, too, his daddy told him. The church was as much a home to Mitchell as it was to God.
"Our life was pretty centered around the church. We'd read the Bible together, pray before meals. We went to church a lot: Sunday morning, Sunday night, Wednesday night," Mitchell says. "That was pretty much our life."
So it's no surprise the devout family worried when, in kindergarten, Mitchell started dressing like a boy and asking others to call him Jesse, the name his parents had picked out for him if he'd been born a boy. On his first day of fourth grade, Mitchell wore cowboy boots and blue Dockers and proudly carried a Hot Wheels lunch box.
Mitchell says that his parents, George and Kathleen Frantz, "indulged" his ensemble choices, but his mother frequently tried to persuade the child to wear more feminine clothes. Mitchell was stubborn and only rarely gave in to his mother's pleas.
"There's a picture of me wearing a dress on Easter, but I look really mad," Mitchell says now, laughing. "I said, 'OK, I'll wear the dress to make you happy.' "
And so it went for years, denial deferring the painful truth to the preacher's family.
Still, the family was incredibly close. Especially Mitchell and his younger sister, Joy, now 37. Once, when Mitchell was 13, he and Joy dressed up like Nancy Drew and went to the local diner to order dinner together, just the two of them in their costumes.
"Sometimes, we didn't need to hang out with our friends," Joy says now, "because we had each other."
Another time when Mitchell was young, his family staged a play inside their home in the heart of Amish country. Two other families from the neighborhood joined in the audience. Mitchell dressed up as Peter Pan, Joy as Tiger Lily, and their 5-year-old brother, Jacob, played Captain Hook. The preacher was so happy that he rented a video camera for $15 for the day to record the living room play.
A few years later, though, Mitchell went on a trip to a Christian summer camp. A group of children followed Mitchell and his siblings, taunting him with questions about whether he was a boy or a girl. They wouldn't leave the trio alone, bullying Mitchell with their barbed words. That, paired with the ruthless teasing from classmates during the regular school year about a girl wearing boy's clothing, got to be too much for Mitchell. At 12 years old, Mitchell surrendered to the bullying and began dressing like a girl.
"I just, in a way, closed the book on that," Mitchell says.
He says he had "crushes" on girls while growing up, but when those feelings would surface, he forced himself back to the godly life he believed he was meant to live. There was certainly no place in that life for a girl liking other girls.
After high school, Baptist Bible College, just outside of Scranton, was an obvious choice for a member of a preacher's family.
In 1996, during Mitchell's freshman year, Joy (whose last name is now Gibson) got her driver's license and drove the two hours north to spend the weekend with him. Joy wound up enrolling at the same college two years later. One night, she was on a date with a boy and out past the college's 10 p.m. curfew. Mitchell, who lived in a ground-floor dorm room at the time, opened the window and snuck Joy inside so she wouldn't get in trouble.
Mitchell studied elementary education in college. He'd always been a great student. His dad, George, still boasts about how Mitchell graduated from high school as salutatorian, and George still smarts over the fact that Mitchell was edged out of the valedictorian title by only a mere few hundredths of a point. Mitchell continued to excel in college, and wound up finishing magna cum laude with a 3.8 grade point average.
But in March of his senior year, the preacher called Mitchell and told him his mom had breast cancer.
"We always thought of ourselves as the perfect Christian family, and that kind of thing doesn't happen to our family, and then," Mitchell says, "it did."
Mitchell was student teaching at the time, so he'd go home every weekend to spend time with his mom. He wanted to drop out, but he labored on that final year, hoping each week that he would make it to the weekend to see his mom one last time.
"The hardest part was trying to prepare myself for her to die," Mitchell says.
But he needn't prepare for much. After about a year of treatment, the cancer was gone from her body. The family believed the Lord had healed her.
About three years later, in 2003, long after his mom's cancer went into remission, Mitchell moved south to Charlotte.
It's called remission because it's never completely gone from a body. It's hiding, kept at bay, awaiting its next chance to regroup. And often, breast cancer is inescapably genetic.
***
GROWING UP as the child of a preacher, you learn a few things: You're to be good and kind and charitable to all. You never steal or cheat. You ask forgiveness when you wrong someone.
Another thing you often learn is that being gay is a choice that will lead you away from the Lord and your soul to damnation.
Mitchell had these thoughts branded into his mind when he moved to Charlotte. Mitchell, who still identified as a heterosexual female named Betsy then, found a nice man while attending services at Charlotte's Northside Baptist Church. The man was smart, loved to read, and was a teacher, too. His name was Stephen Mitchell.
On the couple's first date, they went to listen to a monk play guitar and sing, and then they went to drink coffee and talk. Conversation was the best part of their relationship. They went to NoDa's Evening Muse for concerts and shows. They read. They drank green tea.
After dating for a year, they married in 2004 and moved into a house in Mount Holly with black-and-white checkered tile floors.
During the evenings, they read aloud to each other. They built a white picket fence around their home. They didn't own a TV those first few years, either. They wanted a house filled with books and conversation.
Nine months later, Mitchell gave birth to Lee, and Maryrose came two years after that.
They were an incredibly normal, happy family with two beautiful children and that white picket fence. This was surely the life God had intended for Mitchell.
As Mitchell sat with Stephen and Lee in the dining room one day in 2007, the preacher called again.
Mom's cancer came back, George said. She's only got about one to three years to live.
How, they wondered, could this happen to a good, Christian family again?
It tore the family apart. Kathleen Frantz became melancholy in what would be the last two years of her life. She'd kept journals and diaries for years, and that didn't stop during her battle with cancer.
"I feel like I am dying—slowly," she wrote on February 5, 2008. "It may not be so, but I feel so sleepy and listless. It's no fun having cancer, but I know it's God's will for me. I'm asking for Happiness and Joy despite the cancer."
Then, five days later, on February 10: "I'm 59 years old today. Almost 60. I've been fighting cancer for 8 years. That's a long time to go through a trial."
Kathleen's cancer quietly conquered cells inside her body, spreading far and wide from tissue to organ in a dirty, internal warfare. Her family members couldn't help, aside from volunteering as drivers to chemotherapy. They were left with little else to do but pray.
"I just said, 'Lord this is, uh, an awful lot to bear and I ask God to be merciful and bring healing, whether it's divine healing or He uses doctors or chemo and all that,' " George Frantz says now. "And then I just have to put it in His hands. It's certainly not something I could have handled as a younger Christian."
In July of 2009, Mitchell made the 500-mile trip to visit his family again. He knew he needed to get his mom's famous raspberry pie recipe while she was still alive. It was the kind of recipe that no one had written down on an index card—a true family recipe that lived only in the minds of a few.
"She was teaching me how, and she was getting mixed up," Mitchell says. "She was putting salt instead of sugar with the berries. She had to take breaks rolling out the dough." Mitchell called his grandmother for the recipe.
Only three weeks after Mitchell returned to Charlotte, Joy called him back. Their mom was getting worse. Prayers weren't working. Hospice was here now. Kathleen was no longer sleeping in her bed. The workers brought in a hospital bed to send her back to the Lord.
"When I saw her, it was like I got hit in the head with a baseball bat," Mitchell says. "I kinda smiled when I went in. She gave me a real raspy, 'Heyyy.' She could barely move, and I just couldn't believe it. Joy could not have prepared me for that shock. She tried. I went right over and held her hand and hugged her."
The preacher's family took turns watching Kathleen throughout the night, making sure everyone would be there when she died. The next morning, Jacob—Joy and Mitchell's younger brother; Captain Hook in the family play—called to the family that the time had come. Mom was dying.
Two weeks later, on Mitchell's birthday, a letter arrived in his mailbox in Mount Holly. It was addressed from Kathleen.
"I'm writing you this from heaven," the letter started.
She had written the letter before she died, knowing she would never make it to his August birthday. Joy found the letter in one of Kathleen's journals, tore it out, and mailed it to Mitchell, knowing their mom always made a big fuss about birthdays.
***
NEARLY 20 YEARS had passed since Mitchell stopped dressing like a boy, and two decades is a long time to lie to God. He couldn't keep doing it. He prayed about the feelings he'd felt toward women since he was 5.
After breast cancer took his mom, he met a woman (whom he asked not be named) in the spring of 2010 at a friend's baby shower. He fell in love.
"That kind of opened up the way I felt like I was younger, my more masculine side that I had closed off," Mitchell says. "It sort of emerged, my true self, my whole self."
Mitchell and the woman had an affair for three months before Stephen found a text message while on a family beach vacation. Mitchell had been caught, but really, he says, he'd been freed.
"It was a relief. I wasn't ready to make a huge change in my life after my mom died and get a divorce, but I was also so in love with (the woman from the party). I couldn't bear not to talk to her," Mitchell says. "It's a terrible place to be. I was madly in love, feeling so human and real for the first time, but I felt the horrible guilt I had for leaving Stephen."
Mitchell, who at that point identified as a lesbian, separated from Stephen in 2010 and divorced in 2011. Mitchell was 32 years old and not pretending anymore.
Still, there was a question: How do you explain this to your children?
"I told them I was gay and that I just fell in love with women and explained to them what that meant. I didn't want them to think I didn't love them or didn't love Stephen," Mitchell says. "I told them I love men, but I only fall in love with women.
"I don't think they cared about that; I think they just wanted to know why we couldn't live together anymore."
The pair arranged joint custody of the kids, switching off who cared for the children each day.
Mitchell's family back home wasn't as understanding. The preacher told his child that he didn't agree with Mitchell's life decisions.
"It's not how you're born. It's a choice you make," George Frantz says. "We still don't see eye-to-eye on that at all. I pray for her."
***
MITCHELL WEARS TIES, dress shirts, and slacks to his job as a first-grade teacher at Huntingtowne Farms Elementary in south Charlotte. He's a wildly popular teacher at the Title I school. He's known in the school as the teacher who has dressed up as the Cat in the Hat, a grandpa on the 100th day of school, and a British man during the first-grade team's culture and geography unit. And when the school's annual pumpkin decorating contest came around in October 2013, Mitchell's class took first prize by transforming the orange gourd into a black and ugly Miss Viola Swamp lookalike from the book Miss Nelson is Missing. He created 20-minute plays with his class, one year producing The Three Billy Goats Gruff over the course of two months with the students writing the script during writing time. The artists in the class created the program and the play's sets, and other students served as special ushers, inviting other classes to come watch. Mitchell played the guitar during the show.
But his students still called him "Ms. Mitchell."
So after a year of undergoing gender therapy, toward the end of the 2013-2014 school year, Mitchell sent a Facebook message to several teachers at the school and other friends, to let them know he now identified more as transgender and wanted them to use male pronouns and address him as Mitchell rather than Betsy.
He'd now go by "Mr. Mitchell."
For the first time in his 37 years, he had said it. He was transgender.
He says no parents had outward negative reactions toward him, his students knew no different, and his own children understood as best as young children can.
"(When I told my kids), I used the word 'transgender.' I told them I always felt like I was a boy, even growing up, and my body just didn't match how it felt," Mitchell says. "I told them, 'I'll always be your mom,' and so they call me Mom.
"Sometimes Lee will say, like, 'Well, that girl is more boyish like you.' A few times he's even said, 'Like, well, you know, you're, like, well, you ARE a boy.' "
Convincing a child to love and accept you as you are is easier than doing so with adults.
Mitchell still has not fully come out as transgender to his family.
When Mitchell got divorced and came out as a lesbian, it was Joy—the Tiger Lily to Mitchell's Peter Pan, the co-Nancy Drew, the girl Mitchell pulled into a first-floor dorm window so Joy wouldn't get caught outside after curfew—who took the news the hardest.
"She was crying. She said (she wished) I wouldn't have told her. She said it ruined her night," Mitchell says. "It was a really hard conversation. I told Joy, 'Well, I'm sorry, but I wanted to finally be honest.' "
Joy says the changes were too much to handle all at once after her mom died.
"We really, really believe in the Bible, like, all of it. Not just the parts we like," she says. "And I'm not sure, I feel like if you pick and choose your passages, I don't feel real great about that."
But Mitchell still prayed. For acceptance. For forgiveness. He prayed to still be loved in the preacher's family.
"I don't blame (Joy). I was changing a lot and it's really hard on people when you change," Mitchell says. "She had just lost her mom, and she feels like she's losing her sister, too."
***
ON MARCH 10, a Thursday, doctors told Mitchell, after a second mammogram and an ultrasound gave concerning results, to schedule a biopsy for his right breast as soon as possible. Mitchell scoffed at the idea. He'd never find a substitute teacher in time. It was only a week until spring break. Couldn't it wait until then?
Just two days before that, Joy had sent a Facebook message to Mitchell and a few family members, to let them know she found a lump in her right breast. She'd gone in for an ultrasound and a mammogram after doctors were concerned by the mass, and the results didn't look good. That following Monday, March 14, doctors were taking biopsies of the mass.
"Please pray by Monday it is just gone!!!!! i don't want to have to deal with anything at all," Joy wrote to her family. "i just want it gone!!!!"
On March 16, two days after Joy's biopsy, the news came back: The two-centimeter lump in her right breast was stage-two breast cancer that had already found a nefariously separate refuge in a single lymph node.
Although genetics were proving to be more powerful than prayer, the family members remained faithful believers. The Facebook messages turned into a makeshift prayer circle, familial parishioners separated in their computer chair pews by hundreds of miles.
"Let's all join together and pray for one another," an aunt begged.
"Yes. Let us. I am praying and typing and praying and typing," Mitchell wrote.
Two days later, on March 18, the Friday before the last week before spring break, Mitchell got a worse version of the same news: The three connected masses creating a bar across his right breast were early stage-three breast cancer that had burrowed deep into at least two of his lymph nodes.
Now, Mitchell was forced to give to his children the news he had been given less than a decade ago: Your mom has cancer. That evening, Mitchell met the kids at Stephen's house to pick them up. Instead, they all sat down together and had a talk. And on a night that Mitchell, Lee, and Maryrose were supposed to order pizza and watch a Harry Potter movie, the family members spent the night crying together in the living room, wondering if Mommy was going to die.
Memories of his grandmother's funeral rushed into Lee's mind. Lee remembers "Mimi" rocking him to sleep and singing to him, and he remembers that stopping when she got sick and then died. He remembers burying his grandmother and how sad Mommy was after she died.
"Lee started crying really hard when I said it, and I said, 'Guys, they caught it really early,' which wasn't true, but I said, 'They caught it really early. I'm gonna be fine.' I said, 'Lee, I'm not gonna die from this,' " Mitchell says. "And then Lee said, 'Ohhhh, OK, I thought you were gonna die from this. I feel way better now.' "
After a lifetime of living as someone he didn't want to be, Mitchell thought, what was one more lie?
***
BEFORE THAT NIGHT of crying, before Mitchell and Joy knew the results of their tests, they prayed.
Mitchell's thoughts filled him with guilt.
"If I have cancer and she doesn't," Mitchell remembers thinking, "my family might think it's sort of God's judgment on me. 'Look what happened, you go down this road, this gay road, you go away from the Lord, and now you have cancer. This is going to bring you back to God.' I remember thinking that before I knew about her (Joy). I remember being relieved because now at least they know it's not because of my lifestyle." Mitchell pauses. "And then I even felt a little guilty thinking that."
Joy, though, says the siblings' double diagnosis isn't a curse on the family. On the contrary, it's God's blessing.
"I was praying so hard that she (Mitchell) wouldn't have to go through it, too, but when her diagnosis came back positive too, now I consider it a blessing," Joy says. "We can talk about it. No one else is going through this, no one else wants to sit there and compare side effects, and it's only something you understand if you're also going through it."
For Mitchell, he can now look at the sister who doesn't agree with him on a lot of things, the sister who once told him after he came out as a lesbian that she would never condone a relationship of his with a woman, the sister he still can't bring himself to tell, in person, that he's transgender, and know that she's the only person he can talk to about the disease.
The siblings talk hours at a time now, about how Joy's long, blond hair hurt when it fell out, how Joy sent her own hair away to have a wig created with it, how hard it was for Joy to recover after her 7 1/2-hour double mastectomy and reconstruction and near-week-long recovery in the hospital, how Mitchell should be prepared for his mastectomy in September after his double round of chemotherapy.
"We're definitely talking more since this happened, sympathizing more," Joy says.
At the end of last school year, Mitchell had used all of his sick days and annual leave days. To start off this school year, Mitchell took short-term disability while he awaited his double mastectomy in September. He said he hoped to return to the classroom in early November.
Mitchell told Joy he's looking forward to the mastectomy "to just get this cancer out," but he hasn't been able to talk to her about the other reason he's excited.
***
BACK AT MITCHELL'S HOUSE on that steamy July evening, Lee opens a window to the front porch and sticks his head out and asks if he can have a piece of gum. Mitchell asks him if he's had anything else sweet tonight.
Lee shakes his head no, although Mitchell certainly could not have forgotten the mess Lee made a couple of hours earlier when he ate a frosted chocolate peppermint cupcake at the dinner table after devouring a plate of tacos and all those peaches.
Mitchell obliges because time with his children means a little bit more now, and when your days are possibly numbered, it's hard to say no.
Mitchell's oncologist at Novant Health, Nusrat Chaudhary, doesn't have specifics on his prognosis. It's too early now. He hasn't had his double mastectomy yet. Surgeons haven't been able to open him up and look for straggling pits of cancer tucked away in more lymph nodes or organs. Only then will they have a better idea.
Still, Chaudhary is hopeful, saying that after surgery and an oral regiment of cancer drugs, Mitchell has a "very positive outlook."
"I remember Mom always said that's when she really realized how much she loved my dad and realized how amazing he was, when she had cancer. And so I hope that happens with my kids and with Stephen," Mitchell pauses for a bit and continues. "You do realize, too, how short life is."
It's something Mitchell's children, at nine and 11, are now forced to think about: What will happen to them if their mother dies? Who will make tacos for them and watch their gymnastics routines? Who will be the one to pick a card, any card, from the magic deck?
"I know she'll be OK, but inside I'm still a little scared," Maryrose says.
"I'm a little bit scared. She thinks I'm all confident, but I actually am a little bit scared. I just don't wanna make her worried," Lee says.
Joy has four children of her own. In all those phone calls and conversations, she and Mitchell are now confronting their mortality and the possibility of leaving behind six children between them, ages two to 12.
Although Mitchell doesn't want to admit it, Chaudhary points out that breast cancer is a ruthless species of cancer. The doctor says it affects one in eight women in the United States, but when a family member has it, that risk doubles. Maryrose, Chaudhary says, has at least a 30 to 40 percent chance of developing breast cancer in the future.
And so the preacher's children take to their knees and turn to God for help.
Joy's doctors are also optimistic. They gave her only a 12 percent chance of the cancer returning after surgery, which seems reassuring. But when it's a 12 percent chance of dying and leaving behind four children, suddenly you're looking for extra credit anywhere you can get it.
"I do believe God lets all things, even the bad things, happen, for a greater purpose," Joy says. "I just pray that He can teach me what He wants me to learn through this."
Mitchell, who in his late 30s finished his first year of course work for a Master of Divinity program at Union Presbyterian Seminary, wants this to be a blessing for his family.
"I want everything I do to be meaningful and, really, that needs to happen now and not in some distant future," he says. "I don't want to feel like my life has to be put on hold because I have cancer."
That's the simple truth the preacher's children live with every day now. There's no more past, no way to take back grudges, no way to go back and undo the things you've said, no way to forget the person you were back then or the person you are today.
The preacher's children have only their prayers for the future.
You fill my life with happiness and joy. Cancer is a good thing for our family, it needed to happen so it could change our lives in a good way. You look cool bald I'm not lieing, you really do you look a lot more like a man. I like when you comfort me when I'm sad, it means a lot to me. Your so precious to me. I'm glad your my mom.

Lee Mitchell, writing in a Mother's Day card, May 8, 2016
***
HAVING BREASTS you never wanted is just one trial of living as a transgender man. It's one, Mitchell acknowledges, most people don't understand. Through all of this, Mitchell's had to confront his femininity in ways he hadn't before, including the chemotherapy forcing him into menopause and the associated hot flashes, donning pink hospital gowns, doctors and nurses constantly poking and prodding his breasts.
Every time he says the words, he feels less like a man. "Breast cancer" is not something many men get. Why would this happen to him?
It's because, he knows, that no matter how hard he tries, he was assigned a female sex at birth. Nothing will ever change that. No pronoun change, no mastectomy, nothing. The breast cancer just makes it that much harder to prove to the world he's a man.
"You don't feel that masculine. You're used to feeling strong, I'm used to being kind of tough, strong, and in charge," Mitchell says. "My mom always called me her little soldier, and now I feel like I'm not. I'm weak."
When the chemotherapy took his shaggy, brown hair, he went to Cancer Services of Gaston County to shop for wigs; it also offers prosthetic breasts. A woman working there helped Mitchell find a couple of wigs and then went to show him the array of prosthetic breasts.
"No, I'm looking forward to this," Mitchell told her. "She didn't understand. I said, 'I'm actually looking forward to the surgery.' "
Mitchell, in his transition to identifying as transgender, doesn't take testosterone or other hormones and hadn't seriously considered surgery to remove his breasts before because he couldn't afford it. Such surgeries can cost up to $7,000. He'll now get the surgery fully covered by insurance.
Finally, after 39 years of living with visible reminders of his anatomical femininity, Mitchell will have a flat chest after the surgeons adhere to Mitchell's requests to not perform any breast reconstruction.
All it took was stage-three breast cancer.
Jared Misner is a writer for this magazine. Contact him at jaredsmisner@gmail.com or send him a Tweet, @Jared_Misner.
---
This article appears in the October 2016 issue of Charlotte Magazine
Did you like what you read here? Subscribe to Charlotte Magazine »
---