The Mayor Will See You Now
In his first year as mayor of a city still recovering from the banking meltdown and suddenly dealing with a school-funding crisis, Anthony Foxx has been thrust into a role he did not expect: the city's psychologist-in-chief. But that doesn't mean he's been able to stay above the political fray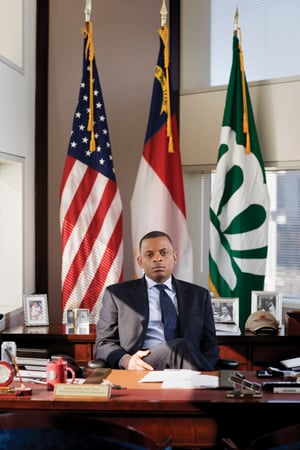 In his first year as mayor of Charlotte, there were few topics Anthony Foxx was asked about more than the city's campaign to lure the 2012 Democratic National Convention. Many times, he responded by likening the process to being a contestant on the reality show The Bachelor, in which a single guy awards a rose to the winner, picked from a bevy of beauties who have spent weeks trying to woo him.
"They've gone around on different dates," Foxx said in August of convention organizers, who at the time had just finished their visits to Charlotte and three other potential host cities. "Now we're sort of waiting on the rose ceremony, so let's see what happens."
The analogy always got a laugh, but it was also a little disturbing if you extended it and imagined Charlotte as a woman whose self-esteem is so low that she is willing to go on TV to compete with other women for the affirmation of one man.
As of this writing, Charlotte is still waiting to hear whether it will receive the rose: getting to host thousands of journalists and political movers and shakers in a four-day made-for-television event in September 2012. If the Democrats pick Charlotte, it will be a huge ego boost for a city that has been suffering from posttraumatic stress since fall 2008, when the financial sector that once brought it immense prosperity suffered a major collapse.
But whether Charlotte wins the 2012 Democratic Convention or not, Foxx says he'll keep looking for opportunities to soothe the city's collective psyche. "The psychology of this city is the thing that is of most concern to me," he says. "This is a time when we have to know who we are as a community because we are seeing certain economic pressures that do pose a threat.
"We've got to emerge from this as a confident place—a place that is capable of moving forward."
In Charlotte's "weak mayor" system, where the city manager controls the day-to-day operations of the bureaucracy and the (technically part-time) mayor doesn't even get a vote in most City Council debates, the mayor's power is predicated upon his ability to communicate effectively with the electorate. So it makes sense that Foxx would take on the role of psychologist-in-chief—using his bully pulpit to persuade us that we still are the can-do city that we were before the breakdown.
In his first year, he's made incremental progress helping us work through our identity crisis by trumpeting some positive news, especially in the areas of economic development and transportation. But he'll spend the next year working on the issues Charlotte cares about most, including one that we've been hung up on for decades: education.
At the same time, he clearly has his eye on the next election; he has been building and maintaining a political operation that some believe is aimed at positioning him to fulfill ambitions beyond Charlotte.
Whether he can make Charlotte feel better about its issues will go a long way toward determining if he gets a rose from voters this November.
Spring of 2010 was a good time for Foxx's own self-esteem. Four months after his election, he led a contingent of Charlotteans to the White House, where he spent time in the West Wing chatting about economic policy with the president's senior adviser, Valerie Jarrett. When President Obama visited a Charlotte battery plant the next month, he introduced Foxx to the crowd at the televised event as "the hotshot, young, up-and-coming mayor of Charlotte."
And on April 7, he returned to the Greenwich Village campus of his alma mater, NYU law school, where he was asked to share his wisdom with a group of politically aspiring law students at a panel discussion titled "Should I Go into Politics?"
"You have to keep pushing the agenda that you promised to push forward, but in another sense you have to continue trying to gain strength so that you're stronger the next time the election comes through," he told them. "Then, on the other hand, you've got to deal with the shrapnel that's coming from folks that are trying to sully you to bring you down to size so that they can soften you up for the next election cycle."
"I feel like I'm playing this game I used to play when I was a kid: if you had the football, then everyone's job around you was to tackle you," Foxx says.
It was an especially candid statement about the way he views the political process, which he called "pretty brutal." The comment might also speak to one of the more common criticisms of his first year in the mayor's office.
"His administration in some ways just feels like a continuation of the campaign," says Tariq Scott Bokhari, a Republican who ran for City Council in 2009 and now leads a nonpartisan group called Strengthen Charlotte. "Every word is measured. Every move is calculated.
"It's like this position is merely a stepping stone toward bigger things."
Foxx probably fed this perception when he hired former campaign aide Kevin Monroe—who spent more than a decade working on Capitol Hill—as his assistant. Monroe replaced former mayor Pat McCrory's assistant, Dennis Marstall, a less political figure who was a midlevel city government bureaucrat before and after working for McCrory. Foxx also became the first Charlotte mayor to have a communications staffer dedicated entirely to him when he hired Erica Johnson away from the Charlotte Chamber in February.
In the first half of 2010, a year in which he faced no election, he raised $26,000 in campaign donations—more than twice what every City Council member combined reported on their campaign finance forms for the same period. Foxx's report also shows he spent $2,000 on software from a Washington, D.C., firm that helps "Democrats and their allies" raise money.
He has not officially announced it yet, but Foxx plans to run for reelection in the fall, and he won't speculate beyond that. He bristles at the suggestion that he's partisan, pointing out that he gave Republican City Council members a proportionate share of committee chairmanships. And he says that the vast majority of the nine citizens he appointed last December to his Efficient and Effective Government Review Task Force are Republicans or independent.
He dismisses the criticism that he's too political as his critics being too political. "I feel like I'm playing this game I used to play when I was a kid: if you had the football, then everyone's job around you was to tackle you," he says.
Foxx is all smiles as he pulls up to East Stonewall AME Zion Church, just off Beatties Ford Road, in his silver Volvo SUV. It's the first Tuesday in November 2010, and today the church is the voting place for Precinct 16, which is among the most heavily Democratic and African American in the city.
Foxx, thirty-nine, is wearing his West Charlotte High School letter jacket (which, impressively, he can still button) to talk with voters about supporting three bond referenda that the city has on the ballot. But longtime community activist Blanche Penn takes the opportunity to bend his ear about schools.
"They just show us the plan and then they give us two minutes to speak," she says of the Charlotte-Mecklenburg school board, echoing widespread complaints that community members haven't had enough time to review and comment on the school district's plan to close, relocate, or consolidate two dozen schools—many of which are in predominantly black communities.
"I say to them: how long have you studied what you are telling us?" she continues, clearly getting wound up. "How long have you processed it?
"And now you expect us to tell you what we think in two minutes?"
After about two minutes, Foxx pats her on the arm. "Thanks, Blanche," he says before moving on to the next person waiting to shake his hand.
In Charlotte, the mayor has no formal authority over the operation of schools, and the last mayor stayed largely removed from Charlotte's decades-long struggle over education. But Foxx has made it one of his signature issues, and he has privately offered advice to schools Superintendent Peter Gorman and school board Chairman Eric Davis.
Like any good counselor, he urges communication. "I've told them they've got to work to overcommunicate until we're sick of hearing about them," he says. "While people may still disagree with a particular approach, I think the community will be more accepting of it if they understand the thinking behind it better."
He publicly shared his own feelings recently, telling a local TV station that he was "grieving the loss" of the closing schools, some of which were longtime community institutions. But he stopped well short of endorsing or condemning the school board's plan.
So far, he has remained safely neutral on the schools issue, and he retains widespread support, including from Charlotte's business elite: last spring, billionaire businessman C. D. Spangler created the Anthony Foxx Scholars Program for graduates of West Charlotte High.
The education debate could get uglier, however. Gorman warns of a possible $100 million budget shortfall over the next year and that more painful choices are to come. If voters perceived that Foxx has taken a side in the inevitable debates that arise, he risks alienating part of his broad base. "I think I have already taken a side," he says. "I'm for the children—all of them—and that's where I'll stay."
Joyce Waddell, one of two African Americans on the school board, said Foxx's input is welcome, and that she supports one community leader's recent suggestion that Foxx moderate a citywide town hall meeting on school issues. "He's highly thought of and highly respected," she says. "People will listen to what he has to say."
But does he run a political risk if he's seen as less than neutral?
"I think he's smart enough to avoid doing that," she says.
School board Chairman Davis says that Foxx's most important contribution to recent education debates has been to call for sweeping changes in how local government is structured in Mecklenburg County. Under Foxx's vision, the county and city government would consolidate and the school board would gain its own taxing authority, rather than having to rely on the Board of County Commissioners for local funding. Such a system would give voters more say on whether they'd want their taxes increased to pay for schools, Davis says.
The issue of political consolidation has had several false starts in the past several decades, however, as it has failed to find support from conservatives who fear it will create a large, overly powerful bureaucracy and African Americans who are concerned it could result in inadequate representation for them.
Even if the issue does gain steam this time around, it could take at least two years to fully implement. On shorter-term school board issues, Davis sees a more behind-the-scenes role for Foxx. "I have pledged to the mayor that on issues on which I might disagree with him, I'll come to him in private and we'll talk," says Davis. "And I believe he feels the same way."
Foxx echoes that sentiment. "I will save my criticism for one-on-one conversations with the school board chair and the superintendent," he says.
In his fifteenth-floor office at the Charlotte-Mecklenburg Government Center, Foxx has hung a striking piece of art: a large red square featuring a small black figure who is juggling several black rings above his head. It's a print, he explains, given to him by the artist Juan Logan, who was a student at Reid High School in Belmont in the 1960s, when Foxx's grandfather was principal there. Logan gave the same print to Harvey Gantt, Charlotte's first black mayor, and U.S. Rep. Mel Watt, for whom Foxx worked after law school. Both men have been Foxx's mentors and supporters.
He had it framed with special glass, Foxx says, so that the harsh sunlight that streams through the mayor's office's many windows won't fade it.
The image's parallel to Foxx's life is almost too obvious: with a wife and two young children, a job as deputy general counsel at a local manufacturing firm, and his work as mayor, he's juggling a lot.
Though it's technically a part-time job, being mayor of Charlotte takes up about forty-five hours a week, Foxx says. And while he can rattle off a string of accomplishments from his first year in office, he says he has a lot more he wants to achieve.
He worked with state government officials to nail down a plan to finish the last five miles of Interstate 485 by 2015—five years ahead of schedule. And he helped land enough federal funding to build a 1.5-mile streetcar route from uptown to Presbyterian Hospital. But major funding shortfalls mean that plans for the remaining 8.5 miles of planned streetcar line—as well as light rail lines to north Mecklenburg and the University area—are in limbo.
In the first half of his first year in office, Foxx announced job expansions at local heavyweights including Siemens, Electrolux, and Celgard. More recently, he touted industrial manufacturer SPX's decision to add 180 jobs at its headquarters here. But with the local unemployment rate still in the double digits, Foxx says he'll be looking for more ways to help small businesses grow in 2011.
And if Charlotte does get that rose from the Democratic National Committee, he'll be part of the effort to raise more than $40 million from private sources to pay for it.
If all of his efforts can bear fruit, it will go a long way toward bolstering a broader mission: restoring Charlotte's confidence.
Foxx says that even as Charlotte spent the past several decades making itself into the country's second-largest banking center, it had a collective sense of fragility. "There was this uneasiness, this belief—which I never agreed with—that if one or two bad things happened it would knock us off balance forever," he says.
One of those bad things happened in fall 2008, when homegrown banking giant Wachovia nearly collapsed before being taken over by San Francisco–based Wells Fargo. The fact that the city has survived—and even made some progress since then—is starting to sink in, Foxx thinks. "I think people are starting to see that the process of building the future doesn't stop because one bad thing happened," he says. "We're still putting paint on the canvas."
And the mayor—who clearly loves a good metaphor—is only beginning to paint a picture of his own future: a man juggling many rings in the air and maybe collecting some roses along the way.
Jen Pilla Taylor, a frequent contributor to this magazine, wrote about Anthony Foxx for the October 2009 issue.