The McManaway House
Once home to Myers Park's most curious character, this Victorian landmark thrives under the care of Dru and Bob Quarles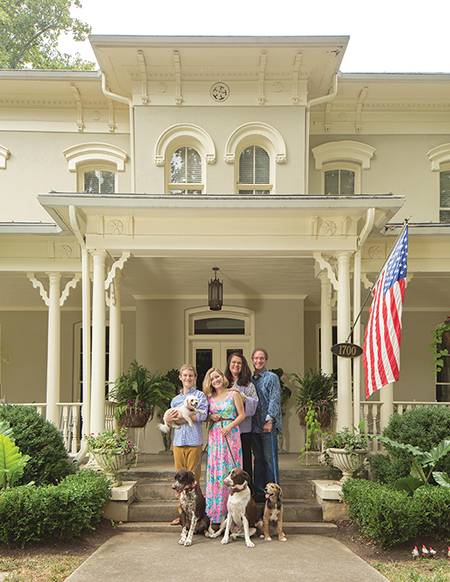 HE COULD have come from the typewriter of Flannery O'Connor, as a character in a Southern Gothic novel. Born in 1912, he lived in the house for 65 years, most of them with his widowed mother. His father died when he was five. He quoted biblical passages and poetry to strangers, slyly offered cigarette butts to passing Queens students, and stood in the middle of a busy intersection directing traffic, a porkpie hat on his head and a towel over his arm. At his death, people recited his rhymes in letters to Observer columnist Dannye Romine Powell: "I'm at your service without delay, summer, winter, night, and day. I work for Jesus and not for pay. My name is Hugh Pharr McManaway."
From its high-ceilinged parlor to its ghost-haunted second floor, the McManaway house at 1700 Queens Rd. has been home to an eclectic mix of Charlotteans during its long history. Constructed by prosperous Jewish merchants on West Trade Street in uptown in 1874, it was relocated to Myers Park in 1916 by Dr. Charles McManaway, father of the eccentric Hugh. Current owners Bob and Dru Quarles have spent the last 12 years raising their kids in this grand setting, caretakers of a distinguished landmark of Charlotte history.
"I have never had such a visceral reaction to a house in my life," Dru says, recalling the first steps she walked through the double front doors into the long hallway. "I fell in love with the house." By the time of their purchase in 2003, it had been fully updated and designated a historic house by the Charlotte Landmark Commission. Little about the interior had been changed since its glory days uptown; the biggest loss was structural. When the house was moved, it went from four stories to two, losing the elevated foundation and a beautiful mansard tower. If the three-mile journey from West Trade Street was undertaken with wagons and workhorses, as many suspect, it's easy to see why
Dru, who grew up in Kentucky and whose parents were rescuing antiques long before it was popular, decided an eclectic look suited the 6,000-square-foot home. It needed a mix of generations in order not to feel like a museum. "I love old stuff," she says, sitting at the kitchen counter in the room where they did the most work. "My parents were forever finding something in an old barn or … next to a curb, and they'd take it home and refinish it. They had a house full of antiques before anybody appreciated that kind of quality."
Both of the Quarleses are physicians, and they don't mind tackling sweat equity projects. Dru has turned her artistic eye to Craigslist and secondhand stores to bring her vision to life. Wandering through the barns and yards at Cline's Country Antiques—a sprawling business in Mount Pleasant—she's unearthed treasures for both inside and out. Since only the house is historic, she's faced no restrictions in creating imaginative gardens around the pool and in the yard. A Philadelphia lantern becomes a hanging planter with trailing vines. A chandelier from the Habitat ReStore gets a coat of red paint and hangs between trees. "I call it 'crumbling decadence,'" she explains, taking a cue from one of her favorite travel destinations, New Orleans.
On Craigslist, she found an exquisite French bedroom suite from a notable Charlotte home. To her delight, the owner even threw in her linens. The light in the bedroom looks perfect for the era—surprisingly, it didn't come with the house. Dru snapped up the whale-oil lamp from a farmhouse and had it rewired. With a penchant for understatement, she explains how she got it to sparkle: "I just cleaned it with WD-40, put a little gold dust on it, and then sprayed it with Aqua Net to hold it in place."
The interior design is funky yet vibrant, an achievement for a space that could feel overwhelming and formal. It's been a great place for the Quarleses' children, who are now in their teens. Gilded mirrors reflect Art Deco and midcentury furniture, and Oriental rugs mix with catalog finds. A church pew flanks the foyer's long wall and mirrored chests flank the master bed. Surfaces may have a warm patina of antique wood or the glitter of modern design. Dogs have their own comfort, too: At the foot of the master bed is a cushioned wagon seat. In the guest room, a walnut Victorian doll bed welcomes four-legged visitors.
If anything pulls the house together, it's art. Gallery pieces mix with primitive crafts, objets d'art, and quirky conversation starters. A Geoffrey Johnson painting hangs above the fireplace in the living room and white marble feet rest on the hearth. A canine rendition of "Guernica" that includes the Quarleses' Tammy Faye, named after Tammy Faye Bakker, dominates the dining room; on another wall is a large, vintage photograph of Hugh McManaway as a child. The open shelves between the billiard room and family room are lined with a collection of pottery. Humble and grand rub elbows.
Architecturally, the house retains many of the Italianate features that made this style a favorite among Victorians: a flat roof, ornamental brackets, a wraparound porch, and tall, arched windows. Symmetrical, it has a center hall that runs front to back on both floors; a grand staircase connects the two. On the first floor, six main rooms are stacked one behind the other, three on each side of the hall. To the left is a music room with a grand piano, then a billiard room and a family room. To the right is a large parlor that opens to the dining room, with the kitchen just beyond. Because the ceilings are 13 feet high, the rooms feel enormous. (Rumor has it that a previous owner played basketball in the parlor.) Large windows provide plenty of light. Upstairs are four spacious bedrooms; a back staircase descends to the kitchen at the rear of the house. As for the ghost, Dru says no one in her family has seen it, but past residents and visitors claim to have seen a friendly young girl or strange shadows of feet.
The Quarleses see themselves as caretakers of a house that will outlive them, a place that deserves respect in a city that has little to show for its past. "When I came here, I thought there was going to be this huge selection of old houses—and there's not," Dru says. " 'Old' for Charlotte is 1920." Although it may seem romantic to live in a house built during Victorian times, it has its challenges: limited closet space, few electrical outlets, leaky windows, and small kitchens, to name a few. But the family has loved the house and has loved sharing it. A porch swing hangs from a large tree on the front lawn, inviting neighbors to stop and relax. The Quarleses hope others will enjoy a moment from the past, gliding through the air on a swing whooshing over grass.