The Modern Registry
It's the only time you'll ever get to plan your presents, and if you choose your registry carefully, you'll create a wish list of items you'll still love on your golden anniversary. Here's a look at what to include on your list—room by room.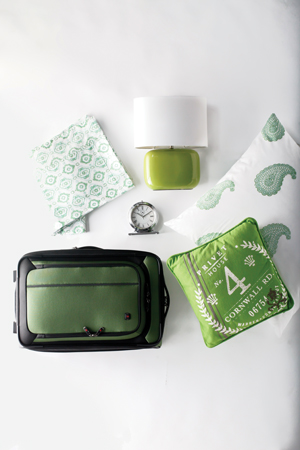 Bedroom: There's nothing luxurious about scratchy sheets, so choose your bedding carefully—and don't miss the other essentials, such as a lamp for reading in bed and luggage for your honeymoon.
Nandini Cochin 12-inch seafoam pillows, $141 each, Cottage Chic; Alarm clock, $20.69, Target; Nandini Hamoa Seafoam Duvet, $375 (twin), Cottage Chic, 704-375-1888; Victorinox luggage, $329.99, Sharon Luggage; Lamp, $19.99, Target; Printed pillow, $24.99, Target
Outdoors: Charlotte's Carolina blue skies can be hard to resist, so don't forget about the great outdoors when it comes to your registry.
Angler cedar broom, $7.99, Target; House numbers, $65, Blackhawk Hardware; Craftsman tool kit, $79.99, Sears; Peony Doormat, $36, City Supply Company; Watering Can, $9.99, Target
Bathroom: Interesting bath accessories add modern accents to registry staples, like these monogrammed bath towels.
Shower hooks, $9.99, Target; Classic chain hand towels, $43 each, plus $14 per monogram, Bedside Manor; Matouk guest house mat, $65, Bedside Manor; Soft blue bath towels, $36 each, Anthropologie; Seafoam soap dish, $12.99, Blackhawk Hardware; Seafoam tissue holder, $39.99, Blackhawk Hardware; Seafoam soap pump, $19.99, Blackhawk Hardware; Digital scale, $29.99, Target
Kitchen and Dinning Room: Once you're all settled into your new life together, you'll want to do some entertaining. Now's the time to pick out the cooking tools, silverware, and china that you won't be embarrassed to pull out of the cupboard.
Artisan Designer Series stand mixer, $459.99, KitchenAid; Striped china, $12 each (bowls), $18 each (plates), B.D. Jeffries; Flatware, $50 for five-piece set, B.D. Jeffries; Bamboo salad servers, $60, B.D. Jeffries; Le Creuset 3.5-qt. oval wide oven, $129.95, Sur la Table; Sommieres napkins, $29.95 (set of 4), Williams-Sonoma; Tablecloth, $59.95, Williams-Sonoma
Living Room: You'll spend a lot of time together in this room, so make it special with small details that reflect your personalities.
Carol Bodiford painting, $2,250, Abode; Burnes of Boston picture frame, $22.95, Paper Skyscraper; Tall amber glass vase, $69.95, Paper Skyscraper; Zig zag permission rug, $210, Isabella; DC40 multi floor vacuum, $499.99, Dyson.com; No. 111 Pineapple + Coconut and No. 115 Georgia Peaches all natural soy candles, $7 each, Cocoandbubbles.com