The Moon Walk, Candy Fest, Silly String Party, Booze Cruise and More, July 30 to Aug. 2
With the final weeks of summer upon us, take the opportunity to throw on your whitest of white, tip back a few on the patios around town and hop on a booze cruise.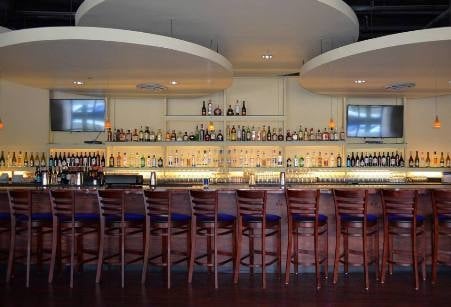 Soak up the sun now, Charlotte. Summer's almost over, so enjoy a few final white parties, booze cruises and summer patio parties. It looks like another great one, Charlotte. See y'all out there!
Thursday, July 30
The Biggest After-Work Happy Hour
The name says it all, doesn't it? Featuring Nephew Tommy from "The Steve Harvey Show," DJ Shogun will be spinning the music along with food and drink specials all evening. The happy hour begins at 5 p.m. at Sydney's Wine and Martini Bar, 401 N. Tryon St. Tickets are $10. Buy them here.
Network After Work
Join young professionals at Bubble, 210 E. Trade St., for appetizers from 6 p.m. until 7 p.m. and a free drink before 7 p.m. This networking event also features color-coded tags that help you connect with people in your industry. The evening starts at 6 p.m. Tickets, with an RSVP, cost $15.
Overtime – The Professional Happy Hour
Chima Brazilian Steakhouse hosts this networking night full of raffles, door prizes and signature drinks. The evening starts at 6 p.m. at N. Tryon St. Tickets are free, but an RSVP is requested.
Friday, July 31
The Moon Walk
If a free bar crawl doesn't sound good enough, how about we add a chance to win a ski trip to Colorado? The crawl starts at Fitzgerald's, then on to Connolly's, Tilt on Trade and BlackFinn before ending the night at Rooftop 210. At each stop, RockHouse Events will raffle off gift cards and other prizes. Then, at midnight, the pub crawl hosts a Blue Moon toast and raffles off the ski trip. The first 100 crawlers also get two free beers. In order to register to win the ski trip, you have to RSVP to the event. Send an email to Kaitlyn@rockhouseevents.com and good luck! Start the crawl at 7 p.m. at 201 E. Fifth St.
BLT Steak Craft Dinner Series
This monthly event features a four-course meal paired with a local craft beer expertly chosen by the chef at this new Charlotte restaurant. This month features a brew from the Unknown Brewing Co. A ticket costs $95 and includes dinner and drinks. BLT Steak is at 110 N. College St., and the evening starts at 7 p.m. Buy tickets here.
Candy Fest
Calling all sweet teeth! From 8 p.m. until 10 p.m, Whisky River offers up candy-inspired cocktails and candy buffets to feast your sweet teeth on. Tickets to this sweet treat are $10. Whisky River is at 210 E. Trade St. Buy your tickets here.
Get Silly! Massive Silly String Party!
With more than 250 cans of silly string ready for firing, you better get there early. The night also includes free bull rides, confetti blasts and drink specials. Doors open at 9 p.m., and an RSVP gets you free admission before 11 p.m. BAR Charlotte is at 300 N. College St.
Bubblyfest
Bubble is taking you on a five-country trip around the world tonight. Well, kind of. The event takes drinkers on a liquid journey with champagnes from five different countries. Tickets are $30 and includes admission to the bar and the champagne tastings. Doors open at 5 p.m. Bubble is at 210 E. Trade St. Buy tickets here.
Saturday, Aug. 1
Five-Hour Cruise
This all-day cruise meets at Blythe Landing Park and includes on-the-lake games of Flip Cup, Beer Pong as well as other food and drinks. The boat leaves at noon, so don't be late. Buy your tickets for $35 here.
Dolce – The All-White Soiree
Although we literally laughed out loud at the event description, "We reserve the right to be selective. We will deny entry based on attitude and dress code," it might be fun? Try wearing black to this event, and see what happens. Ticket start at $20 for the event that's at Blue, 206 N. College St. Buy tickets here. Wear black for us, please, or at least show us a little attitude.
31st Bon Adori Japanese Festival
Featuring Japanese food, crafts and integral aspects like origami and calligraphy, this festival is a whirlwind of culture. There's also a tea ceremony and a class on Japanese flower arranging. The event is free, and begins at 11 a.m. at the Wells Fargo atrium, 301 S. Tryon St.
Sunday, Aug. 2
Patio Barbecue Party
Summer is all about barbecue, patios and local beer. Luckily for you, we've found an event that combines all three. In addition to live music all day, a tray of barbecue and NoDa brews costs $12. The patio party starts at 8 p.m. at Cafeccino, 2706 W. Mallard Creek Road. Admission is free.
Verify dates, times, prices, and other info at the web addresses listed for each event.
Be sure to bookmark www.charlottemagazine.com/Blogs/Dusk-Till-Dawn to stay plugged into Charlotte's nightlife and social scene. Click here to sign up to receive the weekly Dusk Till Dawn e-newsletter.
Want your event featured in Dusk Till Dawn? Follow me on Twitter @Jared_misner and let me know about your event, or send me an email at dusktilldawnblog@gmail.com.