The Mythology of Place
A father learns that even after moving to the South, the next generation's regional identity is somewhere inside its electronic devices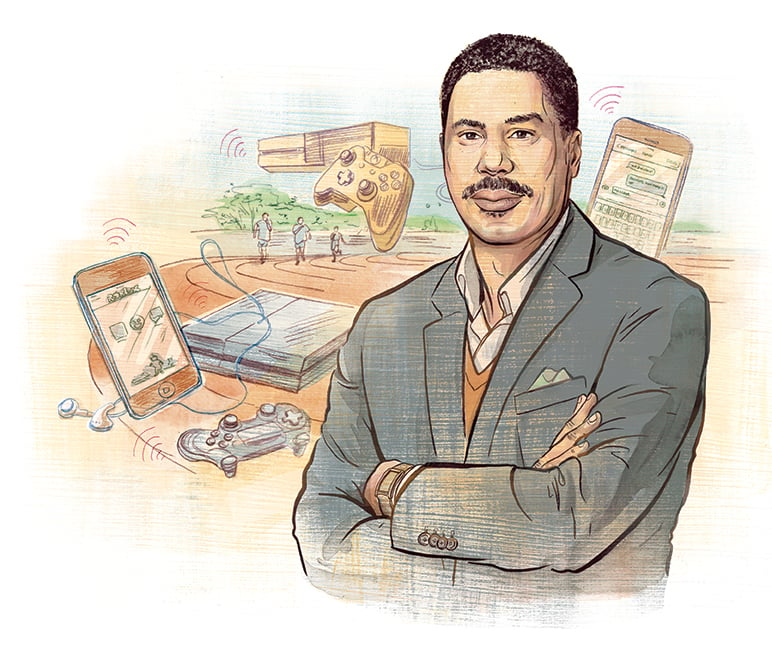 THE RITUAL IS grueling. Saturday mornings, we awake at 5 a.m., pack the cooler, drive for 90 minutes to Winston-Salem, or to Greenville, South Carolina, pitch the tent along a high school athletic track, and sit all day in the hot sun. In between, as we wait for the muffled PA system to call 11-year-old boys to compete in the 100-, 200-, or 400-meter runs, we eat fruit, crackers, and turkey sandwiches, and drink Gatorade. Mostly, though, we wait. Then, at sundown, we pack up and drive home.
I signed my son Randy up for the Charlotte Heat Track Club a few months ago. The club, for kids five through 18, is a nonprofit organization that claims in its mission statement to help kids develop self-discipline, which, it turns out, we both needed at the time. Earlier this year, my bank notified me via email that a mountain of deductions of $7.67 apiece over three months had eaten away my checking account balance to below 50 bucks. It didn't take the SEC to reveal why my money was missing. A few months before that email, I had purchased Randy a new iPod.
The thing about iPods is that users can't access most content without an Apple account, which must be secured with a credit or debit card (in this case, mine). If all the settings, options, and parental controls had escaped me, what somehow escaped Randy was the fact that Roblox points—after buying the app for $20—aren't free. When informed about his embezzlement, Randy exhibited Oscar-worthy contrition. He bawled for nearly an hour, called his grandmother in New York for prayer, and offered to spend the rest of his life in servitude repaying the debt. All this made for quite a distraction as I struggled through a digital labyrinth at Bank of America and Apple to explain my situation and beg for a refund. Both companies obliged, another shock.
The incident shook me, perhaps because it revealed my own insecurities about losing my kids, ages 11, 15, and 17, inside the widening digital divide between our generations. Even more, it exposed my delusion that transplanting my family from frenetic New York to a simpler life in Charlotte a decade ago would somehow make parenting easier, as though such virtues as kindness, honesty, and a strong work ethic came as a bonus for living beneath the Mason-Dixon line. By now, it's clear to me that the South offers no such recipe for good parenting, just a sunnier place to screw it up.
This year, several thousand families will move to Charlotte, mostly from Northern states, looking for warmer weather, lower cost of living, and an easier way of life. And if they are anything like me, they too will come hauling their own unrealistic expectations—as well as a bag full of devices that create worlds of their own; iPods, iPhones, X-Boxes, PlayStations, you name it. These things, in my case, have worked to dilute my currency—and certainty—as a parent. In my kids' online universes, they are ageless, wise, savvy, and powerful. I am clumsy: I text slowly, still use Facebook, and the last computer game I mastered was probably Pac-Man. My earnest teachings about trust, respect, and honor get lost in their blaze of messages on Instagram, Twitter, and Snapchat.
A few weeks ago, during one of his track meets, Randy placed second in the 200-meter. He was proud, having spent weeks training—stretching, sprinting, and jogging for miles three nights a week at the Mallard Creek High School track. Afterward, I took him to his favorite dinner spot: Bojangles, a restaurant he only knows because we live here in the South.
When we got home, his older brothers were sitting on the sofa gazing into their smartphones. He fist-bumped them and headed upstairs to shower for bed. Later that night, after thinking long and hard about what I wanted to say, I sent Randy a text message. To me and my generation, this isn't nearly as personal as going upstairs and talking to him face to face, but if I've learned anything about parenting, it's that how a message is delivered is far less important than making sure it's received. I texted him to meet him where he was, to make sure I was heard by one of the most important people in my life. But instead of using texting lingo, I decided to go off an old standard that worked wonders for me growing up in the North: "Good job, man! Keep it up!"