The New American Banker: Andree Taylor
He was a fast-rising young businessman when he moved to Charlotte in 2005. Over the past 10 years, he's changed alongside the banking industry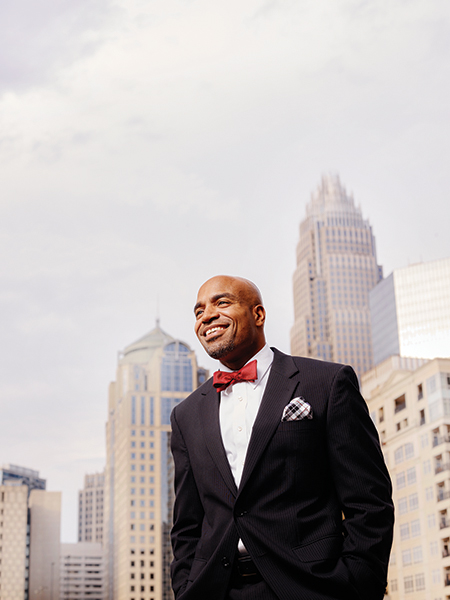 HE'S DRESSED FOR Friday, jeans and a polka dot button-down shirt.
He smiles and says hello to a security guard manning the door to the skyscraper where he works. An elaborate fresco is painted in the dome over the breezeway. He strides into the elevator and holds the door for a woman who's in a rush, then presses the button for the sixth floor, same as he has since he started working for the bank five years ago.
"I hear you're moving," the woman says to him.
"Yep, today's the day," Andree Taylor, a 40-year-old vice president at Bank of America, says, smiling and nodding.
"Congratulations," the woman says.
"Thank you."
Ding. The elevator opens to a common area with tables and chairs, surrounded by glass-walled conference rooms. He walks toward a door that's in between those glass walls, turns the handle, and enters a maze of cubicles. Left turn first, left again at the corner, then a quick right. He points at his name tag on the corner of a cubicle wall. "Guess they're going to have to move that, too."
In the three years since Andree's most recent promotion, the brown tag with white letters has defined him: "Vice President and Senior Financial Analyst." And this cubicle has been his day home, with a view overlooking the courtyard of uptown's Transamerica Building, where he likes to watch people eat lunch on slow days. A few weeks ago, Andree received a promotion he'd been working toward for nearly a year, back to when he signed up to take classes to train his brain to think faster. Now he'll be the manager of a different team, and that means a new desk with a new view and a bigger paycheck.
Few professions offer a better gauge of America's ambition than banking. A decade ago, the financial firms in Charlotte and the industries surrounding them took every opportunity to make more, to grow bigger. Andree, a former college football player, was a part of that culture, and that culture was a part of him. By the time he'd landed in Charlotte and at Bank of America in 2005, he'd moved three times—from Greenville, North Carolina, to Raleigh, to New York, then here. He harbored visions of moving up, up, up, maybe even to CEO one day.
The common opinion now, looking back, is that bankers' drive in the 2000s reached the point of being greedy, reckless. From Charlotte to Wall Street to real estate agents around the country, ambition was an arrow, and it wound up leaving many people broke. And as the image of the banker suffered, so did the image of this banking city.
Andree's life followed an arc that's strikingly similar to his profession's. When he moved here in 2005, things were going well. He and his wife had their son, V.J., shortly after they arrived. But soon their marriage began to fall apart. Andree's life was a churn—go to work, come home to arguments, sleep; go to work, come home to arguments, sleep—until February 2007, when he quit his job. Staying home didn't help the marriage, though, and soon he moved out of the house. In May of that year, he took a contract position at Wachovia. The divorce became final a year later. V.J. went to live with his mom, and Andree got two weekends a month with his son, the first and the third weekends, plus couple of nights a week when his ex-wife worked late.
Andree calls the divorce the lowest point in his life. Then, six months after it was finished, the financial industry collapsed. More than 3,000 people in Charlotte lost jobs in the last four months of the year. Wells Fargo took over Wachovia that fall, but somehow Andree held onto his contract with the new bank.
Since he and his industry bottomed out, Andree has rebuilt his life with more modest goals, daily goals, taking joy in simpler things such as a football practice or a church service or a mental workout. He fills every weeknight with something other than banking. His industry's recovery has followed a similar, reserved course—in part because federal regulations demand it, but also because of hard lessons learned.
In 2010, he landed an interview at Bank of America for an assistant vice president position. He and the hiring manager, a woman named Donna, instantly connected. He loved that she was a manager who didn't mind doing work; she loved his charm and willingness to try new things. She hired him immediately, and she promoted him to vice president two years later. They've been in side-by-side desks ever since, until today, moving day.
"He's one of those people," Donna says now, "other people just look at him and say, 'How can I make your life better?'"
***
"GET A LAP, get a lap!" the banker shouts, running down a hill in shorts and an Eagles shirt toward the 10- and 11-year-old flag-football team he coaches. It's Thursday night, the night before moving day at work, but more important, two days before the first round of the playoffs for the Odell Eagles, who have a skinny, fleet-footed receiver named V.J.
After the lap, Andree's assistant coaches gather with him to deliver motivational speeches. One of his assistants is Andre Walters, who owns his own start-up now but before that was vice president of legal for the Charlotte Bobcats. The other assistant is Shawn Edwards, a project manager for Bank of America. Both like to joke about the questions they've heard about their jobs—from adults and kids. For Walters, the most frequent is, "Do you know Michael Jordan?" For Edwards, it's, "You work for the bank? Let me tell you about my bank account."
Together these three men come here to a field every Thursday evening for practice, then to game days on Saturday. "Even if I have a bad day at work," Andree says, "I leave and talk to these kids, and it's OK after that."
The Eagles occupy half of the 100-yard field for their practice. A team of younger boys occupies the other half. And just beyond the far end zone, a team of older boys is hitting sleds and doing calisthenics. Even here, at the Odell Recreation Sports Field, hierarchies are obvious.
Andree has one word he wants the team to remember: "Focus." That's a lofty goal when dealing with young boys. Toward the end of practice, the team is doing 7 on 7 drills when a plane flies overhead on its approach to Charlotte-Douglas International Airport. Six of the 14 boys on the field stop playing football and tilt their heads toward the sky, mouths wide open. Andree, calling plays from an app on his phone, puts his hands on his knees and laughs, then tries to reiterate the "focus" message with a straight face.
When practice ends, he brings the kids in again. "Clap it up, clap it up." They push and shove to get to the center of the circle. It's Andree's last speech after a practice for the season, and his final message is clear, "No matter what happens, you all have come a long way."
Afterward, V.J. tosses the ball with a teammate, waiting to go home while his dad talks to the other coaches and parents. Andree calls for his son to come over. The boy's feet dance with anxiety about standing still when there's a football sitting on the ground, ready to be thrown again. Asked if he knows what his dad does at work all day, V.J. shakes his head no. Asked if he knows where his dad works, he says, "Bank of America." And asked what else he knows about his dad, he says, "He played football, and he won a state championship in Delaware." He looks up to his dad, and then runs off and grabs the football again.
***
BORN NEAR Wilmington, Delaware, Andree lived with his mother and stepfather for nearly all of his childhood. He barely knew his biological father. One spring break, when he was 12 or 13, he agreed to visit his dad for an entire week, and spent most of the seven days alone. His dad went out with his girlfriend, or out for drinks with his friends, or whatever reason he could find not to spend time at home with his son. Andree says their total time together that week might add up to one day.
"And that's when I said, 'I'll never put anybody else through that,' " Andree says.
As a senior in high school, Andree won the Delaware state football championship in the fall of 1991 and the state track and field championship the following spring. He went to East Carolina University and joined the track team during his freshman year, then jumped back to football for the remainder of his college career. He was on the Pirates' 1994 football team that went to the Liberty Bowl.
He graduated from ECU in 1996 and landed a job with IBM. He bought a brand-new Honda Accord that day. "I got it with three miles on it," he says. "I remember the day."
He dreamed of being a chief executive or a chief operating officer of a major institution. He earned an MBA from North Carolina Central in 2002. IBM promoted him to a new position in New York later that year, and he married a beautiful woman in 2003.
Two years later, Andree took his first job with Bank of America and moved to Charlotte, and soon after he and his wife arrived here they had a son. They gave him Andree's name, Vance Andree Taylor Jr.—V.J. for short. Andree says he and his wife knew they didn't make for a perfect match, but they believed they could fit their lives together if they worked hard enough. That lasted until about 2007, when they began the process of separating.
Andree, who attends church every Sunday and pauses to bless every meal, didn't anticipate the shame that comes with divorce. But soon after he moved out of the house, he says,
"I started hearing all kinds of voices: God, the devil, and my own."
During the separation, he went to the contract job at Wachovia. He started traveling. He joined organizations at church and around Charlotte, and he started to go out and meet people again. He started dating—probably too many dates, he says now. And he reminded himself of the vow he took when he was a teenager, about being better to V.J. than his father was to him.
"I never wanted to be that guy whose son says, 'My father was never there,'" he says. "My priorities shifted. It's more important to me to be there with him. I mean, I can still do a great job at work, but I don't have to be making that seven-figure, million-dollar salary like I thought I wanted one day."
***
JUST AFTER 6 P.M. on a Wednesday in early June, Andree sits in a pew at Ebenezer Baptist Church, off West Sugar Creek Road. The church's pastor, Leonzo Lynch, is the brother of the new United States Attorney General, Loretta Lynch. Leonzo is in the hallway greeting visitors who come through the doors.
The sanctuary seats hundreds, but tonight only about a dozen people are inside, listening to the choir sing the gospel song, "Victory is Mine." Andree sits in the third row, his right arm stretched across the top of the pew, tapping to the beat. "Victory is mine, victory is mine / Victory today is mine."
During the first few years after the divorce, he says he "put what Andree wanted to do first, and everything else, even faith, second."
Tonight, though, after the last note of the gospel song, Andree gets up quietly and walks out of the sanctuary, through the lane of purple velvet upholstered pews. He waves at Lynch, who's sitting in the back now, bobbing his head to the choir music.
Andree winds through the church's hallways and into a classroom. Written on the dry-erase board is the word "Forgiveness." He comes here every Wednesday evening to lead conversations for people who are beginning the process of going through divorce. His longtime friend, Kim Anthony, who went on a mission trip to Africa with him in 2013, helps lead the class.
The group tonight is small, just six people for the three rows of chairs. The front row is empty. Only one person is in the second row, and the rest are in the back, as far away from the word "Forgiveness" as they can get. Kim and Andree work to pull them into the conversation. Kim starts with a question, "How do I love myself if God hates divorce?" Andree shares with the class that he dated several women while he was separated, that he regrets that, and that he wishes he'd have taken the year to be alone.
The six people who've come here for help, most of whom have just separated from their spouses, shake their heads at the prospect of a year-long recovery.
"It's a process," Andree says. "If we get a cut or a bruise, it will heal, but it's just gonna take time. Same thing with our minds. You've got to give it time."
***
ANOTHER WEEKNIGHT, Tuesday this time, another trip down the elevator from the sixth floor, past the security guard, under the fresco, into traffic, and more life outside the bank. Tonight, Andree is on his way to an Internet radio show he co-hosts, "Where is the Love?"
The radio show will be recorded in front of an audience in a small movie theater at an apartment complex in Mallard Creek. Twenty people gather in the theater. Karla Thompson has been the host of the relationship-based show for two years. She knew Andree through a friend and asked him to be her co-host.
Glass of wine in hand, Andree takes his seat in a chair at the center of the room, leaning back in his jeans and T-shirt. "This is like my Dark Knight/Batman thing," he says. "I don't think anybody at work knows I do this."
Tonight's show, Karla announces, is titled "Swag vs. Substance." The room is giggling before the show even starts. "Look at the range of ages in here," Karla says. "I got my 20-somethings, I got my 30-somethings, I got my 40-somethings," and then a gray-haired man raises his hand and says, "and your 70-somethings."
For the next 90 minutes, the group, made up entirely of African Americans, discusses the topic of dating "good guys vs. bad guys," or "good girls vs. bad girls." Among the professions in the room, one person is a firefighter, another works at MetLife, and another is a child psychologist.
"What?" a woman in the front row asks at one point, facing another woman. "A man with a 401(K) plan doesn't turn you on?"
The show is broadcast live over the Web, and whenever Andree has the mic, he shares personal details about his marriage and divorce, in hopes that it will help others share, too.
"When you're young, you go through the phase of looking only at the physical things," he says of his evolving dating strategy. "But when you grow up, you learn from your mistakes."
Karla interrupts: "So you make that mistake just one time?"
"Well," Andree says, laughing at his co-host as he prepares to deliver a line made for radio, "sometimes you have to make the mistake over and over."
***
EIGHT MONTHS before moving day, on a Tuesday in October 2014, Andree goes down the elevator, past the guard, under the fresco, and on to brain training. Set in a suburban strip mall in Concord, LearningRx is a national brain-training program that came to the Charlotte area a little more than a year ago. Its focus is school-aged children, especially those with attention problems, using simple games such as matching and counting in rhythm to a ticking clock.
There's also an adult program, designed to help people concentrate in a busy world.
For two years, Andree has managed a team that's working on the bank's years-long project of converting from an old legacy general ledger system to a new systems, application, and products (SAP) ledger system. (The ledger is the giant, global bank's complete record of business transactions.) His job is to make sure the financial data is reconciled between the two systems. He compares it to balancing a checkbook, finding and locating discrepancies and tracing them back to the point of error before another team resolves the problem. He's seen and diagnosed some temporary errors of $10, and others of $10 million: "Big numbers for people like you and me," he says, "but from an overall banking perspective, it might be a rounding error."
Given all he does outside of work, Andree says he's found himself daydreaming sometimes at the office, and he knows that's not good. Not if he wants to advance in the company. Not if he wants a pay raise. Not if he wants to put V.J. through college and retire at 55. So when he saw an ad for LearningRx one day, he called and signed up for a 12-session brain-booster program.
This is the last session. He sits down at a small table across from his instructor, Pat, wearing a pressed shirt, cuff links, a tie, and a Silvano wood watch. He's in great physical shape, taking CrossFit classes three days a week. He's here for a workout of a different sort.
In one drill, Pat holds up a piece of paper with a tic-tac-toe board drawn on it. It has four numbers in various boxes. After three seconds, the card goes away, and Andree is asked to verbally recite the board from memory … while saying the numbers on a beat … and subtracting two from each one. "Blank-blank-five-blank-three-blank-six-eight-blank," he says.
While Andree's co-workers are out getting drinks, Pat drills him like this for an hour, working every part of his brain and testing the limits of his cognitive skills—short-term and long-term memory, visual and auditory processing, and processing speed—in the hopes that it will help him at work.
"I can feel my brain pulsing now," he says when it's done, and then he picks up his phone and checks his email.
***
LAST FALL, a few weeks after the last brain-training class, Andree turned 40. He didn't want to tell anyone how old he was, but his co-workers at the bank made sure to throw him a party. He says he's going to miss this team, but everybody around him says he's ready for the move.
On moving day, Donna walks over to Andree's desk by the big window, and they start talking about the good times they had as work neighbors.
"We had that good cop, bad cop thing going," Andree says, laughing.
"Guess which one I was," Donna says with a straight face.
On his desk is a box with some of his belongings: a Philadelphia Eagles flag that reminds him of his hometown NFL team, along with a few trinkets from India, which remind him of employees offshore he used to manage. He still has plenty to move before 5 p.m. This is a weekend when he'll have V.J., and it's a big one, with the flag-football playoffs and all. Andree shoves things into the box. Five paper certificates are still thumbtacked to his cubicle wall. Two computers still sit on his desk—one laptop and one desktop—and his email inbox is filling up after an hour-long lunch break. A five-by-seven picture of his son is still here, too.
He also hasn't packed his desk calendar, which delivers him a new inspirational quote every day. Today is June 5, and the quote is from Ralph Waldo Emerson: "Do not go where the path may lead," it reads. "Go instead to where there is no path and leave a trail."
Andree's new role suits him perfectly, his co-workers agree. It's largely a communications position, helping teams within the company work together on projects, or serving as a translator between the bank's IT staff and the rest of the employees when IT rolls out a new program. It's his favorite part of the job, acting as the bridge between computer gurus and businessmen and women, connecting people.
His other management duties are in the areas of compliance and governance. "If something happens to this building, what do we do?" he says. "My team has to make sure we're able to keep running."
The promotion comes with a raise, moving him into a better band on Bank of America's salary scale. He won't say what his new salary is, or what the percentage increase is, other than to say it's a nice bump. "I guess it could be a lifestyle change," he says. "But I don't really live an extravagant lifestyle."
After a quick run to the break room, he wants to check out his new desk. The big move everybody's been asking about? He's going only four or five rows away from his old desk. A young man with Clemson paraphernalia decorating his desk greets Andree along the way.
"Welcome," the man says with a smile. "Guess we'll be neighbors soon."
Andree ducks around the corner of his new cubicle. He still has a window, but this one faces south, straight down Tryon Street. Below him, businessmen and women in suits walk swiftly with briefcases, while others enjoy casual Friday. His former desk had a view of the courtyard, where he could spy on people eating lunch. This one has a view of the main business street in the second-biggest banking city in the country, a street where ups and downs are inevitable but progress is, too. A block south is the historic Dunhill Hotel, and just beyond that is Charlotte's tallest building, the Bank of America building.
Andree looks at his new desk. It's not empty. Certificates for another banker, family pictures for another man, are still scattered around the cubicle. The man is home with his wife, who just had a baby. Andree can't move today after all.
So the newly promoted banker heads back to his old desk beside the window and Donna. He glances at his calendar with the quote from Emerson. It's the first weekend of the month, a V.J. and Andree weekend.
The father starts to form plans for the evening in his head. He decides that he'll try to leave a little early tonight, to beat traffic and get out to Mallard Creek to pick up his boy. They'll change clothes and come uptown for dinner, just the two of them, dad and son. And he'll worry about moving the boxes and the name tag later, because some things can wait.
Michael Graff is the executive editor of this magazine. He can be reached at michael.graff@charlottemagazine.com, or on Twitter: @michaelngraff.