The New Faces of Poverty
A local documentary explores the new faces of poverty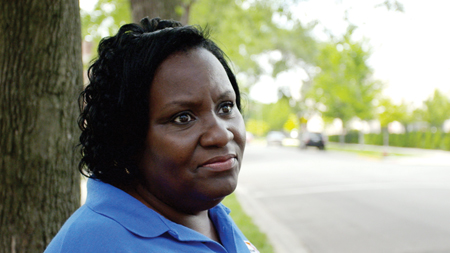 An unemployed former bank executive searches for groceries in an Illinois food pantry. A struggling fisherman navigates Louisiana wetlands devastated by hurricanes and oil spills. A Charlotte man washes dishes to scrape together enough money to move out of a homeless shelter.
These are some of the characters you'll meet in The Line, a new documentary exploring the changing faces of poverty in America. Linda Midgett, a local filmmaker whose background includes series work for the History channel and Investigation Discovery, produced and directed the film at the request of Sojourners, a Christian social-justice organization based in Washington, D.C.
"What I hope happens is that it changes stereotypes of other people in poverty, so [people] are better able to view them through a more compassionate and human lens," Midgett says.
The forty-five minute documentary, which premiered in D.C. in October, examines various factors—from corporate layoffs to a cycle of despair in inner cities—that lead people to live at, near, or below the federal poverty line of $23,050 for a family of four. Midgett says the message is not meant be political but rather asks the question, "Can you view people in poverty as human?"
Although it has been shown at churches and college campuses across the country, The Line had no local screenings scheduled at press time. Buy the DVD or watch it for free at thelinemovie.com.