The New Immigrants
For years, Charlotte's Latino community consisted mostly of laborers from Mexico who come here to eke out a living. But a new wave of affluent, entrepreneurial immigrants—including Manolo Betancur—is establishing itself in unexpected places. They may be the city's, and the country's, future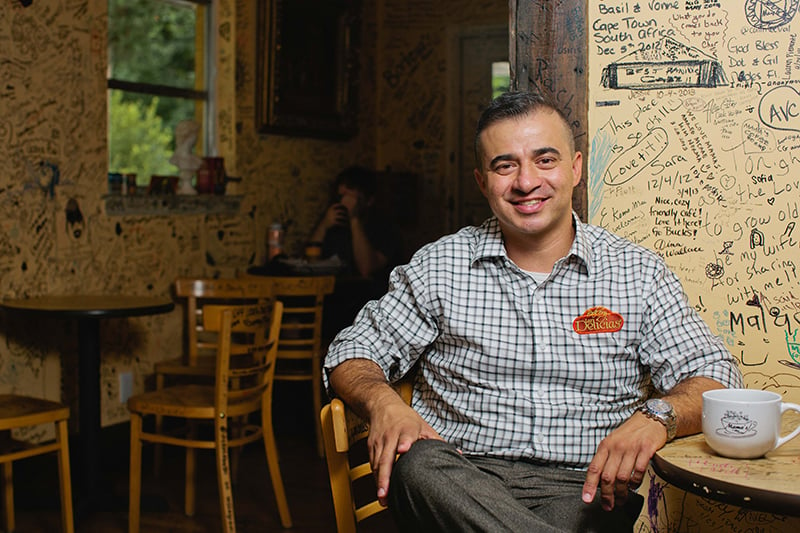 MANOLO BETANCUR hustles to his white Nissan minivan, parked outside Mama's Coffee House in Pineville, which he bought in early spring. He's eager to show off what's inside the van. Manolo has lived in the United States for 15 years now, in Charlotte for 10, and has worked his way from unloading containers of frozen fish in a Miami warehouse to owning multiple business enterprises, including this latest venture. Manolo unlocks the door.
At first glance, it looks like random junk—steel-andrubber skeletons in a pile. It takes a second to realize what the clutter is: about a dozen harnesses and frames that fire and rescue crews strap to their backs, minus the air tanks. "Crazy," says Manolo, a compact 39-year-old with close-cropped hair. "I don't know how I got into this business."
He began selling fire equipment early this year, when a friend of his from Colombia mentioned that small-town fire and rescue departments there need basic equipment like fire-retardant suits, harnesses, air masks, and tanks. The national government and guerrillas have been at war in the country for half a century, something Manolo knows not just from growing up in Colombia but from fighting in the war. Fire and rescue gear, standard issue in the States, is a luxury in many areas of Colombia.
Manolo works with a man who's retired from the Charlotte Fire Department to gather surplus gear that stations here no longer use. Sometimes the stations simply donate the equipment, and Manolo will donate it to a volunteer fire department in Colombia. Other times Manolo and his partner pay for the supplies by giving a donation to the station's charity of choice, then sell it in Colombia. Earlier this year, Manolo began flying back home about every two months with the fire equipment. He just returned from spending 11 days in the old country. "Business is growing like crazy," he says with a laugh. "I'm very happy about my business."
He has many of them. This is how Manolo's days go: Up at 4:30 or 5 a.m. to check on the morning production at Las Delicias Bakery on Central Avenue, which he and his wife have owned since 2011. Then back in the van and a 20-mile drive to Mama's by 7. He makes calls, supervises the Mama's staff, makes ledger entries by hand—"My friends laugh at me"—and stays through lunch. Back to Las Delicias by 2 p.m., home for dinner and to see his six-year-old son and three-year-old daughter, then off to the bakery, where he does paperwork and sometimes works on another side business—he sells women's shoes to customers who place online orders in Colombia—until about 10. Then it starts all over again.
When he sees his wife, Zhenia, it's usually at the bakery, and their hit-andrun conversations often concern business, and sometimes the children. This bothers him. Manolo is torn among obligations. He works almost obsessively, bolts after business opportunities like a hunting dog, and he does it in part to secure a good life for himself and his family. But sometimes it's as if he can't stop himself, and he risks missing out on the very thing he's trying to provide for. "I know, man, sometimes I get upset about that. I want to sleep more," he says. "I want to learn how to manage my brain, because I go to bed and my brain is still thinking about business. I want to learn how I can disconnect myself." He's making progress, he explains. Sometimes he'll take a Sunday off.
We walk back inside the coffee shop. Friends of his, a married couple, had turned an old, yellow house a few blocks from downtown Pineville into the most popular hangout in the area. The couple eventually persuaded him to take over the shop in March. Manolo wants Mama's—he kept the name—to be a destination that caters mainly to people like him: immigrants from Latin American countries and their American-born children, people continually trying to discover and understand what they can claim of the Charlotte region.
On this weekday morning, customers drop in, order from the counter, and sit down for catch-up chats or with their laptops. It's a diverse crowd: white teenagers, elderly white people, middle-aged Latino professionals, young African-American professionals. The young man at the counter, a recent hire, is white, and he works alongside a Latino woman. Outside, traffic on N.C. Highway 51 shuttles between Interstate 77 and the South Carolina line to the west and the busy intersection with Interstate 485 to the east. This stretch of road at first blush shows Pineville as it's been for the last generation—a small Southern town-turned-suburb, with modest homes and a compact downtown with brick buildings that reflect its industrial past. But then you notice the signs in Spanish and the colorful bunting in the windows of some of the buildings. Something here is changing.
Manolo is part of that change. He's arranging festivals, business meetings, and nighttime events for dance, music, and storytelling, including an upcoming presentation and discussion about the work of famed Colombian novelist Gabriel García Márquez.
He's confident this will work. Before he bought Mama's, he researched Pineville—a place that until a few years ago had no immigrant community to speak of—to make sure it could support his business. It can. But he and other Latino families and businesspeople are discovering something else: The lines between native and immigrant cultures are slowly beginning to dissolve. Manolo expects a good Latino turnout for the Márquez event, but he doesn't want his devotion to his community to limit the people he intends to invite for that night and many nights to come: "Everybody, man."
***
CHARLOTTE'S LATINO community is about 25 years old. Early on, the majority of Latin American immigrants who moved here were blue-collar Mexican laborers seeking lower-wage construction jobs in the booming economy of the 1990s and 2000s. They tended to settle in rental houses and apartment complexes close to the city center, in what became definably Latino-oriented neighborhoods east, southwest, and northeast of uptown.
Hundreds moved here to help build the Bank of America tower, which broke ground in 1989 and opened in 1992. "It's what we call the Bank of America phenomenon—that really opened the door to Charlotte becoming an immigrant destination," says Owen Furuseth, a UNC Charlotte geography professor who has studied the area's Hispanic population and has been tracking the community's development since the 1980s. When the project was finished, many stayed, and their wives and children joined them.
Manolo exemplifies a new phase in the community's evolution. He is college-educated, an entrepreneur rather than a laborer, and a U.S. citizen. He's from South America, not Mexico. He owns his home in a Charlotte subdivision nowhere near the established Latino neighborhoods. And he's building his main business in Pineville—a cozy bedroom community just south of Charlotte that's best known as the home of Carolina Place Mall.
Latino businesses and residents here are following money and the chance to make and spend it. Carolina Place and another mall, Carolina Pavilion Shopping Center, are within two miles of the Pineville town center. There's El Veracruz Mexican Restaurant near the town center, Delicias Colombianas bakery on North Polk Street, and Machu Picchu, a Peruvian restaurant. Then you turn on Main Street, drive three blocks toward the South Carolina line, and there, in a yellow house with a gravel parking lot, is Mama's.
The first wave of Latino immigrants in Charlotte, and the South at large, followed a familiar American pattern: They were mainly poor laborers who gravitated to specific, insular communities near their places of work. This has happened throughout the country's history in places such as Little Italy in New York, Irish Catholicheavy south Boston, or the assorted Chinatowns around the nation. This second incarnation of Latino immigrants is expanding, assimilating, and creating something new in new places. Charlotte is joining Atlanta, Denver, Austin, and the suburbs of Washington, D.C., as what Furuseth calls "a 21st century immigrant gateway," where immigrants are not just moving out of necessity but by choice, and making those cities their own.
Mexicans still make up the largest segment of immigrants, Census data show, but they make up a little more than a third of the overall Latino population in Mecklenburg County, instead of the more than twothirds they comprised in 2000. Immigrants from El Salvador, Honduras, Ecuador, and Peru are claiming larger shares of the community. The number of Latinos in Mecklenburg County has grown 15 percent since 2010, according to U.S. Census estimates released in June. And the South over the last quarter-century has emerged as home to the fastest-growing Latino population in the country.
The changes are profound enough for the Levine Museum of the New South to plan an exhibit and series of programs called ¡NUEVOlution! Latinos and the New South, opening in late September. The program examines the ways the rising Latino community is changing life in Charlotte, Atlanta, Birmingham, and other Southern cities. It's next to impossible to predict how this new generation will live and grow in Charlotte, or what contributions it will make, Furuseth says. But what's happening here, he emphasizes, represents the future of the country.
He says this without exaggeration, seated at a table on the top floor of the UNC Charlotte building uptown. Furuseth glances out a plate glass window at the still-transmuting city around him—construction on the streetcar line, the new First Ward Park next door. More than 20 years after Charlotte began to boom, it's still tearing up the old and building the new. Furuseth recently served on a city task force that suggested a series of programs and initiatives—everything from community listening sessions to seminars for small business owners—to accommodate the growing immigrant community. The cities that invite and welcome the brightest and most ambitious immigrants, the task force concluded, will secure a major economic advantage over cities that don't.
"Charlotte is ground zero for the changing urban fabric of the United States—economically, socially. It's really a very, very dynamic place," Furuseth says. "Those are the cities that are going to be the winners of the 21st century, and I think Charlotte has the potential to be that if we get it right."
***
ROCIO GONZALEZ began noticing the change in 2005, when she was working as a real estate broker for Allen Tate. The area she covered was Matthews and Mint Hill, places where she wasn't accustomed to helping Latinos find homes. Then, around 2007, she noticed that more and more of her clients were from Latin America.
Gonzalez was born in New York City, but to Colombian parents who wanted her to grow up Colombian; she was raised in Bogotá and didn't return to the States until she was 18. Her first American home as an adult was in Enterprise, Alabama, where her uncle was stationed at nearby Fort Rucker. It was 1984, and she says the locals had trouble grasping where she was from. Mexico and Puerto Rico were the only Latin American places they knew.
She moved to Charlotte from Chester County, Pennsylvania, in 1998. Around 2005, when Latinos began enlisting her to help find their homes, she began to notice that they often weren't recent immigrants. They were people who had lived in the United States for years and had moved to the Charlotte area for the same reasons their white and African-American counterparts had. They were coming from places such as New York City, Los Angeles, Chicago, Miami, cities where housing prices and commute times—the classic "quality of life" issues—drove them to other communities. "There's the opportunity in places like Charlotte to have a more comfortable way of life for your family," she says.
Gonzalez left the real estate business in early 2012 for a job as membership director for the Latin American Chamber of Commerce of Charlotte, founded in 2001. The organization's membership has ballooned from fewer than 50 members in 2011 to nearly 450 now. The LACCC represents about 250 small businesses, roughly three-quarters Latino-owned, and a growing number are in neighborhoods other than the traditional Latino neighborhoods. Gonzalez became the organization's executive director this past January.
Mama's, Manolo's coffee shop, is the kind of enterprise—family-owned, built from nothing—that these immigrants use as their economic toehold. A Venezuelan couple, Ellie and Juan Zarza, founded it in September 2011. They had ditched successful careers as mechanical engineers to move to the United States in 1993. Ellie had a relative in Charlotte, and they lived with him while Juan worked on an associate's degree in heating and cooling technology from Central Piedmont Community College. He eventually started his own HVAC installation and repair business. Ellie had trouble deciding what to do. She thought about opening a restaurant. But Juan suggested a coffee shop instead.
They spent months clearing the property and renovating the old house, then a few years turning it into a successful business. The interior is warm and inviting, with comfortable chairs, free WiFi, gourmet sandwiches, and butternut-yellow walls patrons are invited to write on with markers. When Mama's opened, there wasn't anything like it in southern Mecklenburg County.
Last year, Ellie grew tired of spending long days running the shop and began putting feelers out for a buyer. As it happened, she had just met a bright young man who owned a bakery on Central Avenue, in the heart of Charlotte's best-established Latino neighborhood, and had a knack for starting and running his own businesses.
***
AT MAMA'S on a May morning, Manolo leans back in a big, upholstered chair in the corner, an ideal place to make calls and monitor his email while keeping an eye on the patrons and staff. He has a fresh project in his head. On his way in, he stopped to buy ice at a nearby convenience store that was "packed with Latinos, man." He spoke to the manager on duty about selling some of the Mexican concha loaves from Las Delicias at the store. The guy referred Manolo to the regional manager, and Manolo has asked one of his associates to make a call. "I've got two American guys—they make the calls for me. They set the meetings, and …"
His smartphone rings. "Talking about calls, I gotta take this call." It's his business partner in Colombia with good news: Colombian customs has agreed to finally allow into the country an air compressor Manolo is trying to sell for his fire equipment business.
Even as a child in a small town near Medellín, Manolo absorbed lessons about scraping together a living by any means possible. His father, Ramon, worked in retail and as a real estate broker, but in a country where those occupations earn far less than in the States. His mother, Alba, raised five children while selling meals to teachers from the nearby school and pillows she made herself. The family house, Manolo recalls, had only half a floor, made of concrete; the rest was dirt. They could afford glass panes for only the front and rear windows.
But Ramon and Alba saved enough money to send Manolo, a good student, to Colombia's naval academy in Cartagena, one of the nation's most exclusive and expensive universities. When he graduated in 1998, he was commissioned as a second lieutenant in the Colombian marines and almost immediately sent to fight in the country's decades-old conflict among government forces, paramilitary groups, organized crime, and left-wing guerrillas. He hated it. "All wars are stupid, but the Colombian war is more stupid than anything else," he says. "It didn't make sense to me to fight against my own people." As an officer, Manolo made good money and had access to power and privilege denied to the vast majority of his fellow Colombians, including the marines he commanded. When he mentioned to a superior officer how poorly the enlisted men were treated compared to officers—especially in pay—the man admonished him, "Have you forgotten you are an officer?" He ordered Manolo to drop to the floor and do 20 push-ups.
Less than a year into his service, Manolo decided to emigrate from Colombia to the United States. His parents were livid. They reminded their son what they had sacrificed to send him to school. Alba told Manolo that if he ever wanted to set foot in his house again, he'd better have money in his pocket. Manolo left for Miami.
He spent his first few months working in a warehouse behind the Miami airport. The military had provided nearly all of his attire before he left, so Manolo wasn't prepared for the brutal South Florida summer. "I was wearing winter clothes, man, and I was unloading this container full of fish, 50 pounds, and pineapples and asparagus. All day long." On weekends, he rode his bicycle to landscaping gigs. A member of the church he attended in Miami saved him from that grueling existence by recommending him for a scholarship at her alma mater, King College (now King University), in Bristol, Tennessee. Manolo, who still spoke limited English, enrolled in August 2000. By the time he graduated four years later with a modern languages degree, his English had improved enough for him to teach it to other immigrants in Virginia through AmeriCorps.
Manolo might have stayed there. But while working in his teaching job, he met and married Zhenia Martinez, a Mexican-born woman who had grown up in South Carolina and whose parents, Aquiles and Margarita, happened to own a bakery and restaurant in Charlotte. They needed help managing the businesses, and they asked if their daughter and her new husband would consider making the move. In 2005, they did, and when Zhenia's parents retired in 2011, Manolo and Zhenia bought the bakery, Las Delicias.
His goal since then has been to turn Las Delicias, for years a gathering place for Latinos in east Charlotte, into a place where people of all backgrounds come to meet, while still always celebrating Latino culture.
"If Americans can have Starbucks," he says, grinning, "Latinos can have Las Delicias."
***
FROM HIS CORNER chair at Mama's, Manolo tries to plan his day. He has a meeting with his attorney uptown at 11 a.m. to talk about a lawsuit he may file against a restaurant on Albemarle Road with a name very similar to his bakery's. He takes another call, this one from Rafael Prieto, a fellow Colombian immigrant and editor of the local Spanish-language newspaper Qué Pasa Mi Gente. They talk about those monthly cultural events Manolo wants to begin hosting at Mama's, starting with the July discussion of Gabriel García Márquez.
These events are incidental to Manolo's feverish determination to succeed in business but central to a wish he's only now learning how to express. When he came to the United States, he was fully Colombian but enraptured by the idea of America. Once in America, he embraced his new home but, like so many immigrants before him, kept parts of his soul and mind in his home country. What he wants to do now is reach back to his place of origin while honoring the dream of his adopted home—helping Latino kids born in the States understand where their people come from, and helping people from his new home understand all of them, with no lack of love for either place. Manolo is part of a new phenomenon in Charlotte, and perhaps in the United States, but at base it's the American immigrant story, same as it's always been.
"I have a sentence that sticks in my head: 'The more countries you know, the more culture you know,' " he says. "This world is too big to just focus on one little place. The world is beautiful, man. I take the best of you, you take the best of me, we can all do a better job, you know?"
---
¡NUEVOlution!: Latinos and the New South
Running from September 27, 2015 to September 30, 2016, this exhibit at the Levine Museum of the New South will cover 3,500 square feet of space and explore the rise of the Latino population in the South. The exhibit is bilingual and will serve as the basis for several programs throughout the year, before moving to Birmingham in 2016.
---
This article appears in the October 2015 issue of Charlotte Magazine
Did you like what you read here? Subscribe to Charlotte Magazine »
---