The New Perfect Pairing
The city's first true cheesemonger, and a new place to buy craft beer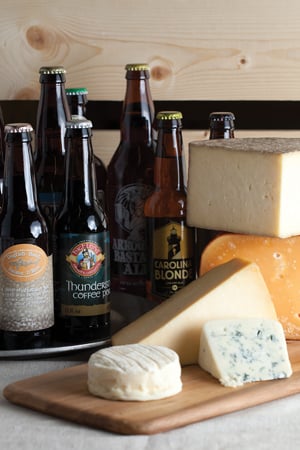 FORGET WINE AND cheese—beer and cheese is a match made in epicurean heaven, says Rachel Klebaur, owner of Orrman's Cheese Shop. Now, some of the best local and international beer and cheeses are available to Charlotteans, and they don't even need a plane ticket. Orrman's, Charlotte's first cut-to-order cheesemonger, and Salud Beer Shop Express, a grab-and-go version of the NoDa storefront, are two of 7th Street Public Market's newest independently owned specialty shops. 224 E. 7th St.
Orrman's Cheese Shop (980-226-3025)
With a curated selection of artisanal cheeses, Orrman's is a gift to cheddar heads and brie devotees. The small storefront offers a case featuring about fifty cheeses and wooden shelves packed with a variety of jams, crackers, pickles, and other accompaniments. About 40 percent of the cheeses are sourced locally or regionally, and the selection rotates seasonally. In addition to classic cheeses, look for unusual flavors such as fig-and-honey goat cheese and espresso- and lavender-rubbed cheddar. "When cheese is cut to order, I think you notice a difference in the freshness and taste," Klebaur says. "I love to give personal service by helping each customer discover their palate or select what they need." Cheese platters and gift boxes are also available.

Salud Beer Shop Express (704-222-2250)
"Drink Real Beer" is the slogan of Salud Beer Shop because, as owner Jason Glunt says, Salud sells only craft beer made in small batches. Glunt encourages customers to support local breweries and promises a better, fresher taste. The express shop focuses on North Carolina–based and seasonal brews including popular Foothills, Natty Greene, and Duck Rabbit. Customers have the option of creating their own six-pack by selecting from about 70 beers and can be guided in their selection by ratings from BeerAdvocate, a website that rates beers on a 100-point scale. "It's about trying new things, learning about what makes good beer, and supporting your neighbors," Glunt says.