The (Non)Experience of 65,000
My firsthand account of what it felt like to expect to attend the closing night of the Democratic National Convention, only to not have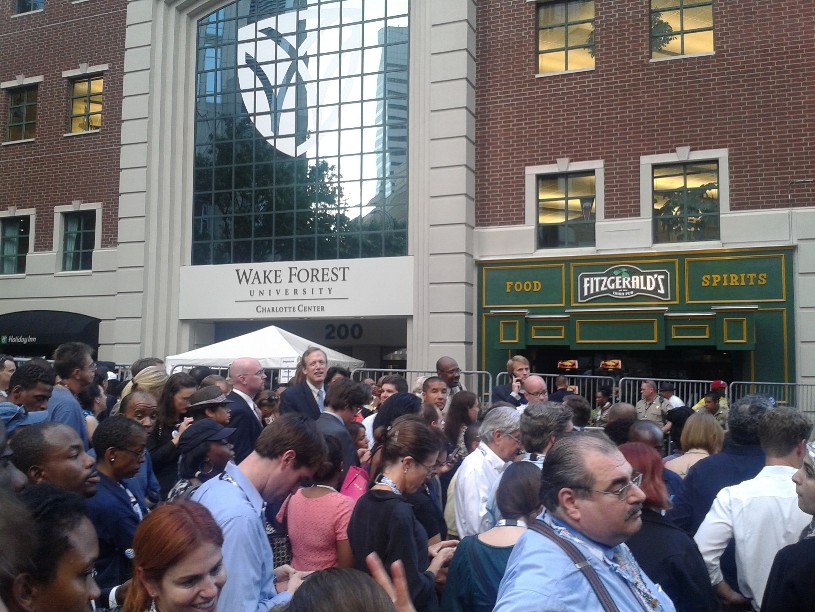 I watched Vice President Joe Biden and President Barack Obama give riveting speeches last night, the closing night of the Democratic National Convention in Charlotte. And like most of you, I watched it on television.
"Jarvis," you're saying to yourself, "you're a journalist. Why weren't you inside Time Warner Cable Arena?" The answer: I couldn't get in.
After a hectic day of running around, as it had been for me all week during the DNC, I arrived at the main TWC arena security checkpoint that had been set up at the corner of Fifth and College streets in Uptown. For the most part, anyone who was going to get into the arena, would have to go through here. I walked up shortly before 6:30 p.m. to find a large crowd. From what I understand, the check-in had halted a few minutes before I got there. One of the staffers said they were stopping entry of the line temporarily because the checkpoint ahead—where you would've gone after getting through this one—had gotten backed up. I waited until nearly 8 p.m. and then I left. The size of the crowd had doubled. That line never did open back up.
But this isn't about me, and certainly please don't feel sorry for me. If I would've gotten there 30 minutes sooner, I would've gotten in. Many of the 20,000-plus who made it in had arrived several hours earlier. As I stood and waited, I saw several people with press credentials around their necks waiting, who I presume never got in either. I saw delegates waiting, who I presume never got in. According to The Charlotte Observer, notable people like UNC Charlotte Chancellor Phillip DuBois and NFL Hall of Famer Franco Harris were among the hundreds with credentials who didn't get in as well because the fire marshal said the arena had reached capacity.
Some of my media colleagues, a few who got in line after I did, eventually gained entry into the arena around 9:30 p.m., after much diligence and persistence. I was watching them tweet about their attempts—failures and successes—but I'd long stopped being concerned about getting in (by 8:15 p.m. I was sitting at the bar at Nix Burgers & Brew a couple of blocks away). Because after an hour and a half in line, I'd found the story I wanted to tell.
Standing in the crowd at that security checkpoint, I had looked around at the worried faces of people who'd received credentials that said "Bowl Special Guest," as they feared they wouldn't get in (these were people who weren't media or delegates). All of the credentials for Thursday—hard-plastic, green badges—had references to Bank of America Stadium, which had been the planned site of Thursday's DNC proceedings until officials made the decision Wednesday morning to move it to TWC arena due to the forecasts of thunderstorms for Thursday. Many of those bowl special guests, probably a few hundred of them, never got in last night.
But that pales in comparison to the 65,000 people who were told Wednesday that, unfortunately, the "community credentials" they'd received to see President Obama on Thursday inside Bank of America Stadium were no longer valid. Because the move to TWC arena for Thursday's proceedings cut the event capacity from about 80,000 possible at the stadium to around 20,000 at the arena (Tuesday and Wednesday's proceedings, featuring speeches by First Lady Michelle Obama and former President Bill Clinton, respectively, among dozens of other prominent Democrats, took place at the arena). I don't fault the Democratic National Convention Committee (DNCC) and Obama for America (OFA) reelection campaign officials for making the decision for a venue change less than 36 hours prior—they were citing public safety due to threatening weather forecasted (then on Thursday afternoon President Obama held a nearly 10-minute conference call for community credential holders, apologizing for them not being able to attend and thanking them for their support).
But what I fault convention officials for is deciding to hold Thursday's DNC event in an outdoor stadium in the first place. Sure, it was their attempt at a repeat performance from the 2008 DNC in Denver, when then-presidential candidate Barack Obama spoke in front of 84,000 people at Invesco Field (the Denver Broncos' football stadium). It was the DNC's attempt to put one final stamp on the mantra we journalists have been quoting from them for the last year and a half: "making this the most open and accessible convention in history." Like DNCC CEO Steve Kerrigan said to me one more time during my interview with him last week.
The DNC succeeded with the openness and accessibility by holding the free, open to the public CarolinaFest Labor Day festival on Monday. They succeeded with it by making this week's caucus meetings open to the public. They succeeded with all those platforms they created through social media. Many of these things, particularly public events, the Republican National Convention in Tampa didn't do.
But on Thursday, the DNC failed. They failed because they got 65,000 people's hopes up, and they couldn't deliver. They couldn't predict what the weather would be, but they also didn't have to roll the dice and hope that lightning would strike twice, hoping it would allow them to repeat the 2008 DNC closing night feat. Actually, it was the literal fear of lighting that caused a change of plans less than 36 hours before the big night at the 2012 DNC.
On second thought, they could've kind of predicted the weather, long before they announced in January that President Obama would speak at Bank of America Stadium. On September 6, 2011, when the DNCC held the 2012 Democratic National Convention Kick Off at TWC arena, which served as a one-year-away pep rally, from the podium a couple of DNC officials thanked the hundreds of people for showing up (I was there), acknowledging that there had been stormy weather, which had begun the day before, lasting until earlier that morning. This time of year in Charlotte, the weather can be extremely unpredictable. But its unpredictability is predictable.
Click "Next" to continue reading.
As I was saying, if the Democrats hadn't tried to hold a major outdoor event to open the doors to more Americans, to prove to the world (and Republicans) that so many people are enthusiastic for reelecting President Obama, they wouldn't have ended up disappointing 65,000 members of the general public. It's the tens of thousands who signed up to be volunteers, and were rewarded with community credentials they eventually couldn't use. The tens of thousands who raced to go online to register for community credentials simply because the DNC had made them available to the public with no strings attached, who then waited in line for several hours a couple of weeks ago to pick them up, only not to be able to use them.
My friend who told me on a Friday a couple weeks ago that her grandmother had threatened her had she not gotten in that line to pick up the community credentials for the elderly woman. Another friend who said he waited in lines for hours to pick up the ones for his family so his kids could experience it. The many friends I saw over the last couple of weeks proudly sharing photos on Facebook of them holding these passes like they were The Golden Tickets. The countless others I don't know personally, but saw tweeting similar photos publicly on Twitter.
My high school teacher, whom I haven't seen in about 15 years, who emailed me Tuesday afternoon with excitement, saying she was driving up from South Carolina and "My husband and 16 year-old twins are coming Thursday to Bank of America Stadium. Are there any before or after activities? I want the twins to have a great time." Only to have her on Wednesday email me asking: "Jarvis, do you know anyone who could get us passes to hear the president at the new venue? It would mean so much to [us]. The twins have been long-time Democratic supporters and volunteers since they were young?" It broke my heart to tell her I didn't know any way to help them.
And then there were dozens of people in that overwhelming line at Fifth and College streets last evening, who had no special credentials, but had the original community credentials, knowing they were no longer valid, but hoping there would be some how, some way they could get in. One lady turned around, looked at me, saw my press credential, and jokingly said, "I'll carry your bag" (referring to the bag I had on my shoulder with my journo stuff). Then her face turned solemn when she said, "I drove here from Louisiana."
That's why I didn't try very hard last evening to maneuver my way past the restricted access once the arena had neared capacity. I'd certainly had my share of special access to events taking place this week during the DNC (and had a lot of fun, too). But more importantly, there were already thousands of journalists inside the arena who are telling great stories about what it was like in there last night. I figured I'd try to tell a story about what it was like to not be in there—even though you had expected to be, because you had been invited.
The Democratic National Convention has done a lot of great things for Charlotte, since it was announced February 1, 2011 that the city had won the bid to host it. I've seen the impact already, even before any final assessments are made (the plethora of national news stories, alone, over the past year that have, essentially, told the rest of the country how great this city is, in telling the story of the DNC). The DNC staffs and committees, many of whom have lived in Charlotte for the past year to plan the convention, making this their temporary home and who'll be moving away in coming weeks, have contributed a lot. The DNCC, for example, announced this week that its staff had completed 4,034 hours of community service locally, more than doubling their goal of completing 2,012 service hours prior to the start of the 2012 convention.
But there was certainly a black eye on last night's DNC grand finale.
It's like, if there's someone who has a huge crush on you, who you ask out on a date, then you call it off. And there's someone else who has a huge crush on you, but you never ask out on a date. Which one do you think would be most disappointed?
Hopefully whichever city hosts the DNC in 2016 will receive plans to hold all days of the convention proceedings indoors, even if that means much fewer people will be able to see the presidential nominee speak on the final night. At least they won't have gotten their hopes up, and the rest of the experience will make it all worth it.
Visit Charlotte magazine's Democratic National Convention coverage at www.charlottemagazine.com/dnc. Follow me on Twitter @HollidayInk; email me at jarvish@grownpeopletalking.com.