The Ocean Course at Kiawah Island
Lessons from the course that played host to the 2012 PGA Championship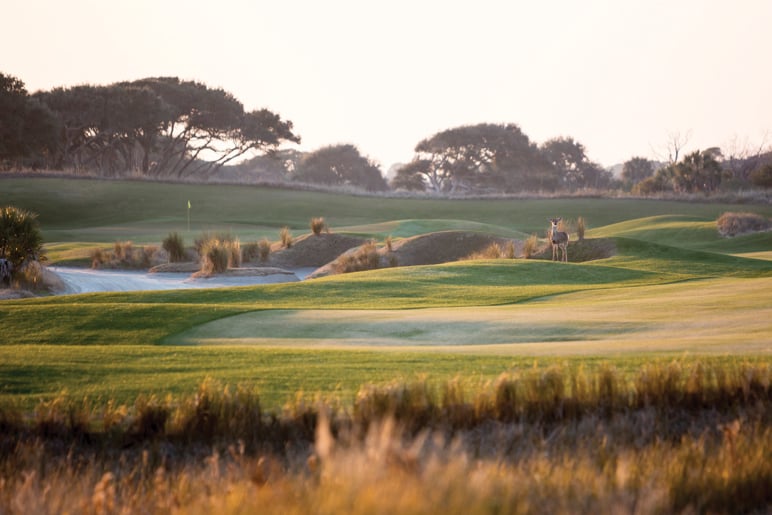 ON MY FIRST practice shot on our first day at Kiawah Island, my driver broke. It was a clean break, at the handle, and after 10 years together, the death of a club on my opening swing in paradise seemed like a bad omen. We had a tee time the next morning on the Ocean Course, voted the toughest course in the United States by Golf Digest in 2012, and I was now a club short. My brother, of course, laughed.
Let me explain where that laugh comes from. When I was 6 or 7, I convinced him, at 4 or 5, to crawl into the clothes hamper. Then I sat on top. Maybe I sat there for a minute, maybe I sat there for an hour—it depends on how he feels when he's telling the story now. Apparently being trapped inside a hamper can stick with a kid, and no matter what's happened in the 30 years since, he still brings it up, the scarred little wimp.
Kenny especially likes to tell the story when he beats me at something. As we've grown older and moved to separate states, the golf course seems to be where we come together most often, and it's become his most frequent stage for delivering a comeuppance. He's bad at the game, and I'm worse, and that gives him great satisfaction.
So he arranged this trip—he gave it to me as a Christmas present—to Kiawah Island Golf Resort.
Three rounds of golf, one of which would take place on the Ocean Course, 85 acres along the Atlantic where the PGA professionals played their championship in 2012, where the United States defeated Europe in the 1991 Ryder Cup, where Will Smith helped Matt Damon find his swing in The Legend of Bagger Vance. And now I had a limp golf club.
The closest sporting goods store is 45 minutes away from Kiawah. The night before our round on the Ocean Course, we left Golf Island to get a golf club. At the store, I tried out a new driver in a simulation room. I hit five consecutive ground balls that took hard turns left with it. The clerk told me it was OK. To relax. My brother, with that damn smile, used the moment to mention that we were playing the Ocean Course the next day. "Oh," the clerk said, looking down. "Well, good luck!"
I'll take the club, I said.
The trip to the store took more than two hours. This issue of the magazine is dedicated to places that are three hours or less from Charlotte. Kiawah Island is farther than that, by a long shot. Turns out, despite how often people in Charlotte say, "We're three hours from the coast," there isn't a grain of sand on the Atlantic coastline that's less than three hours from Charlotte. That says something about the beach's place in our minds—we want it so badly that we tell ourselves it's closer than it really is.
Kiawah's far. It takes three hours to get to Charleston, sure, and Charleston is close to Kiawah if you're a fish or a bird, but to people on four wheels, it's an extra 45 minutes. And the Ocean Course is 20 minutes beyond that.
On either side of the long, two-lane road that leads to the island, hulking trunks of live oak trees squat just outside the white lines. Their branches, looking like a bodybuilder's arms, reach across the pavement toward each other, creating an overpass for squirrels and a tunnel for cars. To get through the main gate of the resort, you need a reservation, and to get through the next gate, you need to either be a resident or have a tee time on the Ocean Course. Beyond that, you'll go past homes that are rumored to be owned by Reese Witherspoon or George Clooney or the owner of the Atlanta Falcons or, as we saw on our drive to the course, a white-haired man walking his dog and smiling the biggest smile, a smile that seemed to say, "I'm rich, and I can't believe I live here!" Money doesn't buy happiness, but it can buy land here, and this place seems to make people happy.
And the Ocean Course was still three or four miles past that guy.
When we first pulled up to the course, a faint fog of sea spray hung over the rolling hills of grass and sand. The place felt like the moon compared to Plaza Midwood, where I live in Charlotte. It seems like a fitting comparison, because like the moon and other good things, we had to really want to get here to get here.
Mike Vegis wanted to get here, too. He first came to Kiawah in 1980 when he was just out of college. The Ocean Course didn't exist then, and the "land" where it is now was actually a part of a nature tour. Vegis, who's now the public relations director for the resort, remembers exploring the marshlands with a tour guide and seeing bobcats, alligators, bald eagles. "It looked like Jurassic Park," he says now.
Pete Dye changed that. Dye created this course specifically for the 1991 Ryder Cup. He did so while somehow coming up with a drainage system that takes the course's runoff water into a holding cell, where it's treated and then dumped back onto the course, rather than flowing into the wetlands. Now, it's hard to tell whether the course was cut out of the marshlands, or if the marshlands grew around the course, but they work together just fine in this strange neighborhood.
Our caddie, Greg, wanted to get here, too. He was a substitute teacher at a high school in Nebraska before moving to Kiawah this past May. We asked him why he made the life change, and he pointed to the ocean. Caddies are paid to tell stories, and I'm not sure how much of what Greg told us that day was true, but when he pointed toward the sea, toward one of the few southward-facing beaches on the Atlantic, a place where in winter you can see both the sunrise and sunset over the ocean, the entire world seemed honest.
Kenny and I didn't speak much during our round, mostly because his shots went right and mine went left, leaving very little room for trash-talk. Greg walked down the middle and entertained us. He pointed out an alligator on the bridge to the second hole and showed us her babies. He showed us the dead tree on the third hole where golf's best player, Rory McIlroy, somehow got his ball stuck in the branches during the PGA Championship in 2012. Greg correctly identified the whistle of an osprey on the 11th hole. He took a pretty good picture of me and Kenny on the 14th. He told us when the 25 mile-per-hour winds were blowing against us or with us. And no matter how far off target I hit a shot, he assured me that he'd hit one from that same spot yesterday and it turned out OK.
Golf can be a maddening game, if you care to get mad about perfectly peaceful things. For four hours, Kenny and I slapped ugly shots all around this masterpiece and had a hell of a good time doing so. We'll always have the par-three eighth hole. By a stroke of luck and good wind, both of our weary golf balls landed close to where they should, in the middle of the green. And then we each made one putt to get closer, and then we each made another, and both went in. And in that moment, far away from home and years past the hamper, we high-fived.
After it was over, we went to the Ryder Cup Bar, which has floor-to-ceiling windows and a view of the ocean. We drank a beer, and Kenny tallied the scores to confirm what we both already knew—he won the round. He didn't brag about the victory right then, but I'm sure he'll bring it up for many years to come, to remind me of the time we went to the end of the world to compete on a famous golf course, and I'll no doubt remind him that I was using a new driver, a club I'd never played with. And we'll just keep talking to each other like that, as if who won has ever mattered more than simply getting there, together.
Michael Graff is the executive editor of this magazine. Email him at michael.graff@charlottemagazine.com or reach him on Twitter: @michaelngraff.
Where?
Kiawah Island Golf Resort, SC
How far?
232 miles, 3 hours and 45 minutes
What's along the way?
About 45 minutes from Kiawah Island, Charleston is home to several of the South's all-star restaurants. Sean Brock, winner of a James Beard Award for "Best Chef Southeast," highlights both traditional and upscale Lowcountry cuisine at McCrady's and Husk. FIG (short for Food Is Good) is a downtown dining destination with a well-respected cocktail list.
Want to learn more?
Kiawah Island Golf Resort: kiawahresort.com, 800-654-2924; Town of Kiawah Island: kiawahisland.org