The (Orange) Ties That Bind Patrick Cannon, Steven Furtick
The unexplained connections between the pastor and the disgraced ex-mayor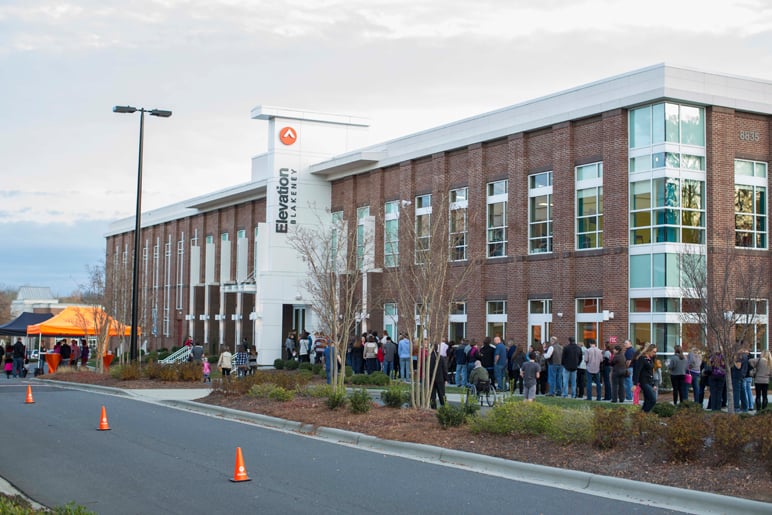 Note: I asked frequent Charlotte contributor Emily Harris, who wrote the January cover story on Pastor Steven Furtick's Elevation Church, to comment on the ties between the ex-mayor and the pastor of Charlotte's fastest-growing megachurch.—G.L.
The pack of TV crews parked outside the south Charlotte home of ex-Mayor Patrick Cannon on Friday morning finally caught footage worth camping out for—although none of them could explain what it meant.
Before noon, Steven Furtick, pastor of Elevation Church, stepped out of Cannon's home on Cumnor Lane in Ballantyne after a two-hour visit. Furtick settled into the passenger's seat of a white Toyota SUV in the driveway. Another man, wearing glasses and a gray watchcap, got behind the wheel—Chunks Corbett, Elevation Church's chief financial officer. The two men pulled away without speaking to the media horde.
What the heck were they doing there? Cannon, arrested Wednesday on federal corruption charges, isn't talking. In a release, Elevation Church said only that the visit was for "pastoral care," and that the church community is praying for Cannon and his family.
Still, aspects about the visit made me pause. From reporting the story I wrote about Elevation for the January issue of Charlotte, I know that Furtick, like many mega-church pastors, doesn't typically provide pastoral care. He doesn't preside over marriages or funerals; he doesn't shake hands and chat after services, which Elevation calls "worship experiences"; and junior staffers handle almost all visits to church members asking for prayers. Furtick doesn't usually visit devotees' homes.
Another thing I learned in my reporting: Furtick is at least as gifted at marketing as he is at ministering to his congregation. He's used social media and events marketing to sell his "brand" throughout the area, growing his followers at an extraordinary rate—Elevation has 14,000 weekly attendees at nine Charlotte-area campuses.
On his way out of Cannon's door Friday, Furtick was carrying a Bible. Wouldn't the scripture he'd counsel Cannon with be committed to memory? Wouldn't Cannon already have a Bible in his house? Was Furtick, who calls evangelizing his addiction, hoping the image would reach thousands of people needing a nudge to equate the Bible with hope and solace? We don't know.
But this was another in a string of connections between one of the nation's fastest-growing megachurches and a politician who, until Wednesday, seemed to be traveling his own path upward. Cannon's family has been attending Elevation and another church lately, and Cannon picked Furtick to lead the invocation when Cannon was sworn in as mayor in December.
In February, Elevation gave Cannon $300,000 for his "Social Impact Housing Endowment" to provide short-term rental assistance for poor families and veterans. "Three hundred thousand dollars," Cannon says to Furtick in an Elevation promotional video about the donation. "That's a big deal. Uh, and you do it with humbleness, and you do it without asking for anything back." The following week, when Furtick's latest book came out, Cannon took to the radio to encourage people to buy copies.
None of these things is suspicious alone. But these are men (Cannon allegedly) who have made questionable choices about money without seeming to fully understand why those decisions would draw some raised eyebrows.
Furtick has ducked questions about where Elevation's $25 million annual budget goes and how he paid for his new $3 million house. Cannon's a guy who, according to the FBI affidavit, told undercover FBI agents he had no problem concocting phony stories to help whet investors' appetites, and—although he collected only $48,000 from undercover federal agents—had his eye on an eventual $1.25 million payday in exchange for helping fast-track the FBI "developers'" permitting and zoning applications with the city.
In light of the charges against Cannon, the city zoning variance Elevation obtained last year to build a church in Ballantyne takes on a curious cast, too. The 22-acre plot at Lancaster Highway and Johnston Road was zoned for apartments, and the planned 264,000-square-foot church was inconsistent with the city's small area plan for the district. But the city zoning board approved the change, followed by a unanimous City Council vote.
At about the same time, according to a federal affidavit, Cannon offered to obtain agents posing as developers some Affordable Housing Trust Fund money to sweeten any real estate deals. The bribes Cannon is alleged to have accepted were in exchange for his offers to help the "developers" with a variety of zoning changes, including rules on parking.
What are we to think of all this, and of the connection between a disgraced ex-mayor and the young, charismatic pastor and his church? Maybe nothing. But why would two of Elevation's chief officers visit Cannon's home, knowing TV trucks and cameras were surrounding it, and decline to take questions from the public? Was it a case of a pastor tending to one of his flock at an hour of need, or was it more brand-building by a man who's proven himself especially skilled at it—and in a situation, Charlotte's biggest political story in years, that he knew could earn him more followers?
Addendum/clarification, 4/7: The Social Impact Housing Endowment is a public-private partnership funded by the city, private donors and by The Foundation for the Carolinas. Learn more here.