The Outlook
As the Blue Ridge Parkway's stewards look to the future on its seventy-fifth anniversary, its visitors continue to enjoy the spectacular views that have made it famous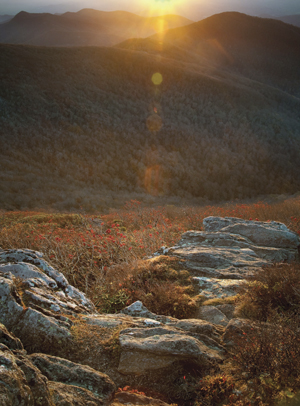 Photographs by Rob Bousa; For more on Rob Bousa and his Blue Ridge Parkway Photography Project
A Sunday afternoon in autumn may be the only time you'll find crowds on the typically tranquil Blue Ridge Parkway. With 469 miles of road stretching through twenty-nine counties in North Carolina and Virginia, there's plenty of room for visitors to spread out to enjoy its rolling hills for cycling, roadside hiking trails, and charming nearby towns. Every year, as the leaves turn to vibrant oranges, dark reds, and buttery yellows, the parkway's roadside vistas fill up and visitors and locals alike pile out of cars or hop off motorcycles to take deep breaths of the crisp mountain air and savor some of the country's most scenic views.
"Ninety-eight percent of the people who visit come to look at our views," says Phil Francis, superintendent of the parkway, which is celebrating its seventy-fifth anniversary this year. "But we don't own most of those. We call those part of our borrowed landscape."
Those views inspired the construction of the parkway. Work on the New Deal project began in 1935. The two-lane road, which runs from Virginia's Shenandoah National Park to North Carolina's Great Smoky Mountains National Park, took more than fifty-two years to complete; the last stretch, near Grandfather Mountain, was finished in 1987. While the road and its surrounding park includes a half million acres, only about a third of its famed views are actually owned by the U.S. Forest Service. The rest are held by private landowners. These "borrowed landscape" views are cause for concern as the parkway marks its anniversary in an economy that has meant shortages in staff and significant budget cuts.
"We have nearly $50 million worth of land that has been offered to us to buy," says Francis of private lands surrounding the park. "Unfortunately, we don't have $50 million."
After all, keeping up almost 500 miles of road is expensive — especially when that road winds through high elevations and rough terrain. After a particularly harsh winter last year, much of the parkway sustained ice damage that will take years to repair. Meanwhile, cuts in maintenance workers mean problems like overgrowth around the overlooks, blocking those precious views. However, there's no doubt that the parkway is financially beneficial to the area. As they wind their way through the Appalachian Mountains, the road's visitors spend more than $2 billion each year in its nearby communities.
"The parkway was designed to be and continues to be an economic-development machine for its surrounding communities," says Elizabeth Sims, the communications director for Blue Ridge Parkway 75, the nonprofit group organizing the park's anniversary celebration. "So connecting with those communities and helping them understand how we can partner with them to make the relationship a positive one is very important."
Educating the public and building relationships, both with the surrounding communities and with what Francis calls "tomorrow's stewards," are the main focus of those working for the parkway right now. "The parkway has tremendous fans who are really passionate about it," says Sims. "But the goal is not to stop after this year is over, but for it to continue with new momentum for protecting the parkway for the next seventy-five years."