The Palate Pleaser: Frank Scibelli
The restaurateur is No. 35 on our list of 50 Most Powerful People in Charlotte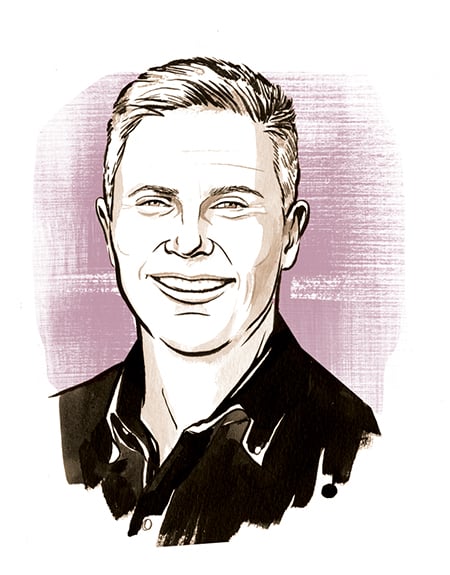 > Read the entire list of Charlotte's 50 Most Powerful People.
WHEN FRANK SCIBELLI bought a share of Heirloom Restaurant last fall, reactions in the food community were mixed. Some chefs said the restaurant's chef and owner, Clark Barlowe, was "selling out." Others called it a smart business move. For Barlowe, it was a necessary decision to make his business more sustainable, and, hopefully, more successful.
Within a few weeks of the announcement, Heirloom's 12-course tasting menu was replaced by an a la carte menu with the option of a six-course tasting menu. The number of diners rose, and a renovation with Scibelli's financial backing is scheduled for early 2017. The improvements to the decor are necessary, but a nearly impossible expense for a young chef and restaurant owner such as Barlowe. With Scibelli's backing, Heirloom can transform from a dark space with chain restaurant lighting, leftover from its days as a seafood restaurant, to farm-to-table chic.
Despite the fact that he owns several successful restaurants, naysayers love to say that Scibelli is a shrewd businessman but not a culinary mind. It's true that Scibelli didn't go to culinary school; he has an MBA from Wake Forest University School of Business, though Johnson & Wales University gave him an honorary degree last year. In 2015, he sold Bad Daddy's, a burger concept he started in Charlotte, to a Colorado company for $21 million. He's now building up Midwood Smokehouse, a barbecue spot he started in Plaza Midwood, with hopes of selling that business in the near future, too. Yafo Kitchen, a fast-casual Middle Eastern restaurant Scibelli opened last year in SouthPark, was an immediate success. Scibelli is planning more locations for Yafo. He also owns Paco's Tacos & Tequila, Mama Ricotta's, and Midwood Smokeshack, a fast casual barbecue restaurant.
With this restaurant empire to run, the criticism from chefs and restaurant owners in town doesn't bother him.
"I just don't think you accidentally have this level of success that we're having with our concepts," he says. "I don't think it's just, 'Oops, we'll just throw it out there and it's going to be good!' You know? I think people say stuff to say stuff."
In 1992, Scibelli opened Mama Ricotta's. Acting as chef and owner, he cooked food he wanted to eat and he started making money.
Since then, he's been selling food he wants to eat—then selling the restaurants he's created, where others want to eat.
"People love my palate," Scibelli says.
Standing in line for a table at Midwood Smokehouse or Yafo at lunch or dinner, there's no debating that.